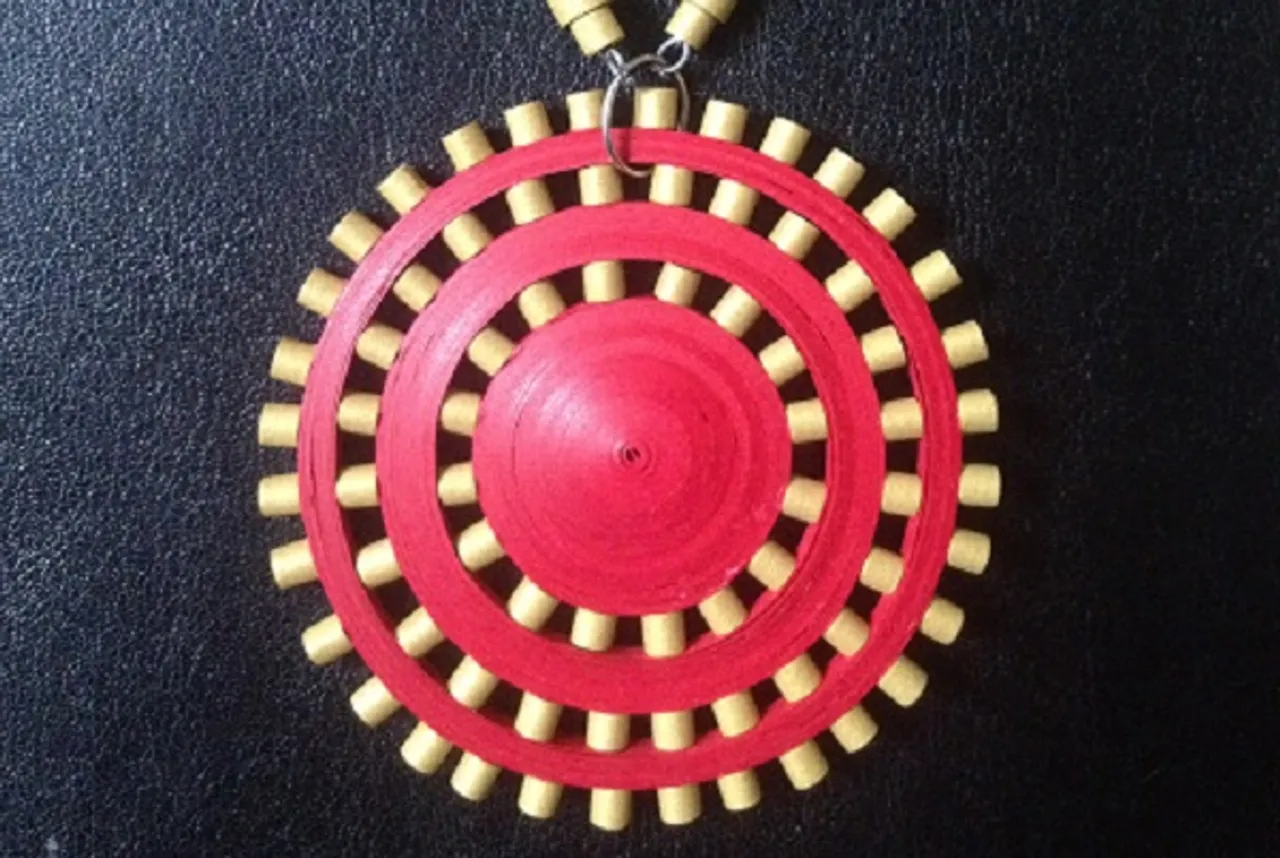 It was in 2013 when Delhi-born Shreya Gupta really wanted an owl pendant that she saw hanging in a shop while shopping with her mother in Lajpat Nagar market. Her mother, Mala, promised to buy her that pendant if she made an exact same one by quilling and she did. She did not just make an owl but made such a beautiful and intricate owl pendant that when she wore her own creation to a family event, she was garnered with praises from everyone present there.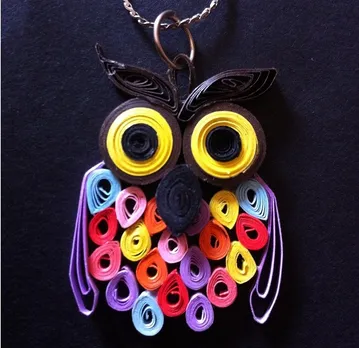 Wise owl pendant
This was the beginning of Shreya's journey in quilling. In November 2014, she started her own company KaagZevar which literally means paper jewellery. Shreya told SheThePeople.TV, "It was originally a title for my quilling exhibits at iSpace – the annual exhibition at my school, on Founder's Day. It described my art so well that I adopted it as the identity for my artwork and workshops."
Shreya is a young artist and studies in 8th standard in Modern School, Barakhamba Road. She loves paper craft, painting, calligraphy, pottery, writing, rangoli and everything else that's creative. She is also an avid reader. While her mother is an IT consultant and writes books in Java programming languages, she also works with Shreya in her venture, her father is an engineer. Shreya also has a younger sister.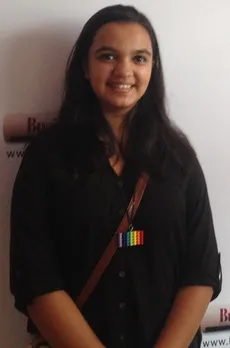 Shreya Gupta wearing her own creation
"I want to spread this art and share it with people of all ages"
About KaagZevar, Shreya said, "It is a venture which I will not define as business. I use this to teach others this marvellous craft and showcase the creations."
She added, "I want to spread this art and share it with people of all ages – so that they can get the satisfaction of wearing a piece of fashion jewellery created by them."
ALSO READ: Teen Donates Biz Profits To Charity
Her mother, who helps Shreya with KaagZevar and is the first one to wear the quirky jewellery created by her, said that helping Shreya is like meditation to her. "As an author, I often have to switch myself off by meditation. When I started helping my daughter with her quilling work, it worked as meditation for me. I found it both relaxing and rewarding – I could be creative in a different domain, wear personalized quirky jewellery and get complimented too," said Mala.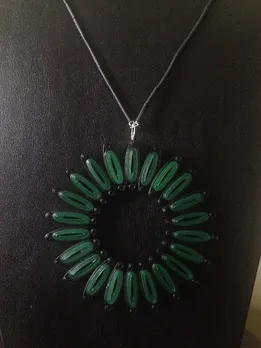 Green Sun Necklace
She added, "Shreya and I often wore the quilled jewellery to parties and functions and were flooded with lots of compliments. They were usually accompanied with the request of replicating the jewellery items for them or for teaching them or their children. This is when we thought of spreading the joy of designing and creating paper jewellery."
"Young age brings in fresh ideas. Young individuals are more creative than adults-" Mala, Shreya's mother
Mala helps Shreya in taking care of quilling supplies, handling finances and scheduling workshops. She also maintains her website and assists her in her workshops.
According to her, passion matters in starting a business more than age. "Young age brings in fresh ideas. Young individuals are more creative than adults. Due to their tender age, young age has its disadvantages in the expertise to handle finer business nuances," said Mala.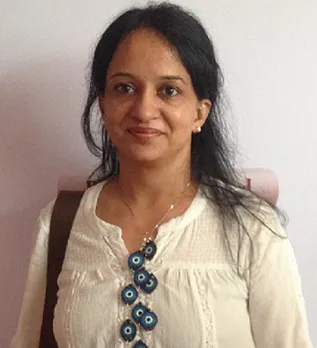 Shreya's mother, Mala Gupta, wearing KaagZevar Jewellery
Coming back to Shreya, her highest point with KaagZevar was when she was in seventh grade in 2015 and taught quilling to senior secondary students. Since then, she has facilitated several quilling workshops for national and international students at school and outside.
In managing school and her small startup, Shreya gives credit to her parents. She does agree that it gets "tiring at times" but believes that her parents' support gets her going. "They handle the legwork for art supplies, setting up workshops, finances and other aspects too," says Shreya.
The finances of the startup are looked at by Mala but the decision-making stays with Shreya. "Decision-making is part of my role along with jewellery designing and creation."
ALSO READ: Indian-origin teen wins Google scholarship for medical invention
Apart from quilling, Shreya's paintings have won various awards in national/ regional art competitions. Her literary work has been published multiple times in Children's World (Magazine from CBT, Govt of India) and her school magazine – Sandesh.
She has also received numerous scholarships and awards, including Shankar's International Art Completion and Maxlife iGenius Scholarship.
KaagZevar ganesh pendant
When we asked Mala about parental support to young children, she said, "Let the children find their own calling. Don't push them into what you think would be a better career option."
She added, "Treat your child as a peer. Treat them with respect and mutually agree on the lines of respect, guidance and interference."
This story of a young girl collaborating with her parents to start a business is what we find most inspiring.