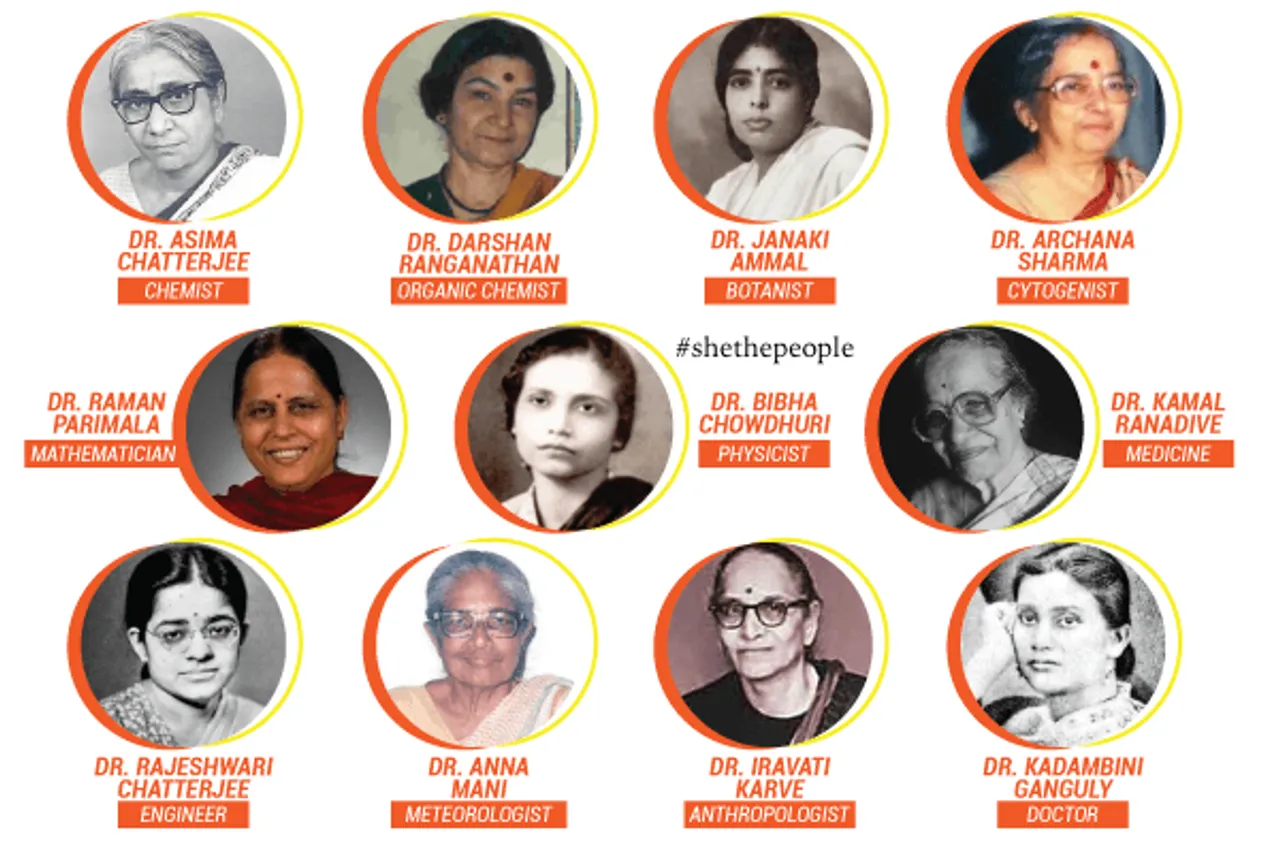 It's a wonderful way to celebrate the female scientists of India. The Women and Child Development Ministry  will establish 11 chairs named after women scientists in institutes across the country to honour their contribution in the field.
These are the women under whose name these 11 chairs will be established - cytogeneticist Archana Sharma, botanist Janaki Ammal, organic scientist Darshan Ranganathan, chemist Asima Chatterjee, doctor Kadambini Ganguly, anthropologist Iravati Karve, meteorologist Anna Mani, engineer Rajeshwari Chatterjee, mathematician Raman Parimala, physicist Bibha Chowdhuri and biomedical researcher Kamal Ranadive.
Let's tell you a little about these amazing women:
Janaki Ammal left her flourishing career abroad and came back to India to serve her country. She will also be remembered through a chair dedicated to her in the field of biotechnology. Her work to make sugarcane hybrids was indigenous and in the pages of history, she remains to be known as the woman responsible for making the Indian sugarcane sweet.
Asima Chatterjee excelled in the area of Phytomedicine. She worked under P. K. Bose, the pioneer natural product chemist in India. She was the first woman to be awarded the Doctor of Science (D.Sc). of any Indian university. During her career Chatterjee fulfilled her life-long dream to establish a Regional Research Institute for carrying out research on Indian medicinal plants for the development of Ayurvedic drugs.
Irawati Karve will be established in her name in social sciences institutes. Karve was the first Indian female anthropologist, a discipline that in India during her lifetime was generally synonymous with sociology. She had wide-ranging academic interests. As per reports and academic documents, she retained the belief in the importance of mapping social groups like subcastes on the basis of anthropometric. She founded the department of anthropology at Pune University.
Darshan Ranganathan was elected Fellow of the Indian Academy of Sciences, Indian National Science Academy and the recipient of many honours the last of which was The Third World Academy of Sciences Award in chemistry for her outstanding contributions to bio-organic chemistry, particularly supramolecular assemblies, molecular design.
Kadambini Ganguly was the first Indian and South Asian female physician and surgeon, trained in western medicine, as well as one of the first female graduates in India. She studied in Bethune College and graduated from University of Calcutta.
Anna Mani obtained a scholarship to do research in physics at the Indian Institute of Science and was accepted in C.V. Raman's laboratory as a graduate student. In Raman's laboratory, Anna Mani worked on the spectroscopy of diamonds and rubies to analyse fluorescence, absorption, and Raman spectra. In a career of almost 30 years, she published a number of papers on topics ranging from atmospheric ozone to the need for international instrument comparisons and national standardization of meteorological instrumentation, retiring as 23 Deputy Director General of the Indian Meteorological Department in 1976. She saw nothing unusual in her pursuing physics in an era where women were hardly pushed to take up science.
Raman Parimala has been credited for achieving many firsts in algebra. Prof. Parimala has received many accolades for her contributions to mathematics. In 2010, she received one of the highest global honours in her field when she was selected as the plenary speaker at the International Congress of Mathematicians. She spoke about the arithmetic of two-dimensional fields. She is also a recipient of the Shanti Swarup Bhatnagar Prize in 1987.
Kamal Ranadive was an Indian biomedical researcher who is known for her research in cancer about the links between cancers and viruses. She was a founder member of the Indian Women Scientists' Association. She strongly believed that scientists who went abroad for postdoctoral work should return to India and develop new areas of research in their perspective laboratories.
Bibha Chowdhuri is an established name for her work in particle physics and cosmic rays. She was the first woman researcher selected by Homi J. Bhabha to join the newly established Tata Institute of Fundamental Research (TIFR), Bombay, in 1949. In fact despite being a pioneer in the study of cosmic rays in India, Bibha Chowdhuri remains mostly unknown. She even worked with Nobel winner Patrick Blackett on cosmic rays. Upon moving to India, she worked in the field of nuclear physics. She then went to work at Tata Institute of Fundamental Research and counted Vikram Sarabhai among her mentors.
Archana Sharma  was a renowned Indian botanist, cytogeneticist, cell biologist, and cytotoxicologist. Her early education was in Rajasthan. She then went on to do her B.Sc. from Bikaner and later pursued her M.Sc. in the Department of Botany at the University of Calcutta in 1951.
Rajeshwari Chatterjee was an Indian scientist and an academic. She was the first woman engineer from Karnataka. During her tenure at the Indian Institute of Science, Bangalore, Chatterjee was a professor and later chairperson of the department of Electrical Communication Engineering
Each of these women belongs to a different field in science and the endeavour honours their success and contribution in that particular field. A Chair in cytogeneticist Archana Sharma's name will be established in one of the institutes under the Indian Council of Agriculture Research (ICAR) to encourage research activity in this area, she said.
Harsh Vardhan, Minister of Science and Technology pushed for commemorating achievements of women scientists during this year's National Science Day celebrations on 28th Feb.
"Dr Darshan Ranganathan Chair in the field of Immunology will be established at several institutes to honour her work for reproducing natural biochemical processes. I hope young girls take inspiration from her and make our Nation proud," Smriti Irani, Minister for Women and Child Development said.
The National Science Day is celebrated to remember Indian physicist C V Raman's discovery in 1928 of the Raman effect - the scattering of photons or light particles by matter.