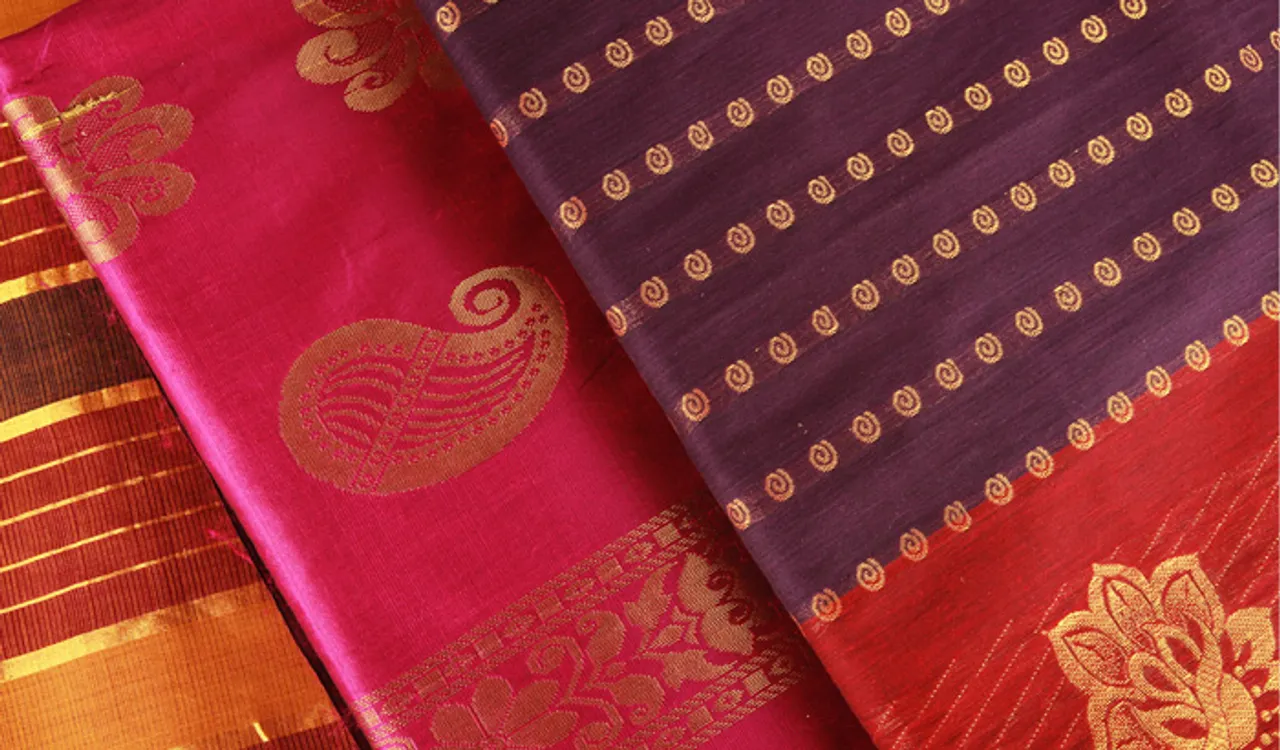 As the cultural Capital of Karnataka, Mysore has a lot to offer. From the beautiful Mysore Palace to the Dussehra festivities, the city gives you many reasons to fall in love with the place. But the one thing that has always stood out for me and many women I know are the Mysore Silk Sarees. The city, popular for its rich and quality silk, is any saree-lover's paradise. A trademark of the silk sarees produced by KSIC (Karnataka Silk Industries Corporation), Mysore Silk Sarees are popular throughout the country.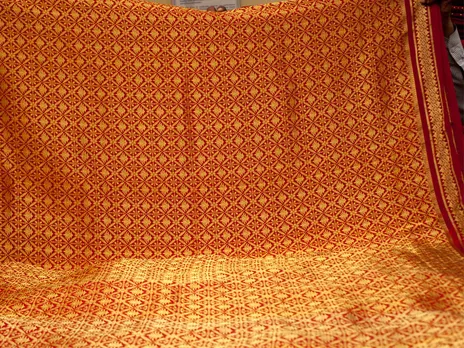 A fully embroidered Mysore Silk saree
Picture By: D'Source
HISTORY
Karnataka contributes to nearly 70% of the country's total mulberry silk, most of which is made in Mysore. The factory where the Mysore Silk Sarees are made was set up by the Maharaja of Mysore in 1912. He imported 32 looms from Switzerland and intended to use the factory goods mainly for the royal family and his army. Post-independence, however, the Mysore state Sericulture Dept. took over the factory, but in 1980, the factory was transferred to KSIC, which now has over 150 looms.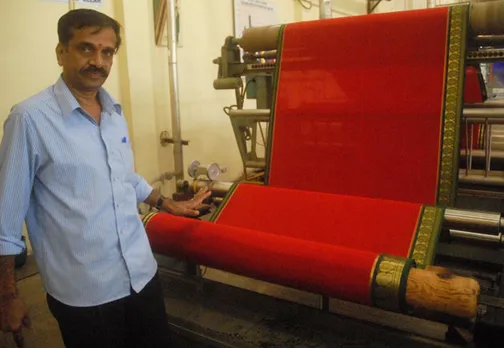 Mysore Saree fabric
Picture By: Utsavpedia
MAKING
The Mysore Silk Sarees are made with two kinds of looms- the Dobby loom and the Jacquad loom- these are used keeping the intended design in mind. Made from the best silk and zari, each saree is on the border-weaving machine for about four hours. After the border is complete, the saree is straightened and then sent for cutting, finally going through another quality check. Priced between Rs.1,000 and Rs.50,000, they are then sent to the retailers.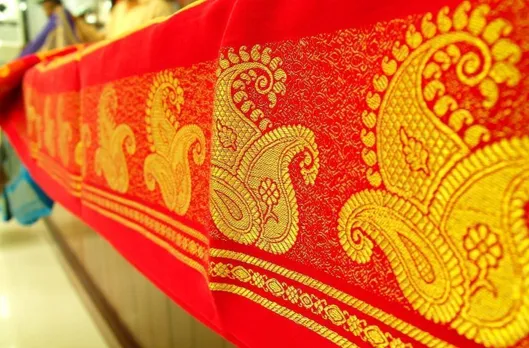 Mysore Silk saree with golden Zari border
Picture By: Wikipedia
TYPES
The Mysore Silk Sarees come in different variety and styles. According to the KSIC website, some of these are:
Embroidery Design saree
Big Butta Pallu Zari
Rich Pallu Sari Saree
Jawar Border Saree
Small Mango Saree
Zari Printed Saree
Saree Tissue Saree
Traditional Zari Saree
Checked Zari Saree
Mango Border Saree
Sunrise Design saree
Butta Pallu Saree
Double Line Checks Saree.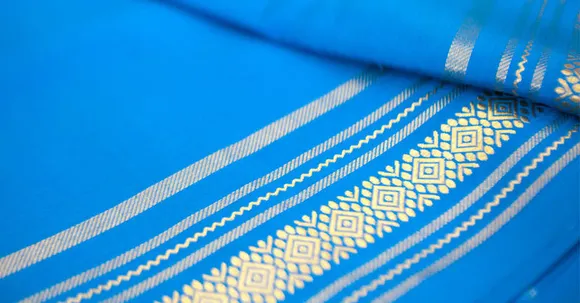 A finished Mysore Silk Saree
Picture By: D'Source
DURABILITY
Known for their incomparable quality, the Mysore Silk Sarees are made of pure silk and gold Zari. All the sarees produced come with individual embroidered code numbers and holograms guaranteeing the quality of the product. In 2005 KSIC got the GI or the Geographical Registration patent certificate that further helps you purchase only the best of Mysore Silk Sarees.
Make Mhy Trip>