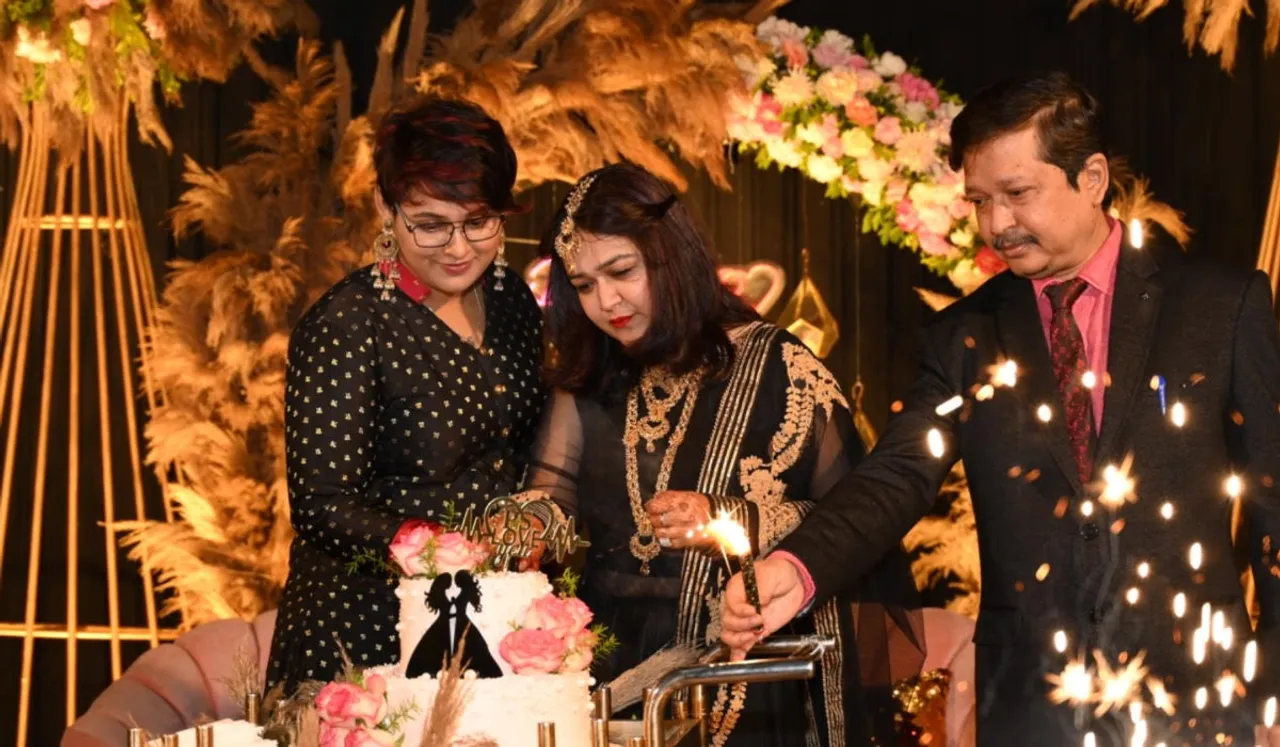 Dr Surabhi Mitra grew up in Nagpur with parents who always pushed her to find her voice and choose for herself. Dr Mitra, who came to terms with her orientation, also learned that society would not be as kind to her knowing her identity. However, she chose to accept herself and proudly state her love for her partner, Paromita.
In this conversation with SheThePeople, Dr Surabhi Mitra shares her journey and relationship with her fiancé Paromita, and expresses gratitude to her father, who stood beside her no matter what.
Dr Surabhi Mitra Story
"I was born to parents who were open to the idea of love. They had an inter-caste marriage & always lived life on their own terms. The way they lived their lives inspired me to live mine. I wasn't compelled to follow a stereotype of how a girl is supposed to act or dress. It encouraged me to own my personality from a young age.
While I gradually started realising my orientation during school days, I truly came to terms with it at 19, in my first serious relationship with a girl. It was at this stage I knew for sure I was only attracted to the same sex. When a relationship resulted in a break-up, my partner revealed my identity and spread rumours about me at a time when it was still taboo. That revelation made me realise that instead of letting people define my narrative, I needed to define my own. I had to accept myself & make others accept me too.
Discussing orientation with my family was a little difficult back then but because they were understanding of who I really was, they accepted me entirely. At 25, I was once advised to go for a convenience wedding where my husband, too, would be homosexual & marriage could be a cover-up to our secret lives. When I told Dad I couldn't even think of living intimately with a man, he said, 'Don't give in to societal pressure, make your own choice.'
I met Paromita in January 2020 in Kolkata during a mental health conference. As an attendee, she liked my speech & came up to me to talk to me. We spoke about various issues and connected instantly. We exchanged social handles & casually spoke on Instagram for days. A mutual friend played Cupid suggesting that Paromita would make a great partner for me. It was after a let's-get-to-know each other phase when my phone got damaged & we didn't talk for a week when we realised we missed each other it could build to something. After talking for several hours post that, we planned a beach trip. One day, she said, 'If I happen to propose to you there, would you reject me?' I responded, 'I don't think so.' That was it, we knew we wanted to be together.
I told my parents about it and they asked me to call her home. She came over to meet my friends and family and everyone was in sync. 'Why would you not go for a full-blown ceremony, and not behave like a same-sex couple who doesn't have privileges?' said Dad. We got engaged on December 29. Paromita, who worked in an MNC in Kolkata, shifted to Nagpur to be with me where I'm doing my medical practice.
My dad once told me that 'labels do nothing but limit you.' As a doctor and advocate of the queer community, I vouch for this every day. I was once told that even if I felt differently, I must grow out of it because my community would never be accepted in society. Well, I owned it, and people of my community sharing their stories openly today show how far we've come collectively.
Interviewed by Trisha. Written and edited by Bhawana, Team SheThePeople
---
Suggested reading: Married On Their Babies' Birthday, Meet The Couple Who Made A Family Based On Love