Nayanima Basu: Imagine being a woman reporter, posted in a war-torn nation, being taken over by insurgents known for committing gut-wrenching gender-based atrocities. Suddenly, there is a shift in power and you have hours to fly back to your country, but oppressive insurgents are everywhere - your hotel lobby, the streets outside, the airport and even at the gates that lead to your embassy. It gives us chills just thinking about the scenario, but for one woman journalist from India, this became a reality on August 15.
The Print's Diplomacy Editor Nayanima Basu was in Kabul when the Taliban took over Afghanistan and its democratically elected president Ashraf Ghani fled the nation. She was booked on a flight back to India on August 16 morning that later got cancelled. After that, Basu had to brave bullets, leave behind her luggage, negotiate with insurgents soldiers trotting weapons, so that she could make it to the Indian embassy and eventually hop on an Indian Air Force plane to get home.
Now back home, safely, Basu spoke to SheThePeople about her ordeal, the experience of reporting from war-zone, the future of Afghanistan, global concerns over safety of Afghan girls and women and why it is important for women journalists to continue reporting on wars.
What were the challenges that you faced while reporting on the Taliban's takeover of Afghanistan?
Challenges were countless. But I guess I was ready for such challenges. However, what I may have not contemplated, and neither did the Afghan government or for that matter the Indian government, was that the Taliban will come marching right inside the Afghan capital at such a blistering pace. When I arrived in Kabul on August 8 and when my reports started coming in from the next day onwards, many in India, as well as some of my friends and sources in Afghanistan thought that I was being foolhardy to have chosen Afghanistan as an assignment. In fact, I had volunteered for it to my Editor the day India closed its consulate in Kandahar. I could sense it then that this is the right time for a journalist to go to Afghanistan and see the so-called transition of power to the Taliban at the end of a 20-year-long war there by the US and NATO forces.
This is also the reason why just as I reached Kabul and started analysing the ground situation there, I realised that one of Afghanistan's main cities and commercial hubs, Mazar-i-Sharif, will be falling. Thankfully, I had some solid contacts there with the former governor of Balkh Province Gen Ata Mohammad Noor and I made a quick decision to leave for Mazar on 10 August. Incidentally, that was also the day when the Indian consulate there was also in evacuation mode and I wasted no time but went there to cover it.
I spent two days in Mazar while people were telling me that it could come under Taliban attack that night itself. In fact, the hotel where I was staying told me to be prepared as anything could happen. But nothing did. I was also able to plan my days there well and went to the Pul-e-Bukhri area, which was five km away from Mazar to witness and cover the fighting that was going on there. Two days after I came back, Mazar fell.
While the rest of the world was shocked at the swift change in power, did reporters on the ground see it coming, or was it as surprising for you too?
As I said, I for one, did see it coming since I did not confine myself in Kabul and left for Mazar-i-Sharif when the situation was still somewhat under control. But the speed at which the Taliban was closing in around Kabul was astounding! Till Saturday night, which is 14 August, people in Kabul were confident that it would be at least 15 days to a month when the Taliban would enter the city after protracted negotiations with the Ashraf Ghani government, even as hectic talks were also going on in Doha with the main Taliban leaders. I happened to meet some of my acquaintances on the evening of 14 August and they told me that while they were sensing an impending danger, they did not see them coming in less than 24 hours inside the main capital city.
Even ousted President Ghani stated in a taped address to the nation that the government will continue to protect people and that the Afghan forces will continue to fight the Taliban tooth and nail. But, unfortunately, by Sunday (15th August) morning, all hell broke loose. Reports started coming in that the Taliban had entered the city and immediately the traffic was gridlocked and the hotel I was staying in locked itself. By the night it was a complete mayhem and one could sense that Kabul was rapidly collapsing. By Monday, 16 August, the old Kabul as we knew it was history.
The capture of Afghanistan happened while the world continues to deal with a pandemic. Do you feel that cases and deaths from COVID-19, vaccination status etc in the country need to be reported on an equal footing?
Yes, but I don't think COVID is at all a priority there. Honestly, I think, if someone wants to report on COVID from there, they can. I believe there have been some COVID-related deaths that have happened, but I don't think there is any readers interest in the same. Having said that, it is also true that COVID remains a huge concern in Afghanistan but the numbers are quite less. Although, there are no protocols and rarely do people wear masks there. I believe when you are living in a war for two decades, the threat of some unknown virus makes little sense. Besides, the Ghani government was running some vaccination programmes initially but as it got riddled with its own issues and the question of its existence became a threat I think COVID control took a backseat.
While you were trying to get out of Kabul, what was going on in your mind? Were you afraid of being captured by the Taliban? Or not being able to leave at all?
Yes, to be honest, firstly I don't think anyone in Kabul, including the Indian Embassy there, had even an iota of understanding what the airport had become within just less than 24 hours of Kabul falling. I was booked on the first Air India flight that was to depart from Kabul on Monday, 16 August at 11 AM. I was with another Indian journalist who was also supposed to catch the same flight. We were both advised by the Indian Embassy to reach the airport "as early as possible". So we made a plan to check out from the hotel - Kabul Serena Hotel - at 4 AM.
While checking out I could get a sense of things to come that morning. About 100-odd Taliban men entered the hotel while we were leaving. Nevertheless, we quickly left the hotel and reached the airport at around 4:30 AM. But to our complete astonishment we saw that the airport had been taken over by the Taliban and they were there with armoured vehicles, shooting incessantly from the machine guns in the air and sometimes even at the crowd that had gathered in huge numbers, in order to leave the country. I realised then that Sunday night was when things completely turned upside down for Kabul city and life as they knew was a thing of the past. Kabul was thrown out of gears and the Taliban had unleashed the same old terror and mayhem on the roads of Kabul while more bloodshed was to come.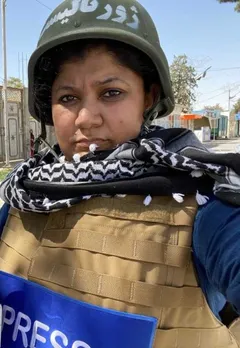 Image Credit: Nayanima Basu
As I spent five hours inside the airport, I saw blood all over, bullets strewn all over and by then the Taliban had also gone out of control in an effort to control the crowd that gate-crashed the airport. They had no tickets, no visa but just the will to leave Afghanistan, even if that meant taking on a bullet or two. That was when I really thought that I won't be able to leave this country at all and I may not live as there was shooting everywhere.
They were shooting directly at the crowd and I could see people getting hit, women were running for their lives and men ran with children on their laps, and there I was with a suitcase and two handbags, clueless what to do. The Embassy asked me to come over but there were no cabs that were plying on the roads then even as a monumental crowd gathered near the main entry point of the airport.
As I made my way finally into the Embassy I really thought to myself how could I do it? I guess, the sheer fact that all my life I believed in one thing and that is a woman can do just about anything if she is determined, self-confident and knows her subject well.
As they say, knowledge always helps and I take pride today in the fact that I had some bit of knowledge about the ideology that the Taliban follow and what hits them the most when they are confronted by a woman. I did just that, I made them aware of their ideologies as a Talib and why they should not do anything to me even as they were guarding the 'Green Zone' or the VIP enclosure where all embassies are located. I was also mindful of the fact that the Taliban does not see India as its enemy but certain factions within them are a cause of major concern.
Numerous Afghan women have taken to social media, to express their concern over the safety of women and girls under the Taliban's regime. Do you share their concerns? Will all the progress made in last two decades, in terms of women empowerment, be lost?
I believe so. Firstly, the Taliban, now that it has come to power and is seeking political legitimacy from other countries, should clearly spell out what are going to be its policies vis-a-vis running the country, which is suffering from abject poverty and especially, what will be its roadmap for women. It should not cite the 'Sharia' rule when it comes to dealing with women because that makes some other sense and may not be a road towards women emancipation. I share their concerns wholeheartedly and I believe at least for now all progress made in women empowerment in the last two decades are now lost. I know many women professionals there who are now either staying inside their homes or hiding somewhere safe but definitely cannot go on the roads or go back to work.
What does the future look like for Afghanistan, according to you?
That really depends on what kind of governance structure the Taliban brings in. History has shown us that for the brief time period they were in power in Afghanistan from 1996 till 2001 they had unleashed a reign of terror, torture and lawlessness. Today, their leaders sitting in Doha tell the world that they will give amnesty, will ensure women's rights and will not repeat past mistakes. But they have to live by their words and ensure that they really do things or take certain steps that will force the world to think otherwise about them.
So far, it does not look like that they have done anything different but may be once this chaos settles and a government is formed can one truly analyse what the future will be like. But let's not forget that there are these militia groups that continue to resist the Taliban and they may be regrouping somewhere in Uzbekistan or Tajikistan or just about anywhere to come back to Afghanistan and oust the Taliban from the seat of power. After all, the Taliban today came to power by force and not through elections having the support and will of the people.
An American journalist recently faced backlash for wearing a hijab while reporting from Afghanistan under Taliban's regime. Do you think social media fails to understand the harsh reality of on-ground journalism, and the risk these women are taking to simply do their job?
Social media contains a variety of people coming from various backgrounds, beliefs and cultures. There is, in general, very poor understanding within a large section of people on on-ground reporting and the challenges that come with it. As a journalist, my job is to bring the story out, whatever it takes. And I think even in my own country I wear a 'dupatta' or cover myself when going to some holy places then why not while working in a sensitive and conservative place? After all, work is no less than worship. Besides, what people also don't understand is the fact that when you are on the ground you are not always equipped with devices or have a security net around you that we see is a given in western media.
Despite concerns over safety, why do you think is it crucial that women journalists continue to report on wars?
My source of inspiration has always been Christiane Amanpour. I knew while growing up that nothing is impossible for women. In fact, some things are more possible for women in a war zone that men cannot even think of. Thus, more and more women should report on wars and bring reports of women, children, the society in general rather than only showing bombardments and artillery pounding which is anyway a given when you are covering a war. While safety is a big concern in war zones, it is also true that in such places you find support from absolute strangers who help you mostly because you are a woman. So that is an added advantage.
---
Suggested Reads For You
Who Is Clarissa Ward? CNN Journalist Reporting From Afghanistan
What Is Sharia Law? Here's Why Afghan Women Are Wary Of Taliban Rule
Our Identities Already Disappearing: Afghan Women Erased From Taliban-Run Roads