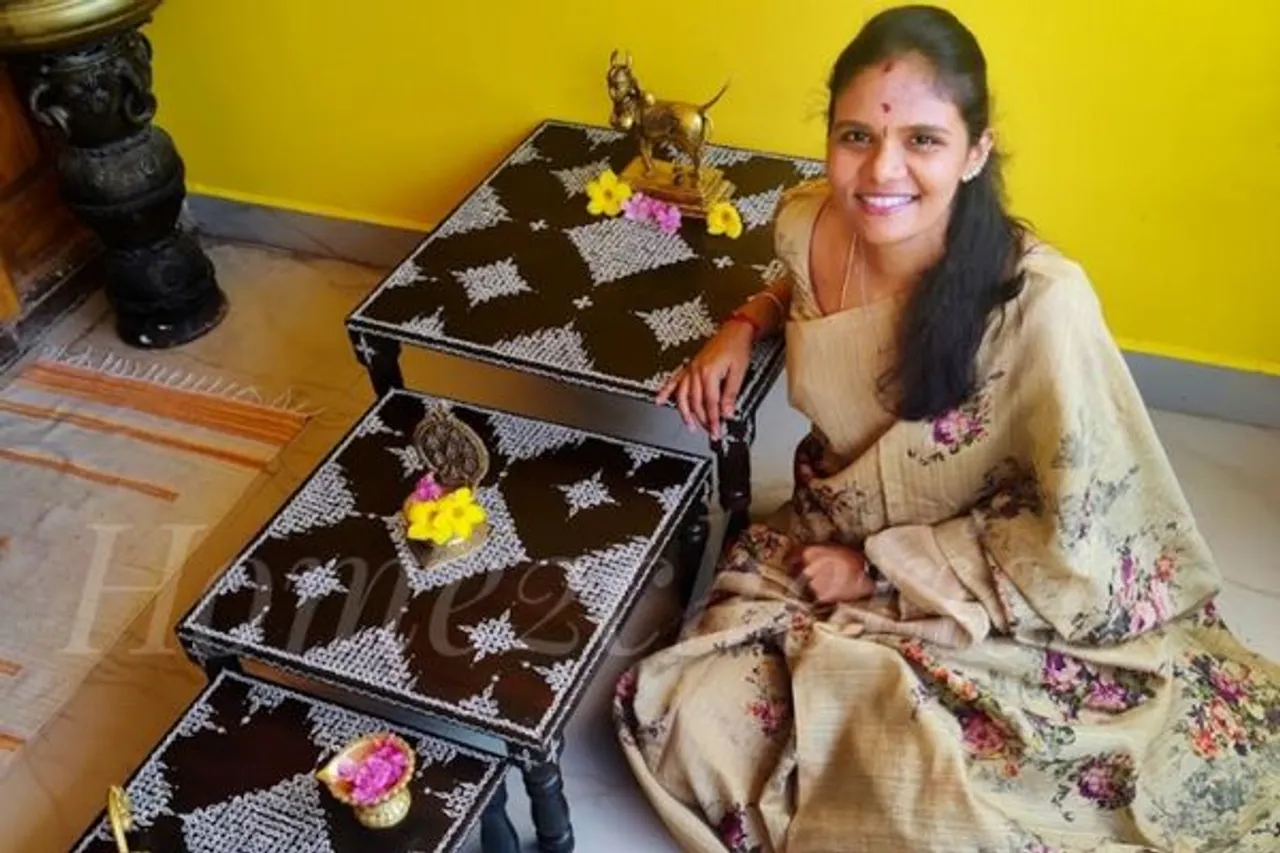 A 32-year-old Deepika Velmurugan grew up seeing her mother and grandmother chalk the entrance of their home with rice flour kolams. Fascinated by the traditional art, Deepika would join them and learn a lot in the process. After marriage, she turned her hobby into her business through her venture Home2Cherish, which sells unique home decor with kolam patterns in all sizes and colours at affordable prices. The only difference is that she uses paint in place of rice flour.
"I am an accidental entrepreneur. I once posted on Instagram a picture of an intricate kolam that I had painted on a wooden cradle separator. The responses I got were overwhelming, which motivated me to do a business out of it", she says to SheThePeople.TV. In the last three years, she has delivered over 600 orders to her clients in India and globally, including countries like the US, the UK, Norway, France, Germany, Australia and Dubai. GPay, she says, has made it easy for her to collect payments from her customers across the world.
"I have always believed in taking baby steps towards growing my business. I don't believe in taking risks and it has always worked in my favour since I get enough time to learn how to handle everything", she says, adding that she started with a small investment of Rs. 1750 and is now earning a revenue of Rs. 2 lakhs per month.
Time management is one of the most important skills entrepreneurs should master. - Deepika Velmurugan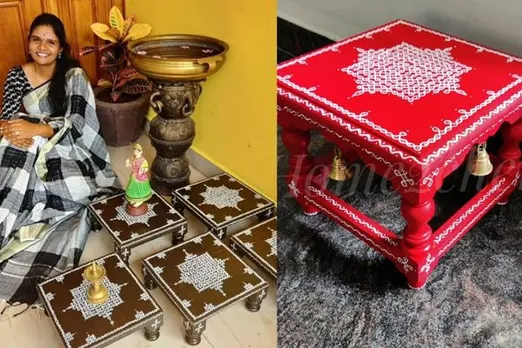 Deepika Velmurugan with her products
The art of designing kolam patterns
She explains that she uses acrylic colours to paint the kolam design onto the wood and then coats it with wood polish. I have to design these products with a lot of accuracy, neatness and focus. She explained how even one mistake could make the entire artwork look shabby and force her to start from scratch. "I am very cautious while making these designs and make a conscious effort to avoid any mistake", she said.
She also shared that it takes about 35 to 40 days to complete an order because of the amount of labour that goes into making it. "My clients don't mind it at all, and they know it is a time-consuming process.", she said.
The bestselling articles in Deepika's business are kolam padis, and these are wooden steps for keeping idols of gods and lamps in pooja rooms. Products like wooden plaques, name boards, wall hangings, and wooden door panels are also in high demand.
Strong support system
Her husband is her biggest support system. "He keeps guiding me from time to time. He takes care of packaging and keeps a tab on payments to ensure that I can focus more on the products' quality, " she beamed with pride.
Time management, she says, is one of the most important skills entrepreneurs should practice to make their lives easy. "As a mother of two, I have to be very particular about managing my time", she says.
In the future, she plans to introduce more traditional products like traditional spoon stands and traditional masala boxes so that more and more people can get a traditional touch to their homes. "Keeping alive these aspects of tradition through my art gives me a lot of joy", she signs off.
The interview has been published in partnership with Google