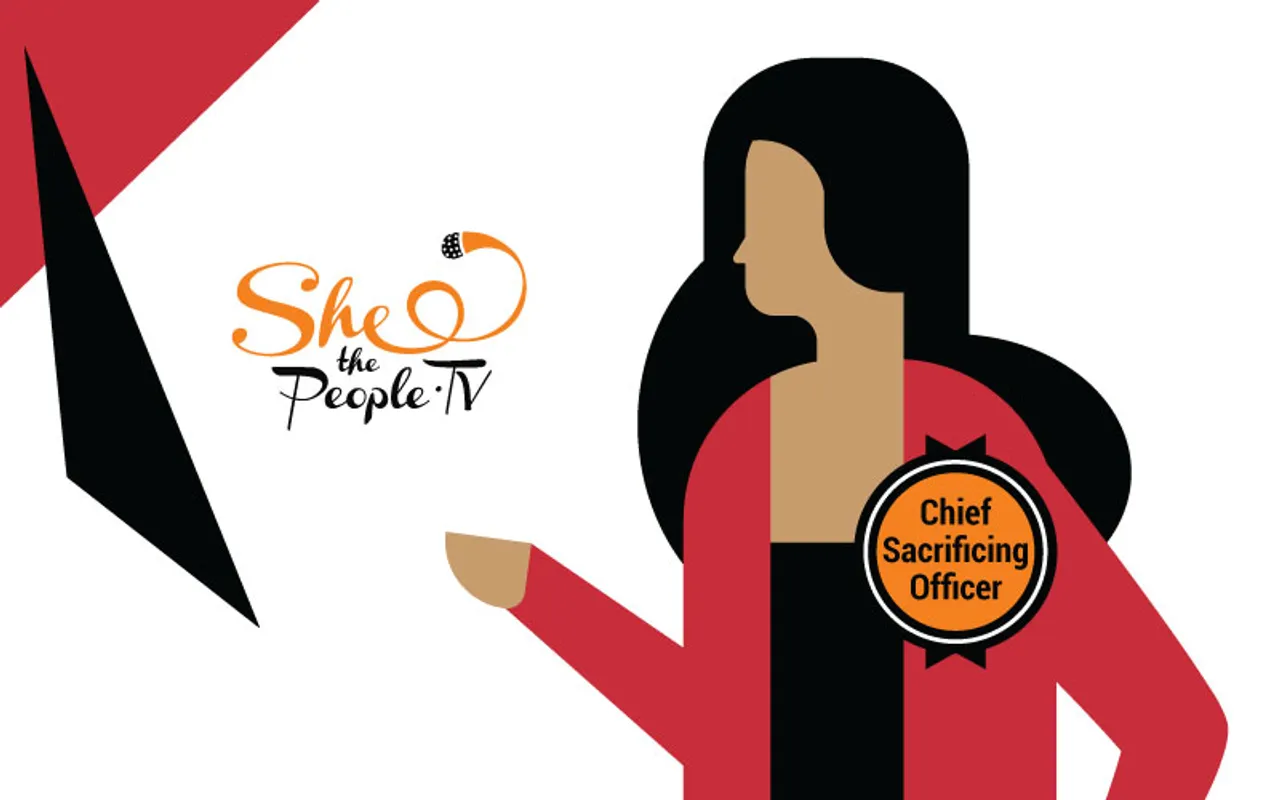 When it comes to making sacrifices, Indian women seem to have a monopoly on the matter. Infact I have seen women get into arguments so fierce that one may think they would break into a scuffle any moment, over who gets to sacrifice the last roti in the casserole. Us womankind pride ourselves in our ability to not just give, but to give to such an extent that it robs us. However, sacrifice isn't always good for you. Can an empty glass quench someone's thirst? This is why women need to stop being the chief sacrifice officers. It is okay to grab onto that last slice of pizza sometimes.
SOME TAKEAWAYS:
Women love being the chief sacrifice officers around their loved ones. 
But is sacrifice always good for us?
Is the conditioning of girls and women to be caring responsible for this attitude?
Aren't there other ways to let people in our lives know that we care about them?
Making sacrifices for their loved ones seems to be a competitive sport for women across households in India.
Mums, wives, sisters, daughters, aunts, all have this notion that sacrificing something for someone you love is the ultimate way to let them know you care for them. That you place their demands and well-being over everything else. It is not about that last roti though, women willing turn into sacrificial lambs at every occasion in their life. They give up careers to rear children, they stop wearing a certain kinds of clothes to appease their husbands, they change their lifestyle to keep their in-laws happy. Not just that, women take pride in their ability to sacrifice.
ALSO READ: Saand Ki Aankh: Should Young Actors Have Played Older Women?
Has that got something to do with the way we are brought up? Aren't young girls conditioned to be caregivers and people-pleasers since the day they are born? In teaching them to put their needs below that of everyone else, society sets them up for a lifetime of compromises. What's worse, we are expected to feel good and take pride in it. This does nothing but internalise the association of sacrifice to our gender. Women judge other women who put themselves first and call them self-centred. They deem women who don't give up their career to embrace motherhood, or "adjust" accordingly in their matrimonial homes as selfish.
Women who are assertive, who know what they want and have no inhibitions in chasing their dreams and desires are projected as a "bad influence."
Women need to realise that making a sacrifice isn't the only and the most acceptable way to emulate love and affection. Your children will still love you if you refuse to share your ice-cream with them (my mother doesn't and her refusal to share her cold treat hasn't affected our relationship in any way.) If your husband truly values you, he won't demand you to dress or eat or live your life on his or his parents' terms. Also, it doesn't make you any less of a woman if you put your needs and demands first, rather than deriving pleasure in giving them up.
Those you love aren't entitled to your share of achievements, love, food, and even life, just because of their association with you. Yes, we all make sacrifices for our near ones, but then one needs to know where to draw the line. Sacrifice shouldn't become a habit or need or a way of gaining love and validation. Because if someone is with you just for what you are willing to give up for them, and not for who you are, then isn't that a predatory relationship?
ALSO READ: Is Happy Marriage All About Listening To Your Husband?
Yamini Pustake Bhalerao is a writer with the SheThePeople team, in the Opinions section. The views expressed are the author's own.