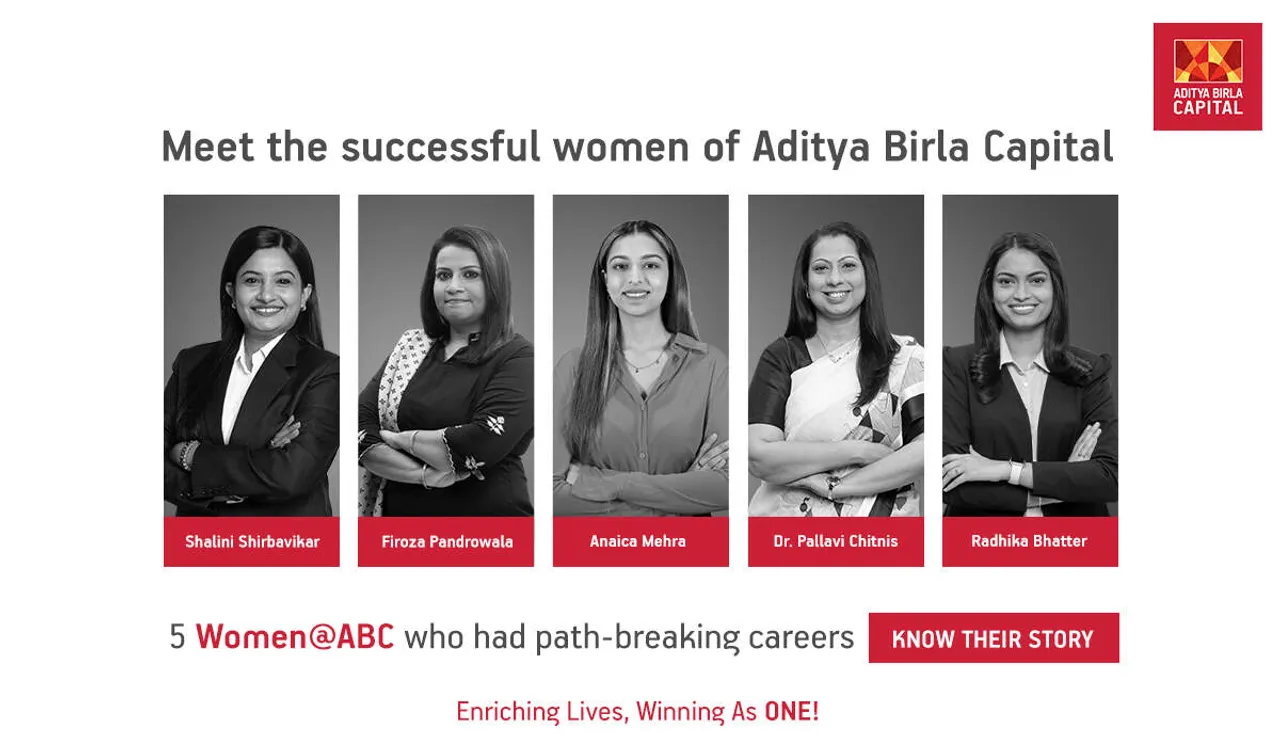 For as long as we can remember, men have dominated sectors such as Sales and Finance. However, in recent years, women have been making significant strides in sales. They have not just broken down barriers but also achieved great success in sales positions across varied industries.
In today's competitive business environment, companies are recognizing the value of having a diverse sales force that includes women. And at Aditya Birla Capital, women employees are gaining a fresh perspective, tapping into new markets, and increasing business revenue for several years now!
Here's an outlook of 5 empowered and successful women who not only have achieved great heights but are also ruling this sector. Through this article, we take a look at their journeys and understand what has helped them shape their careers.
Women Professionals At Aditya Birla Capital
Shalini Shirbavikar, Branch Head - Bhilai, Chhattisgarh Aditya Birla Sun Life Asset Management Company Limited
I began my journey at ABC as a Regional Manager in the Asset management business. My experience and learnings at ABC have made me the professional that I am today. Later in 2017, I was promoted to Brand Head in Chhattisgarh, I take immense pride in leading ABC's FIRST-ever all-women branch.
All of this was possible because of the support the company gave me throughout my journey. I'm proud of the fact that I was able to lead a sector–Sales, which is largely dominated by men.
The company has taken massive efforts to create a sales-nurturing environment for its employees. A wide range of learning and development options are always made available to us.
Being a Head of the all-women branch, I understand the responsibilities a woman has towards her family. But all of us have been greatly supported by ABC's woman-friendly policies, thoughtful convenience such as- pre-booking cab services, and starred motels through the central travel portal ensures the safety of its employees. It also provides Nanny allowances and access to daycares, and because of these facilities, we're able to maintain a work-life balance.
I am empowered to thrive as my abilities are never questioned. The feeling of being backed by my team is incredible. I'm grateful to have worked in a company that genuinely looks after its employees and I look forward to serving our customers for many years to come! And most importantly thrive and become a better leader every day.
Firoza Pandrowala, Area Sales Manager Aditya Birla Housing Finance Limited
"Where there's room for growth, there'll be room for success" and I have experienced this first-hand at Aditya Birla Capital! In 2108, I joined the company as a Sales Manager, and met a few of my best colleagues, my mentors and even better leaders! Things took a slight downfall at the time of Covid, yet the constant support from my team made the difficult times seem less challenging. After 5 years of working at ABC, I am now, a mentor to the team of key sales managers, this has brought a whole new range of exposure to my life!
I've got a chance to lead projects and even interact with various stakeholders. Being in a senior position, I get a chance to learn new things daily, this has helped me build a deeper holistic understanding of the business. From sales to collaborations to operations, everyone at ABC has each other's back.
ABC is truly a place where I found my calling. From here on, I only look forward to moving ahead and being a part of brilliant projects in the future.
Anaica Mehra, Management Trainee – Diversity, Equity, and Inclusion, Aditya Birla Finance Limited
I began my journey with Aditya Birla Capital while pursuing my bachelor's degree. While seeking internships online back then, I happened to find Aditya Birla Finance
Limited's six-month internship opportunity in their newly established Diversity, Equity and Inclusion Function. I immediately enrolled and got a chance to get on board with professionals at ABC. Following my six-month internship, I was offered a full-time role after my graduation.
What makes ABC a special place is, how we are living this proposition ourselves every day. The company is a healthy mix of millennials and Gen Z, but it never failed to acknowledge everyone's suggestions, mine were welcomed and actively sought, even though I am the youngest member of the team
My experience at One ABC has been incredible. I am grateful for the opportunities that have come my way and I only aim to create a better and more inclusive ecosystem for people from all walks of life.
Dr Pallavi Chitnis, Head -Retail Underwriting Aditya Birla Health Insurance Company Limited
At Aditya Birla Capital, every day is a new day. Each day comes with a new challenge and we all know that we're set to disrupt the status quo.
In terms of job satisfaction, ABC provides truly unparalleled opportunities. Very few places can boast of such an environment where not a single day feels stagnant or monotonous.
It struck me more than once, ever since I had left ABC to explore other avenues outside. I missed the excitement and passion at ABC, and it just made sense for me to return for a second inning with the company.
Right from setting up my team and identifying the right processes, to working closely with the senior leadership and absorbing their expertise – it was a learning experience that I thoroughly enjoyed. I've grown to my fullest potential at ABC, because the organization itself is driven, with a genuine passion for health, rather than solely focusing on insurance as a business.
Radhika Bhatter, Regional HR Manager
Aditya Birla Sun Life Asset Management Company Limited
My association with Aditya Birla Capital began when I joined the Business HR Team as an intern fresh from ABC's FAIR Summer Internship Programme. Right from day one, I've had the opportunity to work with multiple stakeholders, experience different aspects of the business and delve into the functioning of various teams. My first ever project with the HR department involved the building of a product for the Sales team – a product that was set to impact over 800 people in the Retail Sales division.
Working on a high-impact project from scratch in my internship itself has been a blessing! I also got to apply my engineering experience in this project, which I believe gave me an edge very early on. In the early stages, I got to witness how the product ultimately benefited so many people and was made even sweeter by the appreciation I received across the board.
Later, I was offered a full-time opportunity in the HR department. Apart from continuing to work on the product I had helped develop as an intern, I also got roped into extensive data analysis, complete with insight-building and productivity calculations.
In just over a year, I've steadily gained a diverse range of experience on-the-job. This has helped me identify so many of my strengths.
From an intern to a manager my journey at ABC has only progressed, the experience has been especially wholesome because of the people I am surrounded by. It's just the beginning, I still have many new milestones to achieve in my next role at ABC!
This article is published in collaboration with Aditya Birla Capital
---
Suggested reading: Who Is Vishakha Mulye? Career Banker Appointed As CEO Of Aditya Birla Group