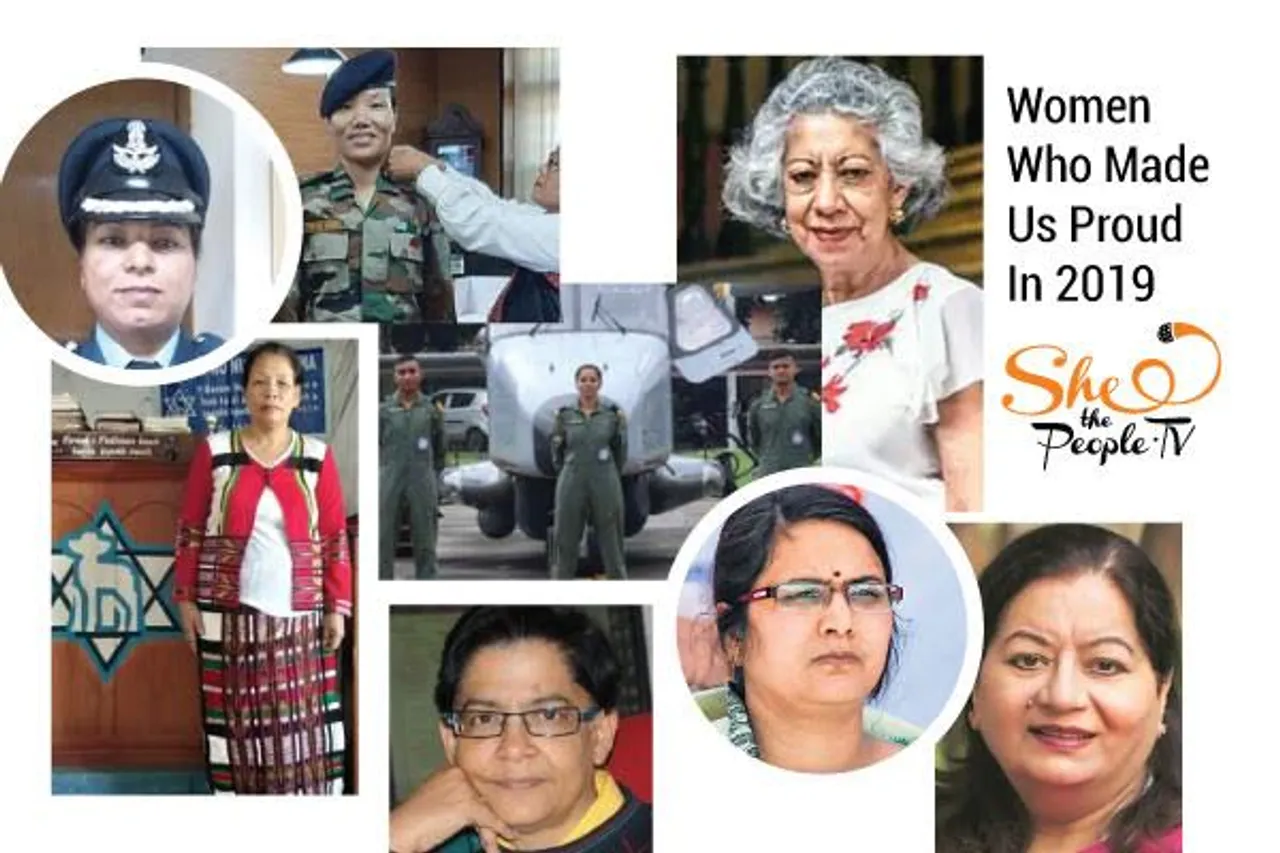 2019 has been a year of achievements for women across the country. For Indian women, it has also been a year of many firsts. This year, like every other year, women have shown that they are capable of as much as men are. Breaking gender barriers and traditional stereotypes, these ten women have made India proud and made history in their specific fields with their achievements.
Lieutenant Shivangi
On the 2nd of December, Shivangi started her duties as a pilot in the Indian Navy. Consequently, she became the first woman to be a pilot in the navy. The Navy's Aviation division had women officers as air traffic control officers. However, with Shivangi, it will have a woman as a pilot for the first time. This is a historic first for women not only in defence sector but over the nation. Her induction as a female pilot is a proud moment for India.
Lt Col Jyoti Sharma
Lieutenant Colonel Jyoti Sharma is the first woman Judge Advocate General of the Indian Army to be deployed on a foreign mission. As per her new role, Lt Col. Sharma will be inducted as a military legal expert with the Government of Seychelles. She would also help advise the country in matters of defence. As the first woman to be deployed for this role, she has made India proud.
Also Read: Lt Col Jyoti Sharma - First Woman Judge Advocate General Deputed Abroad 
Indian Army officials to ANI: Lieutenant Colonel Jyoti Sharma appointed as Indian Army's first female Judge Advocate General officer to be deployed on a foreign mission. She will be appointed as the military legal expert with the Government of Seychelles. pic.twitter.com/GStbHuVRsR

— ANI (@ANI) November 14, 2019
Renu Bala
Congress candidate Renu Bala from Sadhaura constituency won the assembly elections in Haryana. Her win was made historic because she is the first woman MLA from the constituency in its 42 years of history. She said to SheThePeople.TV in an interview that "It is a matter of pride and progress here that the people have chosen a woman MLA for the first time because they wanted to choose me." It is also a proud moment since Bala won with the biggest margin of votes in the history of Sadhaura assembly seat elections.
Ponung Doming
Ponung Doming made India proud when she became the first woman Lt. Colonel from the state of Arunachal Pradesh. In a never-before moment, she inspired women and girls across the state and nation. She joined the Indian Army in 2008 and continued to rise. Doming was also a part of the UN peacekeeping mission at the Democratic Republic of Congo. She represented India among a mostly male contingent.
A proud moment for all of us...

Major #PonungDoming creates history. She is first woman Army officer from #Arunachal to be elevated to the rank of Lieutenant Colonel in the #IndianArmy.

Hearty congratulations and best wishes! @adgpi pic.twitter.com/O33LbNWTsL

— Pema Khandu པདྨ་མཁའ་འགྲོ་། (@PemaKhanduBJP) September 23, 2019
Anjali Singh
Anjali Singh truly made India proud when she became the first-ever woman defence attache. On the 10th of September, 2019, she became the first woman in the country to be deployed in this role. Before her, only men were appointed as military attaches. But she broke this norm and it is hoped that more women will soon be appointed. Singh is also mother to an eight-year-old, and is an inspiring figure in this respect. She has been part of the Indian Army for 17 long years.
Wing Commander Anjali Singh joined @IndEmbMoscow on 10th Sep as the Deputy Air Attache. She enjoys the distinction of being the first female Indian Armed Forces Officer to be posted as a military diplomat in any of the Indian missions abroad. @IAF_MCC @MEAIndia @WIONews @ANI pic.twitter.com/hOqcbPQlJ2

— India in Russia (@IndEmbMoscow) September 16, 2019
Also Read: Anjali Singh - Nation's First Woman Defence Attache
Vispi Balaporia
The Asiatic Society of Mumbai saw its first woman president in Vispi Balaporia this year. The society has been around for 215 years. However, a woman has been elected president for the first time. The 78-year-old professor believes that the society has been controlled by men throughout its history. She is also a member of the Association of British Council Scholars. Balaporia has also served in various capacities at Mumbai University.
Chandrima Shaha
Chandrima Shaha made history when she became the first woman president of INSA. The Indian National Science Academy has never had a female president in its 85-year history. Starting 2020, however, Shaha will be the first woman president heading the academy. She was previously the director of National Insitute of Immunology. Shaha was also the first female cricket commentator at All India Radio. She was also the Vice-captain of West Bengal's first women's cricket team.
Jyoti Khandelwal
Rajasthan's Jaipur constituency had gone 57 years without a woman contesting for elections. However, in 2019, this was broken by Jyoti Khandelwal. She became the first woman candidate in Jaipur in 57 years. In an interview, Khandelwal said "I have a firm believe that I will get full support of women in Jaipur. Be it social, cultural or religious events, I have always been involved with the women in Jaipur. They would set an example that if a party gives chance to a woman candidate, she can win the elections."
Najma Akhtar
The 16th Vice-Chancellor of Jamia Millia Islamia University (JMI) is Najma Akhtar. She made India proud by becoming the first woman president of the university. Akhtar is an academician from the National Institute of Educational Planning and Administration (NIEPA). She is also the first woman VC of any central university in Delhi. It is a progressive landmark in the history of India's academia sector.
Also Read: Najma Akhtar Appointed First Woman Vice-Chancellor Of Jamia Millia Islamia University 
Lalthlamuani
In the history of Indian elections, a woman candidate will contest elections from Mizoram for the first time. Lalthlamuani was an independent candidate in the last Lok Sabha election. She is also the first Jewish woman ever to contest in the election. Among the male-dominated North-Eastern politics, Lalthlamuani is making India proud by breaking barriers. Her nomination is a step towards women's empowerment in the region.
Prapti is an intern with SheThePeople.TV