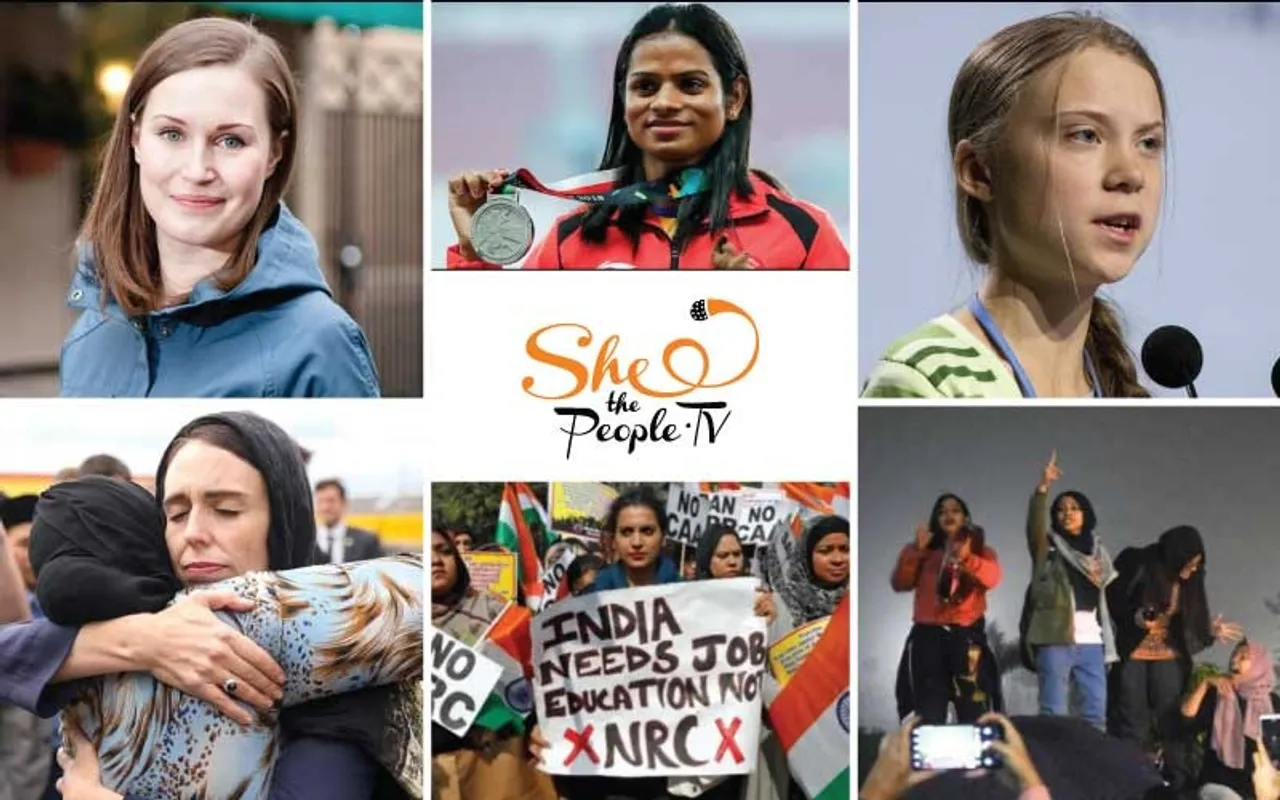 Today is the last day of 2019, and I keep wondering what is it that will make us remember the year. All will have their own reasons, I have mine. So, today I have decided to list out my reasons for remembering 2019. You can add your own in the comments below.
To start out I would say the 2019 belonged to women and the youth. They literally owned it.
On the world stage
If we look at international personalities Greta Thunberg was up there, way above everyone else. The 16-year-old climate activist from Sweden is not Time Person of the Year for nothing. Being the face of climate change activism she spoke at United Nations summits, met with world leaders like President Obama, sailed across the Atlantic Ocean in a zero-emissions boat, and led the largest youth climate strike in history. Whatever her detractors may say I believe her and support this kid who suffers from Asperger Syndrome and calls it her superpower. Where does she  get this energy I wonder! It's only because of her that Climate Change as an issue is being discussed at the world stage. More power to you Greta.
As the year was drawing to a close another face that rose in prominence was Sanna Marin.  She is a Finnish politician who has been elected as the Prime Minister of Finland, and is the youngest person to hold the Prime Minister's office in the world.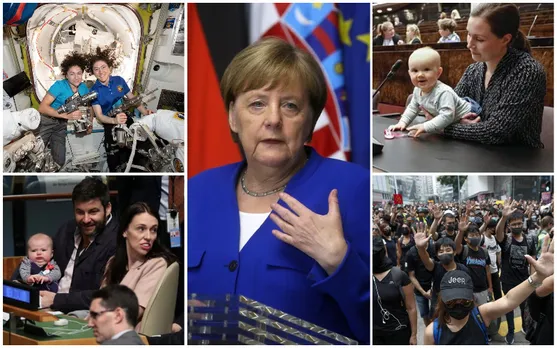 The Finnish Prime Minister is not only a shining example of woman power but also a representative of rainbow families across the world. Raised by same-sex parents, this working mother plays a big role in normalisation of rainbow families, whose children often have to deal with discrimination. She, in a 2017 interview with a Finnish website stated that being brought up in an LGBTQ+ household influenced her views as a politician. However, she did face challenges while growing up because of her family. So, do we see a combination of charisma, brains and youth in her, sure we do.
As Jamia Millia Islamia became the centre of anti-CAA stir in the national capital,  a picture of girls atop a vehicle calling for resistance and a video of two hijab-clad women trying to save a male friend from getting beaten up went viral.
Also read: Agatha Christie: The Queen Of Crime Lives On In Her Body Of Work
New Zealand's Jacinda Ardern made headlines when she became the youngest-ever leader of New Zealand's Labour Party, and then the country's youngest Prime Minister in 150 years, and its youngest female PM, ever. When the country's peace was shaken with the Christchurch shooting which left 50 people killed during prayers at two mosques in central Christchurch on March 15, Jacinda chose a meaningful path of kindness and inclusivity. She has shown that not only is she deeply empathetic, but she has nerves of steel – and can lead in times of chaos and tragedy.
One endearing picture has been that of Ardern attending the United Nations general assembly meeting with her baby in tow. She appeared with her three-month-old daughter and played with her before giving a speech at the Nelson Mandela peace summit. While she spoke, Ardern's partner Clarke Gayford held the three-month-old baby on his lap. What a powerful picture and message.
This month German Chancellor Angela Merkel was crowned the world's most powerful woman by Forbes for the ninth year running. The publication praised Merkel for her 'steely reserve', for standing up for US President Donald Trump and her 'open door' refugee policy which saw more than a million Syrian refugees enter the country amid the 2015 migrant crisis.
The youth of Hong Kong are at the forefront of protests, calling on the government to withdraw proposed legislation that would allow extraditions to mainland China. For the many high school and university-age students who flooded the streets, the issue is much bigger than extradition alone. As they see it, they are fighting a "final battle" for some semblance of autonomy from the Chinese government.
NASA astronauts made history on October 18, with first all-woman spacewalk. Astronauts Christina Koch and Jessica Meir completed the first spacewalk by an all-women team. It marked Koch's fourth spacewalk and Meir's first spacewalk. Koch led the historic extravehicular activity (EVA). Christine Koch further made history when she broke the record for the longest single spaceflight by a woman as of December 28, breaking the previous record held by Peggy Whitson who spent 288 days in space from 2016-2017. By the time Koch returns to earth in February 2020, she would've spent a total of 328 days in orbit around the earth.
Saudi Arabia's Council of Ministers approved a royal decree this year put forth by Crown Prince Mohammed bin Salman that would loosen some of the restrictions placed on women through the kingdom's network of so-called "guardianship laws." The decree marks the most significant changes to date of Saudi Arabia's wilayah, or guardianship, system — a network of regulations on the movements and behavior of women that required them to seek the permission or accompaniment of a close male relative in matters of work, leisure, finances, law, and health.
The new law permits unprecedented mobility to women, including the right to obtain a passport and travel abroad without a male relative's permission. Any Saudi over 21 — regardless of gender — will now be able to obtain, renew, and use a passport. This I feel is a significant move.
The 16-year-old climate activist from Sweden is not Time Person of the Year for nothing. Being the face of climate change activism she spoke at United Nations summits, met with world leaders like President Obama, sailed across the Atlantic Ocean in a zero-emissions boat, and led the largest youth climate strike in history.
Home-grown heroes
Back home, as protests in India against a new citizenship law (CAA) that critics say targets Muslims, grow by the day, they have drawn many women and girls - some housewives, some students with hijabs covering their hair, and others in full-length burqa robes - in a rare sign of public anger against the government. The women can be seen painting graffiti on university walls, organising rallies and gathering funds for posters and food for protesters.
But what really remains with me is this- as Jamia Millia Islamia became the centre of anti-CAA stir in the national capital,  a picture of girls atop a vehicle calling for resistance and a video of two hijab-clad women trying to save a male friend from getting beaten up went viral. The girls — Ladeeda Sakhaloon and Aysha Renna N — have since become the face of the Jamia protests. They have since received both bouquets and brick-bats on social media. But it was the moment when girls took charge it seemed.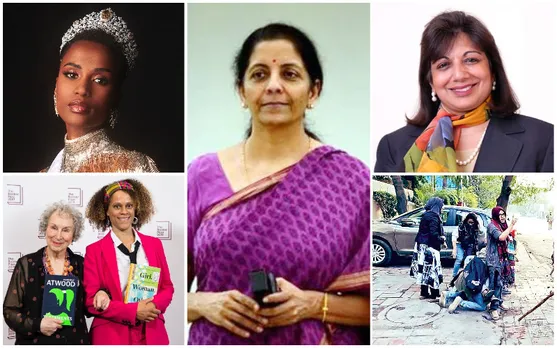 A positive news that cheered us was when finance minister Nirmala Sitharaman, HCL Corporation CEO and Executive Director Roshni Nadar Malhotra and Biocon Founder Kiran Mazumdar-Shaw were named among the world's 100 most powerful women by Forbes.
Also read: Why Roman Holiday Still Enthrals After 66 Years Of Its Release
Stars of the sports arena
The purple haired Social activist and US soccer icon Megan Rapinoe is hard to miss. In the week since leading the US to World Cup victory in July, she has gone from being a football star to global sensation. She stands out in the sports arena and she's has had one heck of a year. The now declared legend scored yet another victory, as she was also named Sports Illustrated's 2019 Sportsperson of the Year. The midfielder, who captains the professional Seattle Reign FC, also won the Ballon d'Or award, given annually to the world's best soccer players.
A self-described "walking protest", she is exuberantly out about being gay and is at the forefront of a drive for equal pay for female and male players. Her outspoken eloquence on a range of causes, including women's rights and LGBTQ issues, is in marked contrast to the many monosyllabic or media-trained sports stars. But I remember her when in June, Rapinoe had said she would not visit "the f**king White House" if her team won the World Cup. Trump responded by tweeting: "I am a big fan of the American Team, and Women's Soccer, but Megan should WIN first before she TALKS! Finish the job!" Trump took four hours after the team's win to tweet his congratulations.
Another of my favourite sports stars is Serena Williams. She aced AP Female Athlete of the Decade honours. Serena Williams dominated the decade, on the court and in conversation. There were, to begin with, the dozen Grand Slam single titles — no other woman had more than three over the past 10 seasons — and the 3 and a half years in a row at No. 1 in the WTA rankings.
And then there was the celebrity status that transcended tennis, making everything she did and said newsworthy, whether it was the triumphs and trophies and fashion statements or the disputes with tournament officials, the magazine covers or the Super Bowl ad with a message about women's power, the birth of her daughter or the health scare that followed.
Gymnast Simone Biles, the 2019 AP Female Athlete of the Year, finished second to Williams in voting for the decade honour, followed by swimmer Katie Ledecky.
On our home turf, athlete Dutee Chand stood out for me. Unapologetic about her same-sex relationship with a younger relative, India's fastest woman Dutee Chand is facing a tough battle of acceptance in her family. Dutee, who won two silver medals at the 2018 Asian Games, became one of the few athletes in the world to openly admit same-sex relationship.
Dutee, was banned for one year by the international athletics federation in 2014 for having higher testosterone (male sex hormone) level than permissible. She then won a landmark 'gender' case against the IAAF in an appeal to the Court of Arbitration in 2015 and she was allowed to compete after being banned for one year. The CAS suspended the IAAF's policy on hyperandrogenism for two years. Later the world body changed the policy, which applies only on female athletes competing in the range of 400m to 1500m, leaving out Dutee, who competes in 100m and 200m, from its ambit. Yet, she is a force to reckon with.
Not for nothing P V Sindhu owned the year 2019. This year in August Sindhu became the first Indian to win badminton World Championships gold by beating rival Nozomi Okuhara of Japan in a lop-sided finals. It was Sindhu's fifth World Championships. It was also the year when she became the only athlete from the country to be named among the world's highest-paid female athletes by Forbes, a list topped by tennis great Serena Williams. With total earnings of 5.5 million dollars, Sindhu is at 13th place in a list released by Forbes.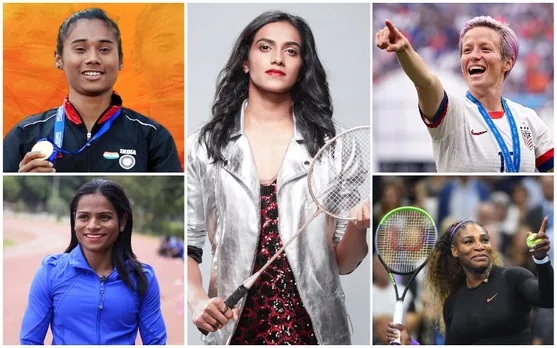 Dhing Express Hima Das set the track on fire this July. She clinched five gold medals in the month. In her first competitive 200m race of the year on July 2, she won gold at the Poznan Athletics Grand Prix in Poland. Then on July 8, she won her second 200m gold at the Kutno Athletics Meet in Poland. On July 13, she won her third 200m gold at the Kladno Athletics Meet in Czech Republic. She clinched her fourth gold as she won the 200m race with a creditable time in the Tabor Athletics Meet in Czech Republic on July 17. Hima won her fifth gold medal in 400m at the Nove Mesto nad Metuji Grand Prix on July 21. Here's hoping she brings much more laurels in 2020.
Beauty, brains and attitude
In a first Margaret Atwood and Bernardine Evaristo were named the joint winners of the 2019 Booker Prize after the judges broke their rules by declaring a tie. Atwood's The Testaments, the Canadian writer's follow-up to The Handmaid's Tale, was recognised alongside Londoner Evaristo's novel Girl, Woman, Other. These books should be on your reading list, if you haven't read them as yet.
A new queen arrived, a beauty queen, and what an arrival. I say hail the new Miss Universe – South Africa's Zozibini Tunzi, not just because she is beautiful but because of her kick-ass final answer that was bound to fetch her the coveted crown. It was a historic moment for Zozibini Tunzi, on December 9, when she was crowned Miss Universe. The 2019 Miss Universe pageant was held in Atlanta, the capital of the US state of Georgia.
When asked what was the most important thing we need to be teaching young girls today, Zozibini told host Steve Harvey, "I think the most important thing we should be teaching young girls today is leadership. It is something that has been lacking in young girls and woman for a long time. Not because we don't want to but because of what society has labelled women to be. I think we are the most powerful beings on the world and that we should be given every opportunity. That is what we should be teaching these young girls. To take up space. Nothing is as important as taking up space in society and cementing yourself." Is that powerful or what!
Also read: Why Jhumpa Lahiri Is Essential Reading To Understand Indian Diaspora
India-based Period. End of Sentence. won Documentary Short at 91st Academy Awards. The film talks about the stigma around menstruation in India. Directed by Rayka Zehtabchi and Melissa Berton, the film tells the story of women who have no access to sanitary pads and how that affects their health. Period. End of Sentence. was co-produced by Indian producer Guneet Monga's Sikhya Entertainment. The director spoke about Guneet in her acceptance speech too. "Guneet Monga - know that you have been empowering women all over the world to fight for menstrual equality," Zehtabchi said.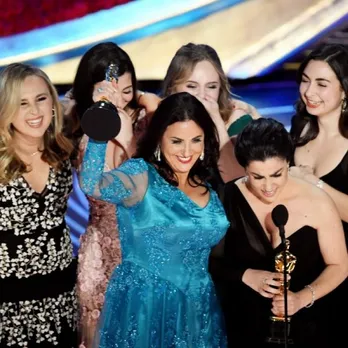 The year 2019 comes to a close, it taught us many things through these women. May the new year 2020 bring even more women to the forefront. That's my wish for the coming year! What's yours?
The views expressed are the writer's own.