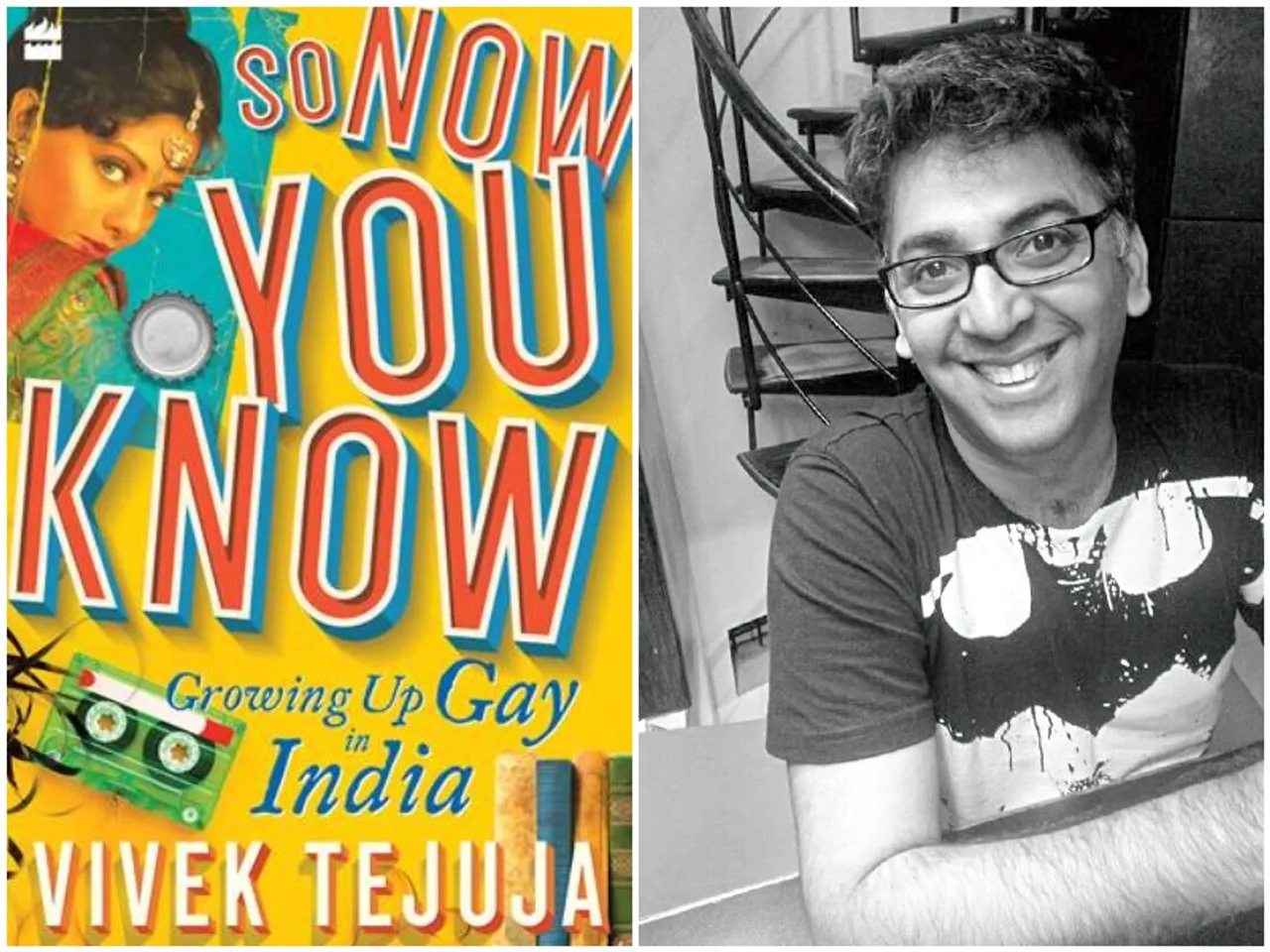 An excerpt from the book, So Now You Know by Vivek Tejuja.
Around this time, while I was eight and trying to come to terms with who I was, Mast Kalandar released, in 1991. It starred Dharmendra (the macho hero) and in contrast there was the character played by Anupam Kher called Pinku, who was unabashedly gay (read: a sissy) and would constantly hit on his father's – the villain, Amrish Puri's – friend, Prem Chopra. There was this starkness in the polarization of roles and of course because it was Bollywood of the '90s (not that much has changed today by the way), there was blatant discrimination against the gay character. I think with Mast Kalandar, as with many other movies where there is a gay character, the idea behind it is humour. They are there to just provide a couple of laughs and nothing else.
From that day on, after watching the film, I tried changing everything about myself. From the way I walked, to trying desperately to sound gruff and not feminine. And yet, what I was most upset about was the way the character of Pinku was dealt with in the movie. On some level, I just wanted the stereotype to go away. I wasn't like this. I didn't behave like this. But I didn't know enough then to know exactly what was being portrayed on screen.
***
Talking of stereotypes, there were some that were constantly being fed to us kids as we were growing up. A man does this. A woman does that. A man cannot do this. A woman cannot do that. The gender roles were well and truly in place. Almost like you could not cross a certain line. Boys can't wear make-up and girls don't play cricket. Thankfully, all that has changed quite a bit.
From that day on, after watching the film, I tried changing everything about myself. From the way I walked, to trying desperately to sound gruff and not feminine.
I grew up in a typical Sindhi household – the kind where there is constant chatter about movies or food or both, where you are told what to do and how to do it, where you can only study Commerce, where you are expected to 'settle down' with a spouse when you reach a certain age, and where patriarchy is the order of the day.
ALSO READ: Kanpur Khoofiya Pvt Ltd Is A Thriller With Small Town Flavour: Excerpt
We were kids, my cousins and I. My older cousin was two years older, and she had just watched an old-time film called Razia Sultan on Doordarshan. And was besotted with the veil that Hema Malini's titular character wore in the movie. She wanted someone to be the guinea pig and make him or her wear the veil, and I somehow was more than willing to be a part of that shenanigan. A black dupatta was arranged for. The veil was perfect. And when I looked at myself in the mirror, with only my eyes looking back at me, somehow, I knew. My cousins could not stop laughing but this time I did not laugh with them. I still wanted to fit in and still wanted all those things that any other child does, but I didn't give in. I danced around with the veil on my face. I rejoiced in the fact that it was different, and I did not feel awkward about it covering my face.
***
In 1991, another movie called Sadak, directed by Mahesh Bhatt, was released. It was a movie on human trafficking, starring Sanjay Dutt and Pooja Bhatt, and the villain's role was played by Sadashiv Amrapurkar who portrayed a transgender pimp. As usual, my Bollywood-loving family decided to watch it. In those days, tickets would be booked for the entire family, whether you wanted to go watch the movie or not. Even a child would be allowed to watch an A-certificate movie, and no one cared. And Maharani (the name of the villain in Sadak) had quite an impact on me. After reaching home, I'd always have the ability to remember and rattle off dialogues in the same intonation as the characters, and everyone was vastly entertained. However, with this movie, when my performance took place at home, there was silence.
ALSO READ: Lady You're The Boss Tells Women To Take Lead: An Excerpt
I twirled, and then I mouthed Maharani's dialogue, in a perfect mimicry.
'What is this?!' my uncle bellowed.
'What do you think you are doing?' my mother asked.
'Oh, come on! Really? Do you have to do this?' my cousins were guffawing in a corner and jeering at me. I could feel their words crawl on my skin – and I felt ashamed.
No one cheered, and no one clapped. There were no compliments floating around as they normally would have. There was the look of disgust on my cousins' faces and I couldn't fathom what led to what happened after.
My uncle walked right up to me and slapped me.
I was reeling with shock. I didn't know how to react. I couldn't even cry because of course you are raised with one rule: boys do not cry, no matter what. So, I hid my tears and decided never to perform again, to not sashay and walk, to not be who I was. Though the incident passed, and was perhaps even forgotten from everyone else's memory, I remembered the lines of Maharani and would recite them aloud in the bathroom, alone at night, when no one could hear me.
Image Credit:
Love books? Follow authors? Join the SheThePeople Book Club On Facebook. Click Here
Excerpted with permission from So Now You Know by Vivek Tejuja, HarperCollins India.