Born amidst snow clad Himalayas in the dreamy town of Shimla, with roots to Kashmir and currently settled in Bangalore, I am a free spirit in every sense of the term. I keep visiting a lot of places worldwide, the recent one being Wayanad in Kerala.
Travelling for me is
Traveling opens the doors of my mind, body and soul. It makes me more mindful as a woman and helps me connect with my true 'inner self.' Travel embraces the free side of me. Each place I cover brings out an entirely new side of me. Traveling to the world at large outside is in actuality a deep inward journey for me, every single time.
Wayanad: A surreal experience in monsoons
I took a road trip with two people who are very close to me, to Wayanad. I have been traveling solo a lot for the past few years. So now it felt like it was time to share my travel moments which bring me so much joy with people who truly matter. And what could be a better way of forging bonds than taking a road trip through the Niligiri Biosphere Reserve in the middle of the monsoon season?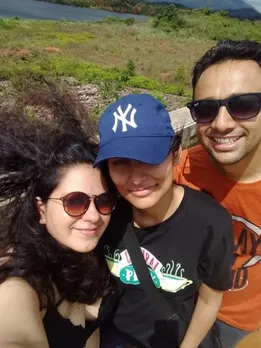 Image Credit: Akriti Mattu
What a journey!
I managed to explore the entire length and breadth of Wayanad (even though Wayanad isn't just one locale but an entire district in Kerala).
Throughout Wayanad, the environment is unadulterated, the air is neat, the forests are green, the lakes are pristine, and the waterfalls are overflowing, while the entire road network is kickass. During monsoons, when most parts of India become inaccessible for comfort travel, Wayanad becomes more accessible.
What could be a better way of forging bonds than taking a road trip through the Niligiri Biosphere Reserve in the middle of the monsoon season?
During my recent trip, I pursued as much exploration of different locales as possible. I visited half a dozen waterfalls (most of them were 'in the moment' natural occurrences), wildlife reserves, ancient caves, pretty lakes, coffee plantations, tea estates and more than ten different spice plantations (no wonder Kerala is known as the spice bowl of India).
ALSO READ: TravelHer: Of Road Trips Pre And Post The Offspring
Some of the places that surely stood out were - the Karapuzha Dam reservoir, Banasura Sagar Dam, Eddakal Caves, the Wayanad Wildlife Sanctuary, Glass Bridge at 900 Kandi, Pookode Lake, Kuruva Island and endless natural hiking trails without a name.
Three Lessons I Learnt From The Trip 
Since we took the trip during monsoon season, the first lesson was to wear only hiking shoes and not slippers. Else, the moss growing all over leads to accidents and falls.
Second, always wake up early on trips to genuinely save the day and connect with a region more. Mornings are beautiful in Wayanad and the rains made them even prettier. Seeing raindrops on lush green leaves, coloured caterpillars on blooming flowers and the fragrance of soil are things that make one happy, inside out.
The last lesson would be to try native cuisine and not be a sucker for your own food (I mean why even travel then ?) Locally prepared food is better cooked in Wayanad so instead of ordering your regional dishes, order theirs. They are delectable.
Best moments from the trip
Driving amidst one of south India's densest forest along the Bandipur-Wayanad National Highway was the highlight for me. The road passes through the forest, spotting an occasional deer or rabbit or even an elephant was such a lovely sight.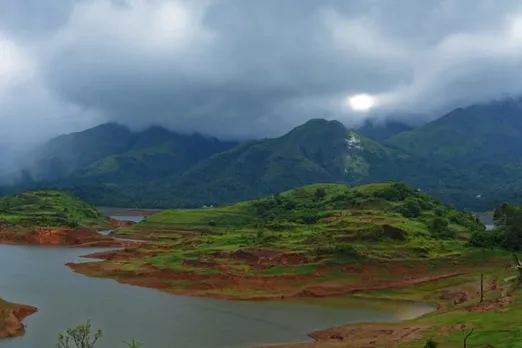 Image Credit: Akriti Mattu
Another lovely moment was visiting the Banasura Dam. Fresh rays from the sun were just casting themselves over a distant peak and making a portion of the dam shimmer. This happened for just a few moments but I am glad to have captured it in my camera
It was a lovely experience to connect with the region and its super warm people. Every single person I met on the trip was so courteous. It almost felt like home. Wayanad literally embraced me.
I will highly recommend Wayanad to all my fellow travelers, especially during monsoons. Wayanad is sparkling green, clean and pure. It comprises of various places that are still untouched and hence makes for one hell of an offbeat retreat. I cannot begin to explain the beauty of these places. They are pure magnificence. The diversity of the place is remarkable.  From hills to lakes to tea estates to treks - it has it all.
Whether you are traveling solo or with loved ones, Wayanad is extremely safe as a travel as a destination.
My Other Experiences
I can't even begin to enlist the kind of experiences I've had as a traveler. I've read poetry out in the woods in Shimla - my hometown. I've savoured the warmth of a hot cup of coffee when it rains in Shillong. I've enjoyed buying fresh green vegetables from the Dal Lake Shikara in Srinagar. I've sniffed pine cones on spruce trees in Alaska. I have witnessed the Northern Lights in Abisko (Sweden). I've cooked eggs in the wilderness in Barskoon Valley (Kyrgyzstan). I've danced with the Magellanic penguins in Chile. I've shopped from the Souks in Morocco. I've camped in the Wadi Rum Desert in Jordan. I've gone skinny dipping in the Dead Sea. I've traveled across so many places that I can keep on writing a thousand fascinating tales but for now, I guess let the above experiences count.
A recent travel trend I have observed
A recent travel trend that I have observed and personally endorse would be offbeat travel but with responsibility. As travelers, it is our responsibility to maintain the ecosystem of locales and not exploit them. Most mainstream places are experiencing 'over-tourism' in contemporary times and hence offbeat travel is becoming more and more relevant.
ALSO READ: TravelHer: How I Discovered Myself, Travelling Solo Around The Globe
Akriti Mattu runs a venture for travelers and bloggers known as Budget Wayfarers and is a professional blogger herself. She has traveled extensively across the expansive terrain of the planet and is a backpacker at heart. To date, she has explored 6000+ locales worldwide. The views expressed are the author's own.