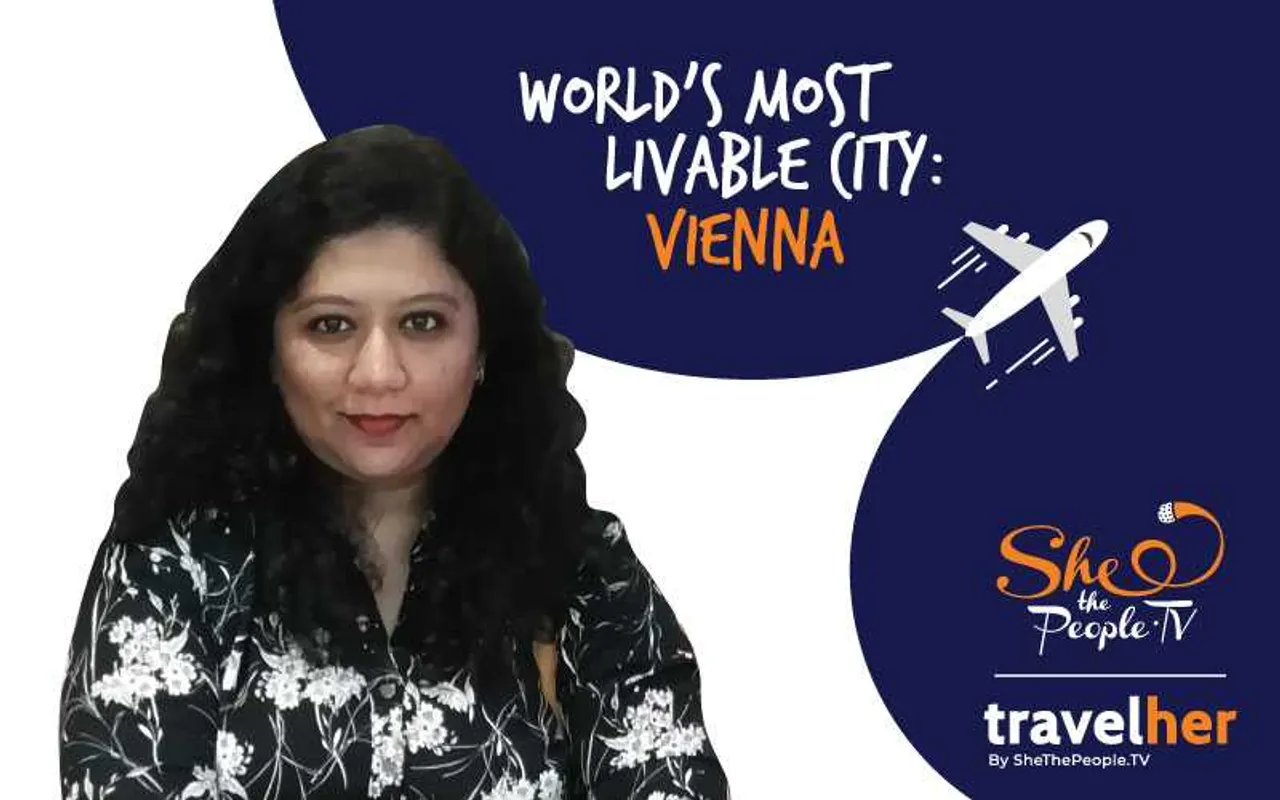 For the second consecutive year, Vienna has been named the Most Livable City in the world. Even before 2018, Vienne always managed to claim one of the top spots of this coveted listicle, and there is a reason for that. The quality of life in the capital city of landlocked country of Austria is not just admirable, but it seems like a lot of thought goes into curating it. However, there's more to the City of Dreams (called so for being the residence of famed psychologist Sigmund Freud) than its way of life. Brimming with ornate palaces and museums, Vienna is considered by many as the city which represents European culture at its best.
Favourite Memories
Some of my fondest memories of Vienna are rooted to exploring its coffee culture. Be it sitting at Café Mozart, which is situated right across the Albertina Museum and is over 200 hundred years old, for a cup of cappuccino and a slice of Apfel Strudel, or exploring the many secluded lanes of Innere Stadt with a take away in my hands. On one such exploration, I ended up at an open Christmas market where I had my first waffle in life.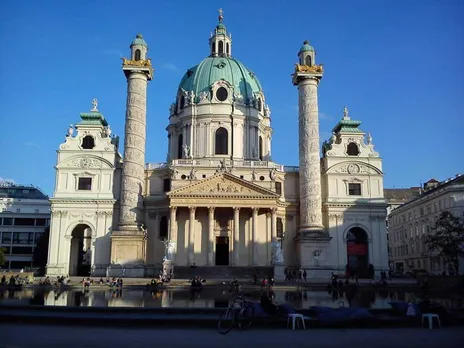 Vienna, a city of churches, palaces and museums. Here: Karlskirche
There numerous street-side cafes all over the city, and the memory of sitting at one on Stephansplatz, with someone strumming a guitar or playing violin nearby, always, and basking the lukewarm October sun, even made it to my book Laundry Girl 2.0. What more does one need, music in the air, the warmth of the sun on your face, a coffee to challenge your palette, and sheets of paper and pen write as much and as long as you like.
What to eat
The birthplace of croissants (no, it is not a French delicacy) is also renowned for wiener schnitzels. This deep-fried meat delicacy is crispy on the outside and juicy on the inside and goes perfectly with a glass of beer.
Brimming with ornate palaces and museums, Vienna is considered as the city which represents European culture at its best.
Another popular Viennese preparation is sachertorte, a kind of dry chocolate cake which can be devoured and even bought to take home from Hotel Sacher. That said, being a multicultural city, which is also seat of the UN as well, one can find restaurants catering diverse cuisines across Vienna, from Indian to Tibetan, Ethiopian and Mexican.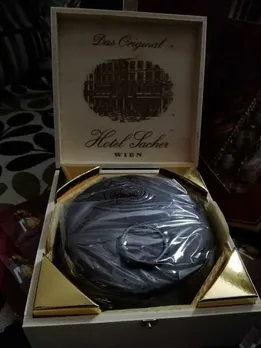 Sachertorte is a dry cake, comes in an exquisite wooden box. Thus a perfect goodie to bring back home.
How to get around
Vienna has perhaps one of the most organised public transport systems I've seen in any city. No point wasting money on taxis, when you can take out a pass that allows you to use trams, U-Bahns and buses at an affordable price. All you need is a map at your disposal and you are good to go. It is quite a safe place, and once I and my husband roamed around the city close to two in the morning for an hour, without any fear or tension. It is these long carefree walks, at any hour of our choice, day or night, with or without a companion, which I miss the most when I think of the time I spent in Vienna.
ALSO READ: TravelHer: Basking In The Natural Beauty And Gross Happiness Of Bhutan
Palaces, museums, and churches
If you are a history buff, then Vienna is the city for you, as it is replete with places and museums. The seat of the Habsburg Dynasty rulers, Hofburg palace today serves as the official residence of the President of Austria. The same dynasty built Belvedere Palace in Vienna, which is in fact made of two palaces, Upper and Lower Belvedere. There is pond outside of the Upper palace that mirrors its beauty, and its stillness just begs you to take a moment and sit on a nearby bench to just be.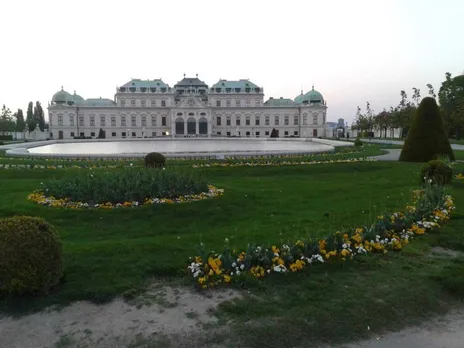 Belvedere, Vienna
However, the most popular and adored palace of the city is Schönbrunn Palace, one of the primary tourist attractions of Vienna. There are many reasons to be mesmerised by Schönbrunn, one being the sheer vastness of it, encompassing many gardens, a gloriette and a Tiergarten (animal garden) known to be the oldest continuously operating zoo in the world. It took us one full day to cover the zoo and the palace grounds. But then we were in no hurry and intended to watch the sunset from the gloriette erected on a 60-meter high hill on the palace grounds. It offered us a breathtaking panoramic view of the city lying beyond the Schönbrunn Palace which itself was glowing golden from the slating rays of the setting sun.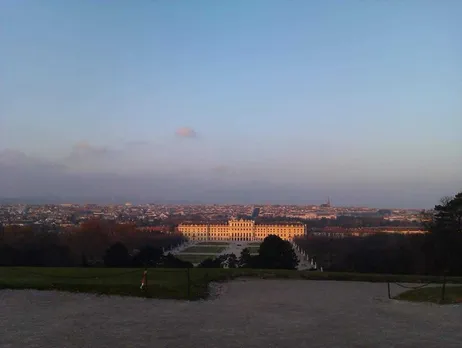 View of the Schönbrunn Palace and the city from gloriette.
Being a sucker for fossils and historical artifacts, it wasn't long after I landed in Vienna that I found myelf facing the twin Naturhistorisches (Natural History) and Kunsthistorisches (Cutural History) Museums, which are situated across from each other in the heart of the city. Natural history museum houses around 30 million objects, including skeletons of mammoths and dinosaurs. There is a dinosaur bone on display for people to touch, which is a big deal as usually you aren't allowed to touch any fossils. I am sure this was meant for kids, who would pester parents and wards to know if they can touch the big dino, but the nerd in me leapt at the opportunity.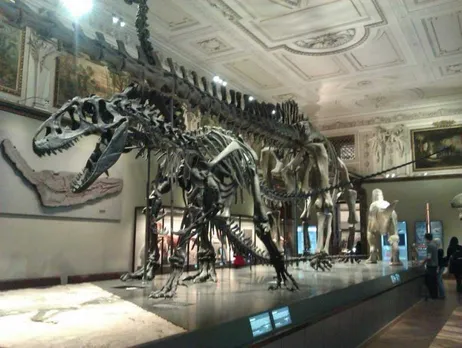 Allosaurus Skeleton at NHM
Apart from mummies and majestic Egyptian and Greek sarcophaguses, the Cultural History Museum also houses paintings such as Madonna of the Meadow by Raphael and The Crowning with Thorns by Caravaggio and many more. But I had little time for the paintings, as I was completely engrossed gawking at mummies, a minor consolation for my lifelong dream to go to Egypt and see the pyramids.
Vienna is one of the very few cities which has managed to embrace multiculturalism, all the while preserving and celebrating its rich cultural roots and that' s a rarity.
Vienna also has many churches famous for their architecture. The main church which is situated, or rather is the heart of the city is St. Stephen's Cathedral, known for its patterned roof. The south tower of St. Stephen's church dominates the city skyline and is visible from many parts of the city. Other notable churches include St. Charles' Church on Karlsplatz and Votive church which grabs your attention with its Gothic style of architechture.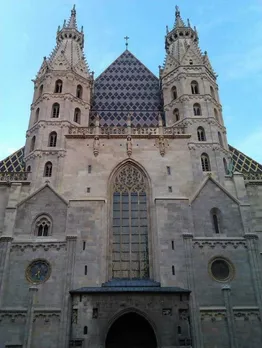 Stephen Cathedral, Vienna
Music and Vienna
You are never far from music in Vienna. Around Stephansplatz itself we would come across people playing one instrument or the other almost everyday. The city has deep ties to western classical music, it being the birthplace of Ludwig van Beethoven and also the final resting place of legends like Wolfgang Mozart, Johann Bach, Franz Schubert. It is no wonder that people shell out a considerable sum to attend performances at Vienna State Opera. Poor me was content standing across the road and watching a performance on the big screen installed for other commoners like me. It wasn't as memorable as listening to a woman, perhaps a student at the school of music, rehearse in the plaza just a couple of feet away from me, but then we all have our own perspective.
Vienna is one of the very few cities which has managed to embrace multiculturalism, all the while preserving and celebrating its cultural roots and that's a rarity. Visit the city to experience both its old-world charm and rich modern quality of life, the essence of which stays with you like the taste of a well brewed espresso.
ALSO READ: TravelHer: Hacks To Make Your Europe Trip A Memorable Experience