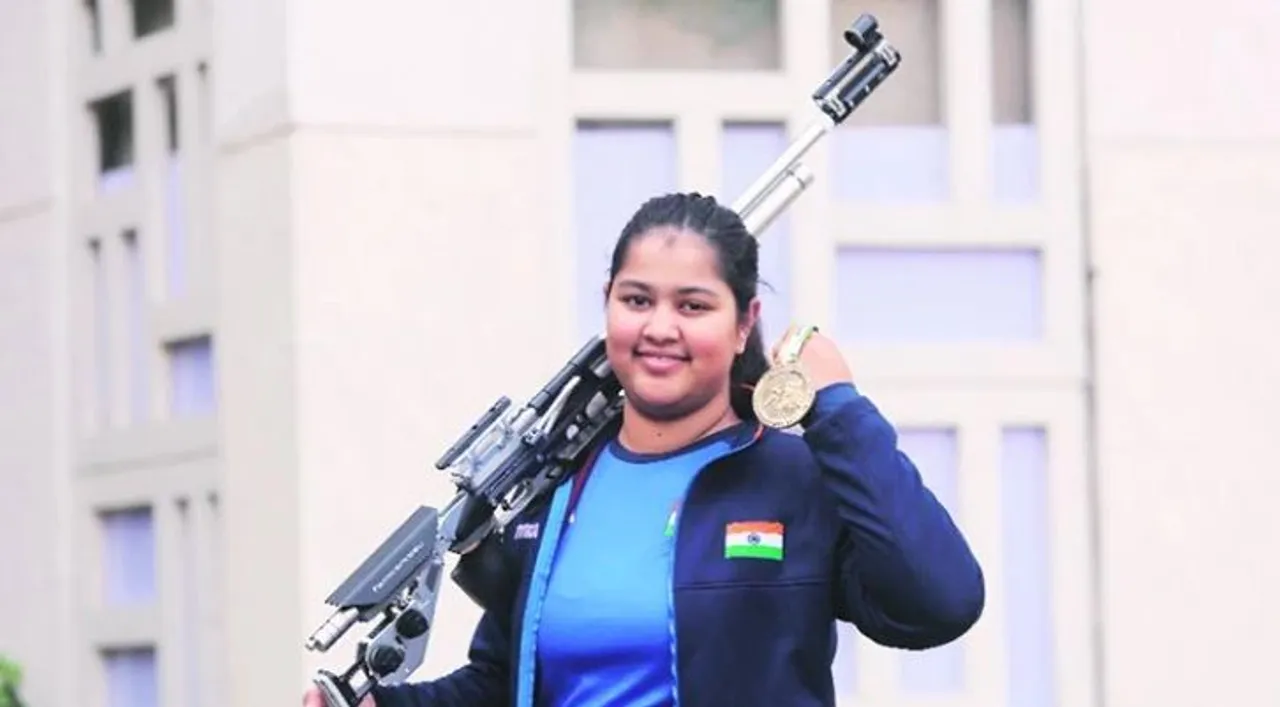 An 18-year-old stood out at the Khelo India Youth Games this year - Zeena Khitta. She stunned some of the top shooters from the country and snatched gold in the 10m air rifle event with an impressive score of 251.3. Zeena continued her excellent performance from the last year's nationals where she defeated star shooters Mehuli Ghosh and two-time world champion Apurvi Chandela.
Hailing from Rohru in Himachal Pradesh, Zeena was 14 when she decided to pursue air rifle shooting. Currently, a BA first-year student at DAV College, Chandigarh, Zeena couldn't afford her equipment so she relied on her school which provided a weapon during her first year of training. Finally, in 2015, she purchased her equipment and has been a regular member of the national squad in the age group category. Zeena's father, Prithvi Raj Khitta, is an apple farmer. She claims that she learnt about rifles from her grandfather who used it to keep wild animals away from their apple orchards.
The youngster is eyeing a spot in the Indian senior shooting team and plans to compete in the selection trials for the Olympics. Some edited excerpts from our conversation with Zeena Khitta.
Coach Virender Singh Banshtu discovered you and then you took up shooting in 2015. But what inspired your passion for shooting?
I had a very simple childhood and my first coach Banshtu was our family friend and being a shooter himself he was the one who suggested my parents put me in shooting. It was he who inspired me to take it up. My mentor and coach believed in me and it was in my blood since my family is no stranger to rifles. We use it on our farms. It keeps wild animals away. My grandfather is very interested in shooting and I learn from the best.
What was the initial experience of shooting like? How has your coach helped you perform well overall?
The initial experience was quite different as I had to practice long hours of training at the range. I had to work on my fitness too. But eventually, as the training sessions became harder, I found myself drawn to the sport even deeper.
Your excellent performance from the Nationals was praiseworthy after you defeated experienced shooters like Apurvi Chandela. How was your equation with the other participants? What have you learnt from them?
I guess when I played the first National in 2016 my seniors were my idols and I have learnt a lot from them. My equation with them is very matured, friendly and I always learn from their experiences.
What kind of social stereotypes did you face while growing up?
When I was a little kid my relatives always used to underestimate me but it never bothered me much because I always knew my potential.
You are just 18 and doing extraordinary in the fraternity. What are your thoughts on industrial legends in India and abroad? How can Indian shooters be inspired by international athletes?
Well, presently India is doing much better at shooting than any other country. At present in world top rankings top two or top three positions belong to India because of the immense competition at the domestic level. High scores are required for international selection in our country which has refined the athletes greatly than anywhere else in the world.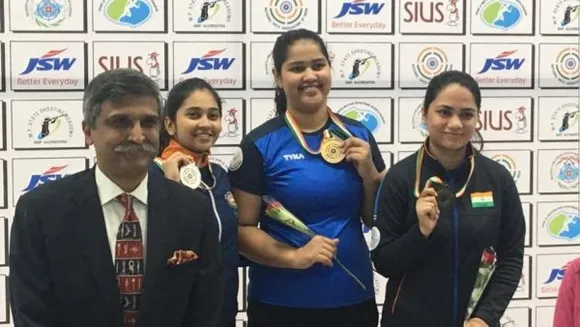 Shooter Zeena Khitta Beats Apurvi, Mehuli In National Championships
PC The Hindustan Times
How is the shooting scene in India for women?  Why isn't it a popular sport among women in your state?
The lack of facilities makes it harder for women to choose a sport like shooting.
People in my state don't give that much attention towards the sport because the game as per the School Games Federation of India is not a high priority.
Also, it was not considered as a popular sport, but now the trend has changed so much that the last Nationals in Bhopal witnessed more than 10,000 shooters participating.
READ:At 14, With Four Shooting Golds, Esha Singh Eyes 2022 Youth Olympics
What do you expect from our shooters in the upcoming Olympics? 
I expect a great performance from all of them because in India we have emerged at a higher competitive level. Practices are top-notch for the selection for the Olympics. Now the time limit has increased due to the pandemic and it's a mixed feeling. However, I believe we are ready to take on the world.
Your first national medal came when you pocketed the bronze medal in 10m Air rifle junior event to finish behind Ghosh and Elavenil Valvarian at the national's finals in Thiruvananthapuram in 2017. Since then you have grown a lot. Seeing a pool of potential today, how have you modified your game for better results?
For better results, first of all, you have to keep yourself in form all the time with physical exercises, yoga, meditation and of course practising with/against better shooters.
How do you deal with growing expectations?
I hardly pay any attention to this aspect as I try to give my best in every match. The expectations from the family and the coach sometimes are higher but I am working hard to prove that I am the best.
What are you preparing for next?
I have to face a few upcoming internationals this year which are crucial for me.
How is your family taking all the spotlight given to you now? Are they supportive of your career choices?
Oh yes, they always were supportive that's why I could reach up to this level and also my family has given me the freedom to decide on the future. They are happy because of my achievements in the game so far, so my dad and mom keep encouraging me all the time.
Balance is difficult between the practice sessions, matches and education but I keep studying alongside the training.
What is the biggest challenge you are currently facing?
To keep my form stable or stronger as compared to other shooters.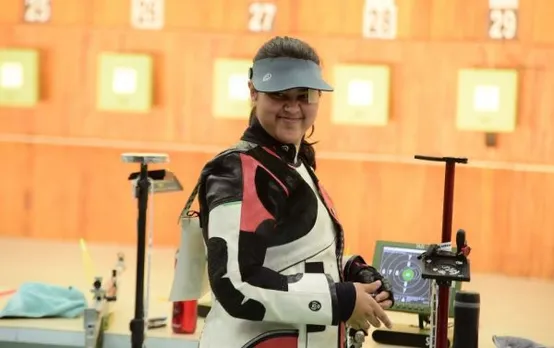 Zeena Khitta Wins Gold in 10m Air Rifle Event at Khelo India
PC kheloindia.gov.in
How can Indian authorities improve facilities/infrastructure to appreciate the culture of sports here?
The game of shooting has financial issues. Shooters lack good coaches, ranges and of course equipment and ammunition due to lack of sponsors. If an athlete gets good financial support from the government things will be a lot easier. Some states like Haryana are doing well for the players and their achievements at national and international level.
Do you face gender discrimination in the industry?
No, not at all… This is a fair game.
Mental health is as important as physical health and one needs to look at both with regards to being fit.  What can athletes do regularly to develop and maintain it?
For athletes, especially in shooting a lot of physical training happens so systematically we are instructed to practice yoga and meditation regularly and stay positive.
Feature image credit: The Indian Express