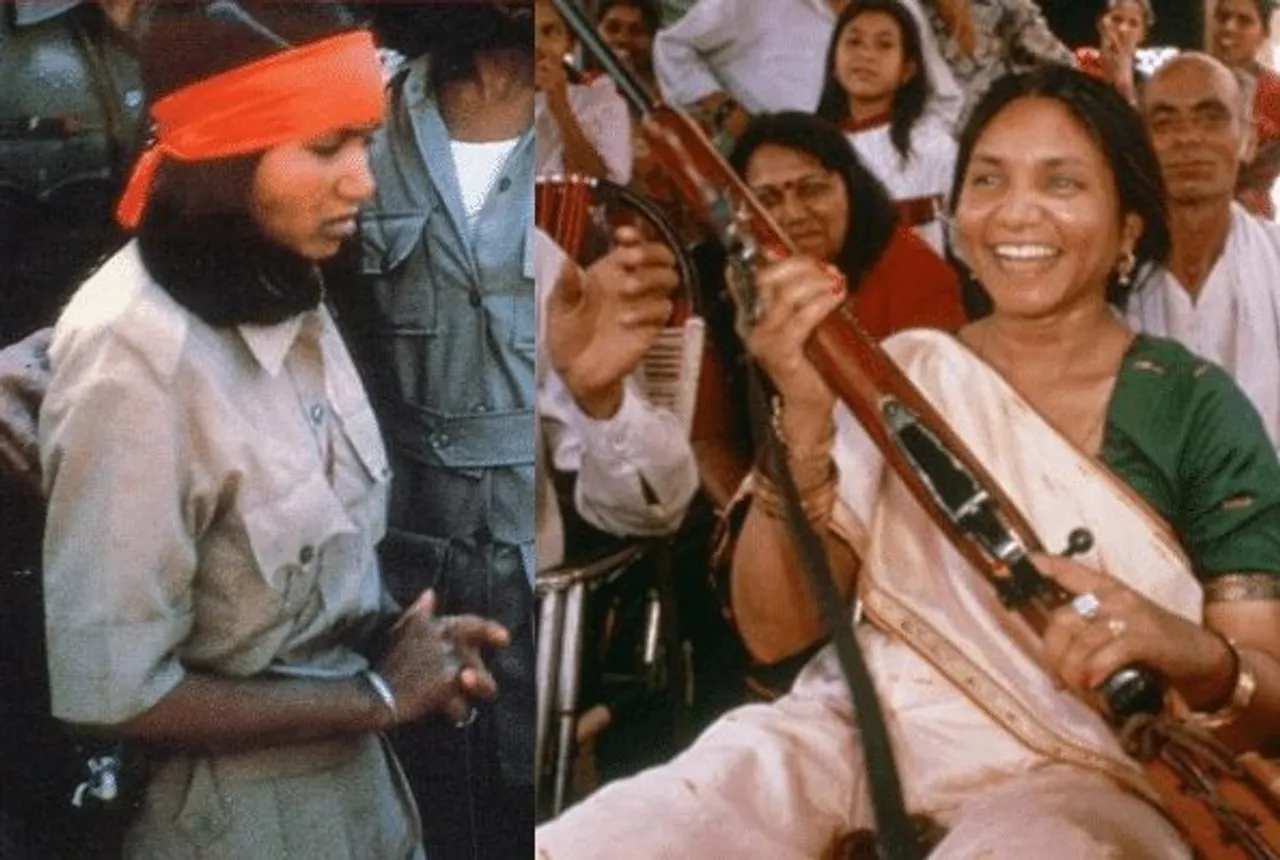 Phoolan Devi, the famous Chambal dacoit turned politician was an anti-caste feminist revolutionary. Her life was filled with instances of abuse, systematic oppression which she fought back valiantly - rising to become a parliamentarian who challenged caste supremacy and the position of women in society. She rooted for the rights of women labourers and agricultural workers of lower castes, including their rights to own land.
Phoolan was born on August 10, 1963 in Uttar Pradesh's Ghura Ka Purwa. At the age of 11, she protested against her cousin for hijacking family land. Described as being 'foul-mouthed' and 'bold', she was married soon to someone three times her age, a punishment for standing up to her cousin to save her ancestral land. Later she returned to her home after facing months of abuse from her husband's family but was shunned for her being ignominious.
It is unclear whether she was abducted by dacoits or joined a gang on her own accord when she was 16. Here, being a lower caste woman, she was constantly abused by the gang leader Babu Gujjar. Babu was later killed by a gang member - Vikram Mallah. Vikram was killed for murdering upper-caste Babu, and Phoolan was kidnapped and locked up in Behmai. She was reportedly gang-raped for close to three weeks by upper-caste Thakur men. It is important to note that Phoolan herself never spoke of this incident.
Also Read: India's Green Gang Are Women Warriors Against Patriarchy In Villages
When Phoolan did escape she formed and lead a new gang and returned to Behmai in 1981, to avenge all that was done to her. She round up more than 20 Rajput men. They were reportedly shot in what is known as the Behmai massacre. This is also the day, she came to be known as 'Devi' an honorific title which commanded awe, respect and fear. This massacre angered upper-caste egos and ultimately led to her assassination in 2001. However, it also stood for retribution and her fight against the status quo, which enabled horrendous injustices against lower caste people especially lower caste women.
Subsequently, she spent two years running from the police and finally surrendered under certain conditions. She served 11 years in jail after which she was cleared of all the charges. In 1992, Samajwadi Party granted her a ticket to contest from Mirzapur in UP which she won to enter the Lok Sabha. During this time Devi also set up the Eklavya Sena, to help teach self-defence to members from lower caste communities. She won her second term in 1999 and was assassinated by Sher Singh Rana in 2001 in New Delhi.
Rana is reported to have told the police that he killed Devi to avenge a massacre of 21 Thakur men she had led in Behmai about two decades earlier.
The Legend of the Bandit Queen 
Phoolan Devi's life has often been reduced to a legend, a mystical story where she is a symbol instead of a woman. Often her deeds are reduced to criminality, to the rights and wrongs of violence, while failing to question, who is justice really accessible to? Her contestation of oppression was seen as extreme, a disdain for a lower caste woman who challenged the status quo. She also becomes a 'damsel in distress', especially in her reification as an icon of subaltern agency in Shekhar Kapur's film Bandit Queen (1995), a movie based on her biography, but also far away from it.
Phoolan Devi herself demurred against the film, which was produced during her time in jail. She said the film showed her "as a snivelling woman, always in tears, who never took a conscious decision in her life." She was a symbol of womanhood scorned and avenged, not a human being. She became a screen onto which fantasies of bravery, salvation and justice were projected. The Great Indian Rape Trick, an article by Arundhati Roy on the film, describes this as her "sexual assault being the main dish, with caste being the sauce it is served in".
Also Read: Archana Soreng Joins UN Youth Advisory Group On Climate Change
The Ideal Protest
Phoolan Devi's life is an anomaly, something not to be. Perhaps, it didn't fit into the appeasing definition of 'protest'. Her life is often sensationalised and made bite-sized for audiences, a series of actions - of a single woman, devoid of the years of caste and gender oppression that surmounted it. She was also given a hysterectomy without her consent, while being operated for ovarian cysts. The prison doctor reportedly laughed and said, "We don't want her breeding any more Phoolan Devi's."
The legend of Phoolan Devi as a dacoit often overshadows her life as a parliamentarian. Writer Katie Presley summarises this perception: "As a Parliamentarian, she fought for women's rights, she fought for women's rights, an end to child marriage, and the rights of India's poor. In a Che Guevara-type revision of history, though, Devi is remembered as a romantic Robin Hood figure, robbing the rich to help the poor, and not as a politician working to enact structural change in India's social hierarchies."
Taking a page from her own writings,
"Sing of my deeds
Tell of my combats
How I fought the treacherous demons
Forgive my failings
And bestow on me peace."
Anureet is an Intern at SheThePeople TV. The views expressed are the author's own.