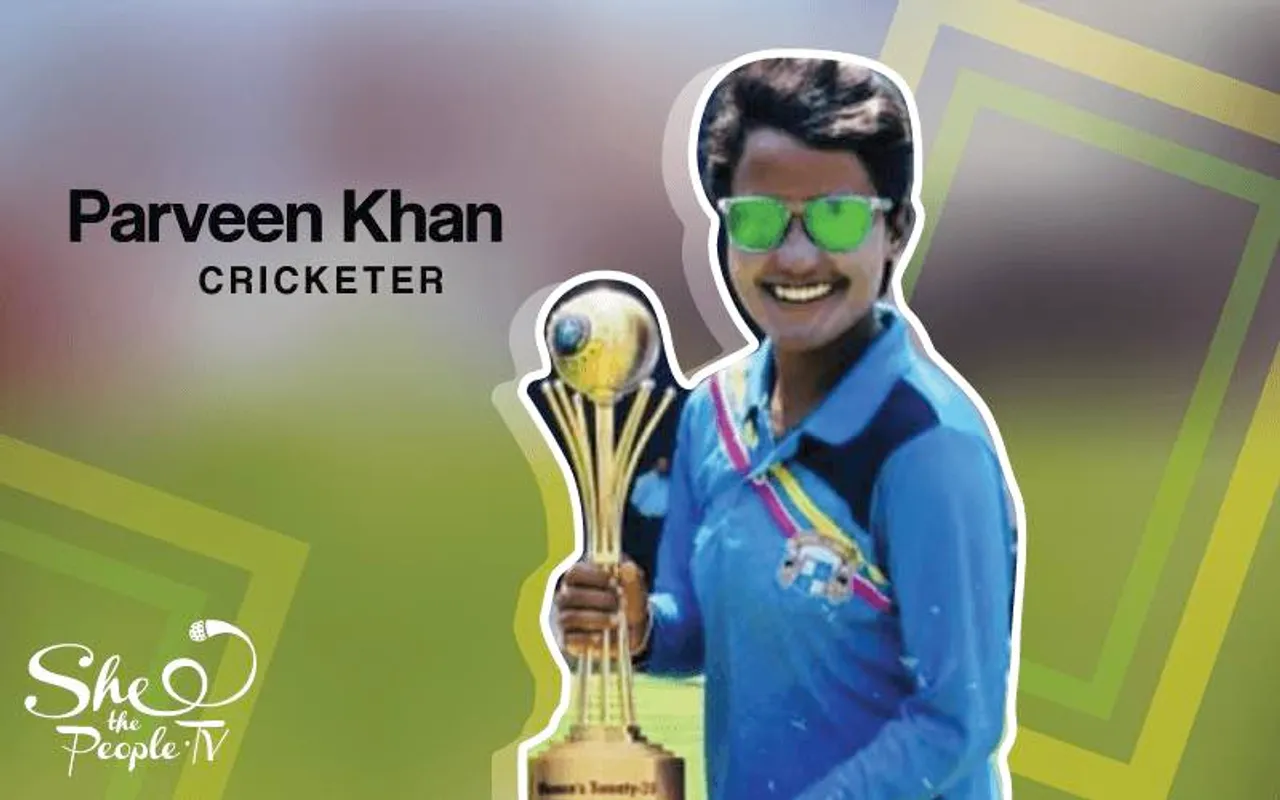 Cricket is a funny game and a dynamic one as well. The more time one spends on the pitches of cricket, the more likely are they to get their names scribbled in gold in the books of records in the cabinet of cricket. Punjab Women's Cricket Team, which was struggling to claim the trophy is domestic tournaments recently won the 2018-19 season and how! Defending just six runs in the final over. And such feats cannot be achieved unless led by someone so capable and prodigious!
Parveen Khan, the Punjab Captain and an astounding batting all-rounder made sure the team achieves what it has been putting in so many efforts for! Born on June 29, 1991 in the state of Punjab, this woman is a true example of extraordinary leadership, grit and hard work! 
Female Cricket brings to you the story of this spectacular woman through an exclusive interview.
Take us through your childhood days and your initial cricketing days?
It all began in the gullies; I used to play gully cricket with my friends in the society. As a child I was always fascinated to play cricket as that was one sport which is played everywhere and even in the smallest corner of the world.
Were you always fascinated by sports or was it just cricket that interested you?
In the gullies, cricket was played majorly. Though I have played football, Kho-Kho in school, even I have participated in long jumps and high jumps. But cricket has always been my favorite and that is why I have always focused on that solely.
When did the idea of taking up cricket professionally come up? At what age and how did it all begin?
I have been playing cricket since I was a kid, but the professional idea of playing cricket came when the BCCI- WCAI merger happened. I was playing the U-19 at that time.
I used to stay at a sugar-mill and we had teams based on our colonies and we all used to play with the boys. Once I was playing in my school when Sodhi sir saw me then he called me to his school. There we organized a school team and also played district matches. Meanwhile, I got to know that BCCI now has its team and so I joined the U-19 team. Since then, I have been playing for the Punjab state team.
Other Stories by Female Cricket Click Here
How did your family react when you decided to choose cricket as your career?
My parents have always been extremely supportive! They have always understood my love for sports and cricket and have given me the support and freedom to make my choices in life. The people from the society and their mentality towards me playing cricket was quite opposite. They always used to complain about me playing with the boys to my dad, but he always said that "she's my daughter and let her play the way she wants to! Her life is in sports and that it must be respected".
Who has been your greatest support over the years?
My parents and my coaches have always been my greatest support. My parents have been supporting me since the very beginning and my coach, Sodhi sir and his son under whom I have played cricket have also been my greatest support over the years. He is a coach in Australia right now. Currently I am playing under Dr. Ranjit Singh sir in Amritsar.
As for captaincy, the captain always looks good when the team is so exceptional! The unity we have possessed is commendable - Parveen Khan Cricketer
You recently won the senior women's tournament, how are the feelings regarding that?
We have an amazing team of Punjab but we were not able to win the tournaments. Earlier, even Harmanpreet Kaur who is my childhood friend used to play from the same team. We belong to the same city; we have played so many matches for our school as well as Punjab state. She has been a great motivation to all of us! Since the past two years, we were not able to claim any position in the tournament, around 3-4 years ago; we had stood third in the T20s when Harman was the captain back then. When we went to Agartala this year, everyone was really positive! Our coach, Ashutosh Sir, Our Manager and the whole team. We were sure that this time something great is going to happen, we just carried that throughout the tournament, we were unbeaten and eventually won the tournament!
Which was your personal favorite innings of yours in the senior women's tournament?
Every innings is favorite when the team wins! I did not really get much batting as our top order used to finish the games off! I had scored 43 runs against Madhya Pradesh and in a crucial match against Delhi, I had scored 27 runs. I played at the 5th position and so I had scores in 20s but in matches against Madhya Pradesh and Delhi where the team had collapsed, I scored some crucial runs and the team won, so that is why they are my most favorite!
How did you deal with the struggles of societal mentality and cultural restrictions?
The boys I used to play with were very good friends of mine, even in school we used to play with Kamaljeet Sodhi sir's son, also Harman and I have played together a lot so have never really felt awkward about anything. So it was not much of a struggle in that case because even my family has been really supportive.
Also Read: No dolls, only bat and ball says cricketer Tamanna Nigam
Any career moment that you can never forget
Filhaal toh kal hi hua hai! (Laughs). When we won the finals of the senior women's tournament, we just could not believe that! And it was such a crucial match to win! Only six runs were required off the last over and we defended that! It was simply amazing! Reaching here and finally winning it! I can never forget that moment.
Which role in cricket is the most crucial one according to you?
Every role is equally important, especially in a format like T20 when one does not even have the time to settle. It is not just about the playing eleven but the other 4 players on the bench as well. How to support and motivate the team, the commitment that these eleven players show on the field with bat, ball and fielding, every single element is so crucial.
Other Stories by Female Cricket Click Here
As for captaincy, one certainly has to prepare plans, which bowler to bowl and everything and when that works, there is no greater feeling than that!
How do the responsibilities of captaincy impact you as an individual?
All our 15 players are exceptional and when there is such a cream, selecting 11 of them is a very difficult task. My coaches have always supported my team selection and moreover, the players back on the benches have been even more supportive. They always had this mindset that even if we aren't playing there, we must support and motivate and this was our most crucial thing that has made us win! As for captaincy, the captain always looks good when the team is so exceptional! The unity we have possessed is commendable!
Were you always inclined towards batting or did other roles like bowling and keeping interest you?
I am a batting All-Rounder and I do bowl at times as well. As for keeping, Tania Bhatia was not available and our other keeper too, so my coaches wanted me to keep the wickets as well! And as a captain, I must provide for everything that my team needs at any point of time, so yes I have done all (Laughs). I sacrificed my bowling because our main 3 bowlers were doing well and then I kept the wickets for the team, the team always must come first!
Tell us something about your bond with Harmanpreet Kaur?
We have been childhood friends and being cricketers also, we still decide to gossip and talk about our random things when we meet off the field! We do talk about cricket as well and there is a lot to learn from her both on the field and off the field! Her attitude towards everything is simply worth learning!
How would you describe yourself as a player?
Cricket is such an unpredictable game! One has to be calm and when needed has to be aggressive as well! Like when things go out of control, I sometimes become aggressive but then eventually I calm down, so it is all about how things go. In the heat of the moment, the player becomes aggressive but for the team and its betterment, one must know how to calm down and balance things out.
How do you deal with the stress moments?
Once back from the ground, I listen to music, talk to my family and friends, spend time with the team mates off the field and our whole team is a fan of Pani Puris! And once you get on the winning ways, every sort of stress and mistake gets covered!
Had cricket not happened what else would have been your career option?
I love playing football and I love Bhangra as well! So either I would have been a footballer or a dancer!
How crucial is the domestic cricket for the international cricket?
Domestic cricket is the very basis of selection for the international level. Every year, based on the domestic performances, some 20-25 girls are selected, and the regular camps and tournaments are arranged. We get to play majorly only two formats that are T20 and ODIs and that is why performing in every given opportunity is very important. The BCCI has introduced the 50 over format and new teams at the domestic level which has given us more matches and hence more chances.
It is every player's dream to represent their nation and that is why domestic cricket is so important.
Women's IPL is a trending topic, how crucial is it for women's cricket?
It is an extremely crucial and amazing campaign for young girls as there is so much talent in India and all over world and cricket is a sport where the competition is so high! Only 15 players are selected and with IPL so many women would get a platform to prove themselves, to showcase their talent and increase their opportunities of playing for the national side. We have tournaments like the Big Bash League, the Kia Super league as well. Through IPL, so many women would get a chance to showcase their talent and the world would know how talented India really is!
There are players from across the world who are absolutely amazing at what they do, everyone has various techniques and ways of playing and interacting with them gives a great exposure as well as tells you where you stand and how do you reach where you want to.
What does your dream debut look like?
I would want to make my debut against the Aussies as they are my favorite after India! Their passion, fitness and way of playing is amazing.
How important is fitness in a sportsperson's life?
Fitness is everything and everything depends on that! If a person is fit, they can play any sport they want to! The weather conditions and various playing conditions vary from place to place and if a player is fir, adapting to these conditions become easier. Even in the longer formats like the ODIs and test cricket, one has to maintain that fitness so that they do not get exhausted. T20 is a very quick format so adapting to that is again very important.
Moreover, there are back to back tournaments that too of different formats and fitness is the key to adapting to these dynamic conditions.
Tell us about your fitness mantra?
We have our fitness sessions at Khalsa College in Amritsar and it starts at 5:30 am and goes on till 7-8 am. Then after breakfast we hit the gym and in the evening we have the net sessions. The cardio, other gym workouts that is what makes a sportsperson's life! We only have an off on Sunday, but on that day we have to wash our clothes! (Laughs).
What kind of fun element does the whole team share?
We all keep pulling each other's leg all the time! We say something; we do something else and this keep going on! At times, even our coaches join us in these pranks. It makes the whole team feel like a family because that is what matters the most, the team atmosphere must always be positive!
What more does the BCCI do to take women's cricket in India to the next level?
The BCCI has done a lot in the past couple of years, like I had mentioned, earlier we had only four games and if lost we were knocked out! Now we have more matches and tournaments that give us more chances to prove ourselves. Also, earlier our match fees were just Rs. 2500 which is now increased to around Rs.5000. Everyone has different needs and the BCCI is trying to fulfill that.  There are more T20 games, even more tournaments. They had cancelled the zone matches which need to be started again so that we get even more matches.
Women's cricket is now getting the due attention and recognition. How does it feel?
After the World Cups and the exceptional performances of the Indian team throughout have got them this much deserved recognition and people now know what we are capable of! India was the runners-up in the 50 over world cup, but the love and respect that we have received was simply heartwarming! Even if we lost, the amount of love that we have received from the crowd makes us feel indeed special.
Also, the contract system and the pay raise is a great incentive! And the grading system has been a great move. It is certainly less as compared to men but still at least some initiative is taken and that feels good. Because of all this, even young girls have started seeing cricket as a prospective career option!
What according to you makes you different from the rest?
A person needs to be mentally strong when it comes to cricket, and I have got that in me. Absorbing the pressure, playing against world class team and holding the nerves is very important. And I really think I have got that. Cricket can be played by everyone but playing according to the situation and staying calm under pressure is what makes you different.
Whom have you idolized in life?
I have grown up watching Mithali Di and Jhulan Di. Also Neetu David ma'am. But when the role model is right there in the house, what else do you need! Harmanpreet Kaur, the woman I have grown up with playing so much cricket! Mithali Di, Jhulan Di and Harman have taken Indian cricket to the next level, they are the three most inspiring players and the reason why so many girls want to play cricket! They are not just known in India but in the whole world! And learning from them has been a great experience! At the age of 35, Jhulan Di becoming number 1 bowler, Mithali Di being number one batter and Harman being such an extraordinary power hitter has made them huge names in women's cricket! Even Smriti Mandhana has been doing extremely well! And I think every girl idolizes them not just me.
What role does media play in uplifting women's cricket?
Earlier, there was not much media coverage for women's cricket but after the world cup performances, women's cricket has attracted media and every tournament is now covered by the media and everyone wants to know more about women's cricket!
Is there anything you feel is missing in women's cricket still?
For now, it is the women's IPL that is missing. And also more matches and opportunities are needed. In a country of billions, where everyone wants to play cricket, more opportunities are certainly required.
A few words for the aspiring cricketers?
Cricket is an amazing game and it gives you the chance to make your nation and parents proud! Cricket is a funny game, it is highly technical! It is played by a few countries but is famous in every corner of the world! So chase cricket as a career, and you will do wonders!
What does your off season look like?
We spend time with our families as we stay away from them for studies, practices and everything. So being with your family is very important. Also, chilling with Harman and a few friends from the USA is what I enjoy!
We at Female Cricket focus on encouraging women's cricket. Would you like to give us some suggestions?
I have been following Female Cricket over instagram, the articles and the interviews that you post and they are really amazing! It feels great to see people take up initiatives for women's cricket. One thing I love the most is the interviews of new comers and their stories because about veterans, everyone knows but the stories of these new comers inspire the aspiring cricketers! It makes these young girls stronger and motivates them! So, Great Job!
Female Cricket and SheThePeople are content partners