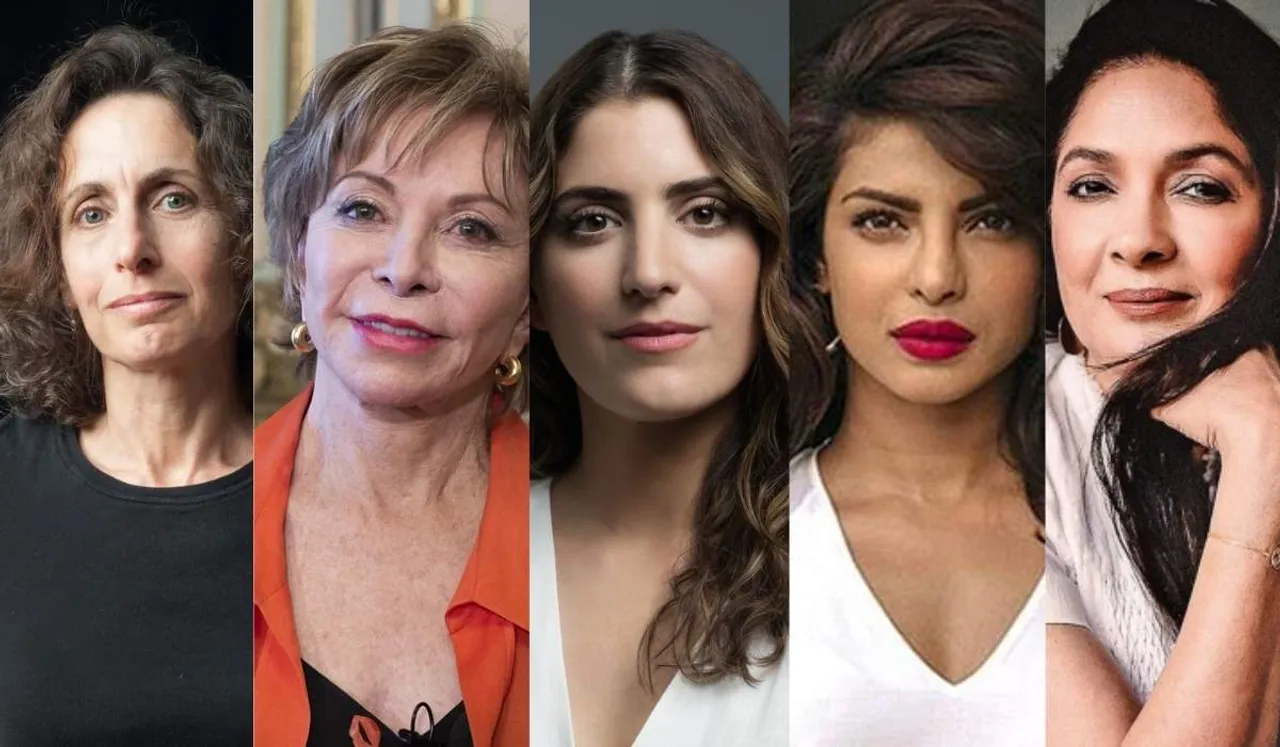 Essays, memoirs, reportage, investigation, reflections form the crux of this list of books that dive deep into lives—the author's own and those of others—take a candid look at the changing word and the challenges that dog every powerful journey. These books will enthral, inspire, provoke thought, offer hope, and become wonderful companions all through the New Year.
The Soul of a Woman by Isabel Allende
An autobiographical meditation on feminism, power and womanhood. "When I say that I was a feminist in kindergarten, I am not exaggerating," begins Isabel Allende. As a child, she watched her mother, abandoned by her husband, provide for her three small children without "resources or voice." As a young woman coming of age in the late 1960s, she rode the second wave of feminism. Among a tribe of like-minded female journalists, Allende for the first time felt comfortable in her own skin, as they wrote "with a knife between our teeth" about women's issues. In The Soul of a Woman she dives deep into female beauty and vanity, sexual passion, economic independence, domestic violence, her relationship with her children and more.
Let Me Tell You What I Mean by Joan Didion
Didion's remarkable, five decades-long career as a journalist, essayist, novelist, and screen writer has earned her a prominent place in the American literary canon, and the twelve early pieces collected here underscore her singularity. This timeless collection of mostly early pieces from 1968 to 2000, never before gathered together, offers an illuminating glimpse into the mind and process of a legendary figure. Joan Didion's subjects include the press, politics, California robber barons, women, and her own self-doubt. In "Why I Write," Didion ponders the act of writing. Each acutely and brilliantly observed piece is classic Didion.
Dusk, Night, Dawn: On Revival and Courage by Anne Lamott
How can we recapture the confidence we once had as we stumble through the dark times that seem increasingly bleak? As bad news piles up—from climate crises to daily assaults on civility—how can we cope? Where, Lamott asks, "do we start to get our world and joy and hope and our faith in life itself back . . . with our sore feet, hearing loss, stiff fingers, poor digestion, stunned minds, broken hearts?" Exploring the thorny issues of life and the tough questions that many of us grapple with, Lamott shows us the intimate and human ways we can adopt to move toward the light of hope.
The Beauty of Living Twice by Sharon Stone
Sharon Stone was one of the most renowned actresses in the world-until a massive stroke cost her not only her health, but her career, family, fortune and global fame. In an industry that doesn't accept failure, in a world where too many voices are silenced, Stone found the power to return, the courage to speak up, and the will to make a difference in the lives of women and children around the globe. Over the course of these intimate pages, as candid as a personal conversation, Stone talks about her pivotal roles, her life-changing friendships, her worst disappointments and her greatest accomplishments. It is a book for the wounded and a book for the survivors.
In the Language of Remembering: Generational Memories of the Partition by Aanchal Malhotra
Aanchal's first book, Remnants of a Separation, told stories of the survivors of Partition who experienced the momentous event first-hand. In the Language of Remembering: Generational Memories of the Partition takes the narrative forward by shifting focus to the post-memory generation - how the generations that have not witnessed Partition engage with its history. Are there physical and psychological consequences of belonging to a Partition-affected family? How does Partition anchor the collective experiences as South Asians and shape the way one perceives the world? How does it build the characteristics, augment fears and populate one's history? These are some of the questions she explores through the stories she tells in the book.
Radicalizing Her: Why Women Choose Violence by Nimmi Gowrinathan
Though the female fighter is often seen as an anomaly, women make up nearly 30% of militant movements worldwide. Historically, these women--viewed as victims, weak-willed wives, and prey to Stockholm Syndrome–have been deeply misunderstood. Radicalizing Her holds the female fighter up in all her complexity as a kind of mirror to contemporary conversations on gender, violence, and power. Gowrinathan posits that the erasure of the female fighter from narratives on gender and power is not only dangerous but also, anti-feminist. Coming at a political moment that demands an urgent re-imagining of the possibilities for women to resist, Radicalizing Her reclaims women's roles in political struggles on the battlefield and in the streets.
Feelings: A Story in Seasons by Manjit Thapp
Enter Manjit Thapp's world, where you'll find moods that change as quickly as the weather; the different shades of anxiety and hope that each new season brings; and the stages of joy and pain that fuel our growth. From the spark of possibility and jolt of creativity in High Summer, to the need for release from anxiety and pressure during Monsoon, to the desolation and numbness of Winter, Thapp implores us to consider the seasons of our own emotional journeys. Articulating and validating the range of feelings we all experience, this is a book that allows us to feel connected and comforted by the experiences that make us human.
Conversations on Love by Natasha Lunn
Based upon the author's popular newsletter, the book is an investigation of love in all its forms, told through a series of personal essays and intimate, revealing conversations with experts and writers, including Hilary Mantel, Lemn Sissay, and Alain de Botton. Exploring love in all its guises, Lunn splices memoir with interviews with other love luminaries. Lunn, who has been a journalist for seven years, says, "Writing Conversations has been a deeply personal and meaningful process for me . . ."
An Educated Woman in Prostitution: A Memoir of Lust, Exploitation, Deceit (Calcutta, 1929), Manada Devi (translated by Arunava Sinha)
The translation of a lost Bengali classic by Arunava Sinha about the trials and tribulations of a woman from an upper middle class Calcutta family, who runs away from home with her lover, is abandoned after she gets pregnant, eventually takes shelter in a brothel and emerges as one of the most powerful women in Bengal at that time. Manada's fascinating life story takes her from her wealthy cosseted upbringing to a life of debauchery and prostitution. She is capable, attractive and doesn't ask for pity as she struggles with illness, poverty and abandonment. Weaving together multiple strands, we are presented a life of immense beauty and endurance, which is both grand in its scope and deeply intimate in its portrait.
The Good Girls: An Ordinary Killing by Sonia Faleiro
The girls, Padma and Lalli, were so inseparable that people in the village called them Padma Lalli. Sixteen-year-old Padma sparked and burned. Fourteen-year-old Lalli was an incorrigible romantic. They grew up in Katra Sadatganj, a village in western Uttar Pradesh. Then one night in 2014 the girls went missing; and hours later they were found hanging in the orchard. Slipping deftly behind political manoeuvring, caste systems and codes of honour in a village in northern India, the book returns to the scene of Padma and Lalli's short lives and shameful deaths, and dares to ask: what is the human cost of shame?
Aftershocks: A Memoir by Nadia Owusu
Young Nadia Owusu followed her father, a United Nations official, from Europe to Africa and back again. Just as she and her family settled into a new home, her father would tell them it was time to say their goodbyes. The instability wrought by Nadia's nomadic childhood was deepened by family secrets and fractures. Nadia arrived in New York as a young woman feeling stateless, motherless, and uncertain about her future, yet eager to find her own identity. Aftershocks is the way she hauled herself from the wreckage of her life's perpetual quaking, the means by which she has finally come to understand that the only ground firm enough to count on is the one written into existence by her own hand.
Bravey by Alexi Pappas
When Alexi Pappas was four years old, her mother died by suicide, setting her on a lifelong search for female role models. When her father signed his bereaved daughter up for sports teams as a way to keep her busy, female athletes became the first women Pappas looked up to, and her Olympic dream was born. Pappas wanted to make movies, write, and act. In a single year, 2016, she made her Olympic debut as a distance runner and wrote, directed, and starred in her first feature film. But great highs are often accompanied by deep lows; with joy comes sorrow. In Bravey, Pappas fearlessly and honestly shares her battle with post-Olympic depression and describes how she emerged on the other side as a thriving and self-actualized woman.
Between Two Kingdoms by Suleika Jaouad
In the summer after graduating from college, Suleika Jaouad was preparing to enter "the real world." She had moved to Paris to pursue her dream of becoming a war correspondent. The real world she found, however, would take her into a very different kind of conflict zone. A few weeks shy of her twenty-third birthday, she was diagnosed with leukaemia, with a 35 percent chance of survival. She would spend much of the next four years in a hospital bed, fighting for her life. When Jaouad finally walked out of the cancer ward, she realised that she had no idea how to live. A searing, deeply moving memoir of illness and recovery that traces one young woman's journey from diagnosis to remission and, ultimately, a road trip of healing and self-discovery.
Just as I Am by Cicely Tyson
The iconic actress who has shattered many glass ceilings in her nine-plus decades chronicles and celebrates a groundbreaking career in this fascinating autobiography. From single teen mother to model and actress—and, yes, her marriage to Miles Davis—Tyson's book illustrates how she again and again refused to let obstacles get in her way. This grand tale of her immense talent and desire to live out loud will resonate with anyone who has a dream.
Under a White Sky by Elizabeth Kolbert
In Under a White Sky, Elizabeth Kolbert takes a hard look at the new world we are creating. Along the way, she meets biologists who are trying to preserve the world's rarest fish, engineers who are turning carbon emissions to stone in Iceland, Australian researchers who are trying to develop a "super coral" that can survive on a hotter globe, and physicists who are contemplating shooting tiny diamonds into the stratosphere to cool the earth. By turns inspiring, terrifying, and darkly comic, the book is an utterly original examination of the challenges we face, and probes for solutions in our acidic oceans, polluted atmosphere, and shrinking wildernesses.
Girlhood by Melissa Febos
In her powerful new book, critically acclaimed author Melissa Febos examines the narratives women are told about what it means to be female and what it takes to free oneself from them. Blending investigative reporting, memoir, and scholarship, Febos charts how she and others like her have reimagined relationships and made room for the anger, grief, power, and pleasure women have long been taught to deny. Written with Febos' characteristic precision, lyricism, and insight, Girlhood is a philosophical treatise, an anthem for women, and a searing study of the transitions into and away from girlhood, toward a chosen self.
The Daughters of Kobani: A Story of Rebellion, Courage, and Justice by Gayle Tzemach Lemmon
In 2014, an all-female Kurdish militia took on ISIS—across Northern Syria, fighting alongside U.S. forces. Their aim: to make women's equality a reality. Drawing from hundreds of hours of interviews, bestselling author Gayle Tzemach Lemmon introduces us to the women fighting on the front lines, determined to not only extinguish the terror of ISIS but also prove that women could lead in war and must enjoy equal rights come the peace. Rigorously reported and powerfully told, The Daughters of Kobani shines a light on a group of women intent on not only defeating the Islamic State on the battlefield but also changing women's lives in their corner of the Middle East and beyond.
My Broken Language by Quiara Alegría Hudes
Quiara Alegría Hudes was the sharp-eyed girl on the stairs while her family danced in her grandmother's tight North Philly kitchen. She was awed by her aunts and uncles and cousins, but haunted by the secrets of the family and the unspoken, untold stories of the barrio. Her family became her private pantheon, a gathering circle of powerful orisha-like women with tragic real-world wounds, and she vowed to tell their stories. But first, she'd have to find her language. Weaving together Hudes's love of books with the stories of her family, the lessons of North Philly with those of Yale, this is an inspired exploration of home, memory, and belonging.
Sach Kahun Toh by Neena Gupta
In her memoir, National Award-winning actor Neena Gupta will talk about her life, spanning from her childhood in Karol Bagh, Delhi to her 35 years of professional career. The actress, who is currently 61, has shared her reflections in the book, as she relives her life journey.  Hilarious and heart-warming are the two words used by the publisher to describe this book.  Neena who became a single parent when it was thought to be unconventional is known to be upfront and brutally honest. The book promises to get up close and personal with the talented actor.
Unfinished by Priyanka Chopra Jonas
In this thoughtful and revealing memoir, readers will accompany one of the world's most recognizable women on her journey of self-discovery. A remarkable life story rooted in two different worlds, Unfinished offers insights into Priyanka Chopra Jonas's childhood in India; her formative teenage years in the United States; and her return to India, where she won the national and international beauty competitions that launched her global acting career. While reflecting on her nomadic early years, Priyanka shares her challenges and triumphs with warmth and honesty. The book is philosophical, sassy, inspiring, bold, and rebellious.
What Happened To You? Conversations on Trauma, Resilience, and Healing by Dr. Bruce D. Perry and Oprah Winfrey
Neuroscientist and renowned child trauma expert Perry teams up with Oprah Winfrey—an advocate and survivor of multiple childhood challenges herself—for a revelatory work of non-fiction that explores the legacy of trauma and marries the power of storytelling with science and clinical experience to help survivors overcome its effects. A powerful and invaluable book that will help victims and their loved ones shift the conversation from "What's wrong with you?" to "What happened to you?"
Sunshine Girl: An Unexpected Life by Julianna Margulies
Known for her outstanding performances on the groundbreaking television series The Good Wife and ER, the now 54-year-old Julianna Margulies deftly chronicles her life and her work in this deeply powerful memoir with candour and a kind of wonder that her childhood amid divorced parents would ultimately lead to enormous success as an Emmy-winning performer, as well as to loving relationships with her husband and son. Throughout, there were complicated relationships, difficult choices, and overwhelming rejections. Filled with intimate stories and revelatory moments, Sunshine Girl is a riveting self-portrait of a woman whose resilience in the face of turmoil will leave readers intrigued and inspired.
Everybody (Else) Is Perfect: How I Survived Hypocrisy, Beauty, Clicks, and Likes by Gabrielle Korn
From the former editor-in-chief of Nylon comes a provocative and intimate collection of personal and cultural essays featuring eye-opening explorations of hot button topics for modern women, including internet feminism, impossible beauty standards in social media, shifting ideals about sexuality. Gabrielle Korn starts her professional life with all the right credentials, and her life seems to reach the crescendo of perfect. But behind the scenes, her health and wellbeing are on the line. In this collection of searing essays, Gabrielle reveals exactly what it's truly like in the fashion world, trying to find love as a young lesbian in New York City, battling with anorexia, and trying not to lose herself in a mirage of women's empowerment and Instagram perfection.
Somebody's Daughter, Ashley C. Ford
Ashley C. Ford, the co-host of HBO's Lovecraft Country Radio podcast (and a TIME 100 Talks correspondent), had few memories of her father growing up. But that didn't stop her from idolizing him.  In her debut memoir retraces her childhood to tell the story of her father's imprisonment. Layering in the complexities of her relationship with her mother, her changing body and a boyfriend who grows abusive, Ford offers a heart-wrenching coming-of-age story. As Ashley battles her body and her environment, she provides a poignant coming-of-age recollection that speaks to finding the threads between who you are and what you were born into, and the complicated familial love that often binds them.
Love Is an Ex-Country by Randa Jarrar
Queer. Muslim. Arab American. A proudly Fat woman. Randa Jarrar is all these things. In 1946, Egyptian dancer Tahia Carioca took a post-honeymoon trip across America with her white husband. Seventy years later, in 2016, inspired by Carioca's boldness and wanting to experience the campaign-fraught landscape of the country at the time, Jarrar—a queer Muslim and single mother—embarked on a similar odyssey, from California to Connecticut. In this provocative memoir of a cross-country road trip, she explores how to claim joy in an unravelling and hostile world.
Leaving Isn't the Hardest Thing by Lauren Hough
As an adult, Lauren Hough has had many identities: an airman in the U.S. Air Force, a cable guy, a bouncer at a gay club. As a child, however, she had none. Growing up as a member of the infamous cult The Children of God, Hough had her own self robbed from her. Along the way, she's loaded up her car and started over, trading one life for the next. At once razor-sharp, profoundly brave, and often very, very funny, these essays interrogate our notions of ecstasy, queerness, and what it means to live freely. Each piece is a reckoning: of survival, identity, and how to reclaim one's past when carving out a future.
American Baby by Gabrielle Glaser
In 1961, sixteen-year-old Margaret Erle fell in love and became pregnant. After she gave birth, she wasn't even allowed her to hold her own son. Social workers threatened her with jail until she signed away her parental rights. Her son vanished. American Baby lays out how a lucrative and exploitative industry removed children from their birth mothers and placed them with hopeful families, then closing the door firmly between the parties forever. Gabrielle Glaser dramatically demonstrates the power of the expectations and institutions that Margaret faced. Their tale--one they share with millions of Americans--is one of loss, love, and the search for identity.
- Compiled by Archana Pai Kulkarni, Books Editor, SheThePeople