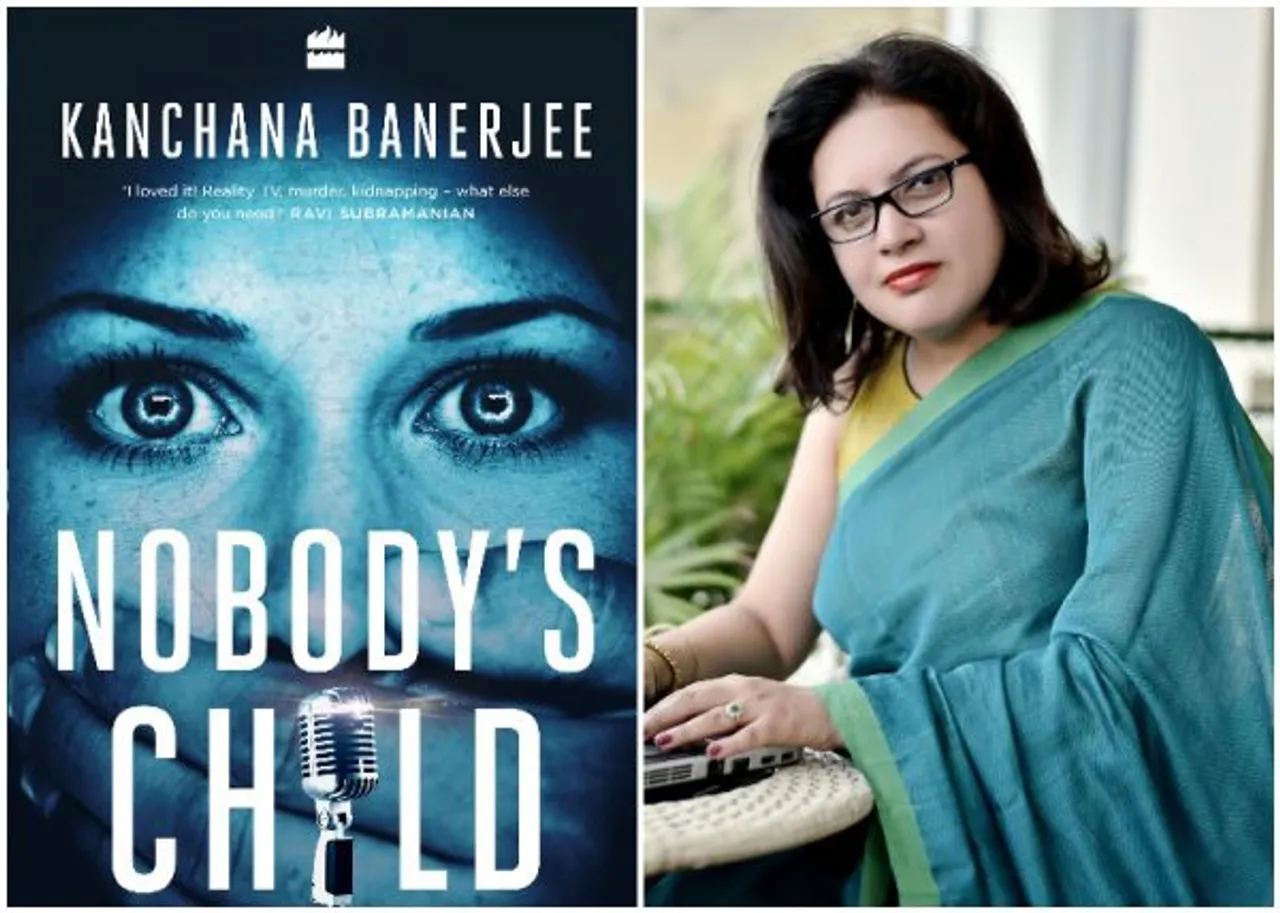 An excerpt from the book, Nobody's Child by Kanchana Banerjee.
Kamini. NOW.
September 2018
'Mom! I can't do this anymore.' Her trademark nasal falsetto sounds like the scratching of nails on a blackboard. I grit my teeth. She continues, 'You promised that I wouldn't have to sing after one year and it's been almost two! My life's ruined, Mom. Ruined! My friends are going to the Bahamas and I'm stuck in this smelly, stuffy studio, belting out numbers for some dumb-shit movie. Mom! What the …'
I hear her out like I always do, while checking my fingernails – also trimmed short, U-shaped and with no paint. I miss the long nails I used to flaunt and the insane colours I painted them in. Dirty yellow. Orange with purple flecks. I miss the wild days sometimes. I run my fingers through my hair. I pull out the band that held them in place while I did yoga. It tumbles politely over my shoulder, letting the early-morning air caress it lightly. I know I'm tuning out of what T is animatedly speaking in my ear.
Sometimes, I hold the mobile away from my ear so that my head doesn't burst, hearing her rant about the same thing again and again. 'My life's ruined'. Does she even know the meaning of the word? Ruined. Ruin is when your father leaves you with a neighbour because there's no place else for his daughter to stay while he goes to work at Ganesh Sari Shop and you grow up making tea and pakodas for the men Asha mausi let into her home while her husband was at work. I dusted and watered her plants, all the while trying to ignore the unapologetic noises from the bedroom. She didn't even bother shutting the door of her room.
Also Read: Step Up Provides Women Tools To Become Powerful Leaders: An Excerpt
Though, in many ways, people would say that ruined my childhood, Asha mausi taught me things that helped me survive in the real world; stuff that no school ever taught. She taught me how to pleasure a woman. She would make me give her a massage while she lay naked with her legs spread wide apart. This came in handy when I chose to sleep with Kaveri Sharma, the PR head of Taj, because I wanted her to take me along when she joined Origin PR. I didn't want to be stuck with a front-office job. And it's not that I disliked pleasuring Kaveri. Single and much older than me, Kaveri dated men to keep up a façade but sneaked in some time with me every now and then. It was fun. Sex with her was satisfying in a way only a woman can be. The new job was worth it and it led me to Pratap.
I usually don't do anything I don't like, and even when I do, I know how to sweeten it. For example, my landlord from when I lived in a tiny hole in Karol Bagh wanted the rent in kind. I wanted to throw up at the mere thought of taking him in my mouth. I don't think he ever used soap – he smelt of spoilt milk, garlic and mirchi bhajji. Layers of fat had trapped his stinky sweat. Just the sight of him was sickening. But I found ways of making it likeable. In his case, squirting Maaza on him sweetened it for me. I wasn't short on rent; I just didn't want to pay him. I needed money for other more important things like buying clothes and shoes. So I pleasured him whenever he wanted, I just made sure there were enough bottles of Maaza around.
One needs to handle shit in life and not grimace. Something my T, entitled-princess-to-the-manor-born- with-a-platinum-spoon-studded-with-diamonds-in-her-mouth, never had to learn.
My daughter's life is ruined very easily. In fact, it happens every week. When her latest Louboutins can't be found. When she wants the latest Versace products in less than a day. When her hair doesn't obey. Her life is ruined. I feel like telling her she doesn't even know what the word means. The disaster that almost completely derailed my life twenty-six years ago – that fits the 'my life's ruined' category. Not being able to go to the Bahamas doesn't even come close.
'Mom!' Tanya yells in my ear, breaking my reverie. 'Are you even listening?'
'Yes, T, I am.' I take a deep breath and continue, 'I'm just waiting for you to finish before saying something. Are you done talking? If you are, then I'll speak.'
Also Read: The Hidden One Brings You Story Of Aurangzeb's Daughter: An Excerpt
I wait for her to mumble. She sounds tired. Did she set an alarm to wake up and talk to me or did she just get back to the hotel from the recording studio? The first is highly improbable. No alarm in the world can wake her up. I settle for the second. She has been staying at a hotel near her recording studio to avoid travelling all the way from Andheri to Malabar Hill late at night or early in the morning. I don't like the idea of my daughter staying alone in a hotel room after a day-long recording session, but it's more practical. Dheeraj has arranged for a security woman to be with her round the clock.
Yes, security woman and not man. My T can charm the pants off a man to get her way. After all, she is my daughter.
'T, you enjoy singing. You won a contest, remember? You're the nation's favourite.'
'I didn't win the contest. I came second.' Her retort is sharp. The memory of losing to Asavri is a wound with a thin scab on it. Though I don't understand why she's so sore about it. It's not that she was holding her breath to participate. I was the one who planted the seed in the first place, gently watered it till it grew into a fully fledged plant, till she realized that it would be a great opportunity.
'I became the winner only after she died in that accident, Mom.'
She really needs to stop talking like this on a call. Anyone could be listening.
I don't chide her for it. Instead, I pause before continuing, 'Tanya, life has its own way. You are the winner now and everyone loves you.' I continue before she can interrupt me.
'You love the press coverage. The magazine covers you are on. Yes, I know your gang is going to the Bahamas, but, darling, tell me how many of them were on the cover of Vogue or Cosmopolitan? How many of them were on Koffee with Karan? How many of them have lakhs of followers? Do they have mobs waiting to receive them at the airport like they do for you, T? How many of your friends have gone on a world tour, singing in different cities where thousands turned up to see them?' I pause again. I can hear her thinking. I have pressed the right buttons. I always do.
I walk around as I speak.
'T baby, what you have is unique! You're a star. I know it's not easy, but you have what most people would kill for. Just do this for some more time and then if you still hate it, I promise I will get you out of the contract and you'll be a free bird.' I need her to stay on for some more months. I really do. She can't quit now and ruin my plans. I won't let her.
Image Credit: HarperCollins India/ Kanchana Banerjee
Love books? Follow authors? Join the SheThePeople Book Club On Facebook. Click Here.
Excerpted with permission from Nobody's Child by Kanchana Banerjee, HarperCollins India.