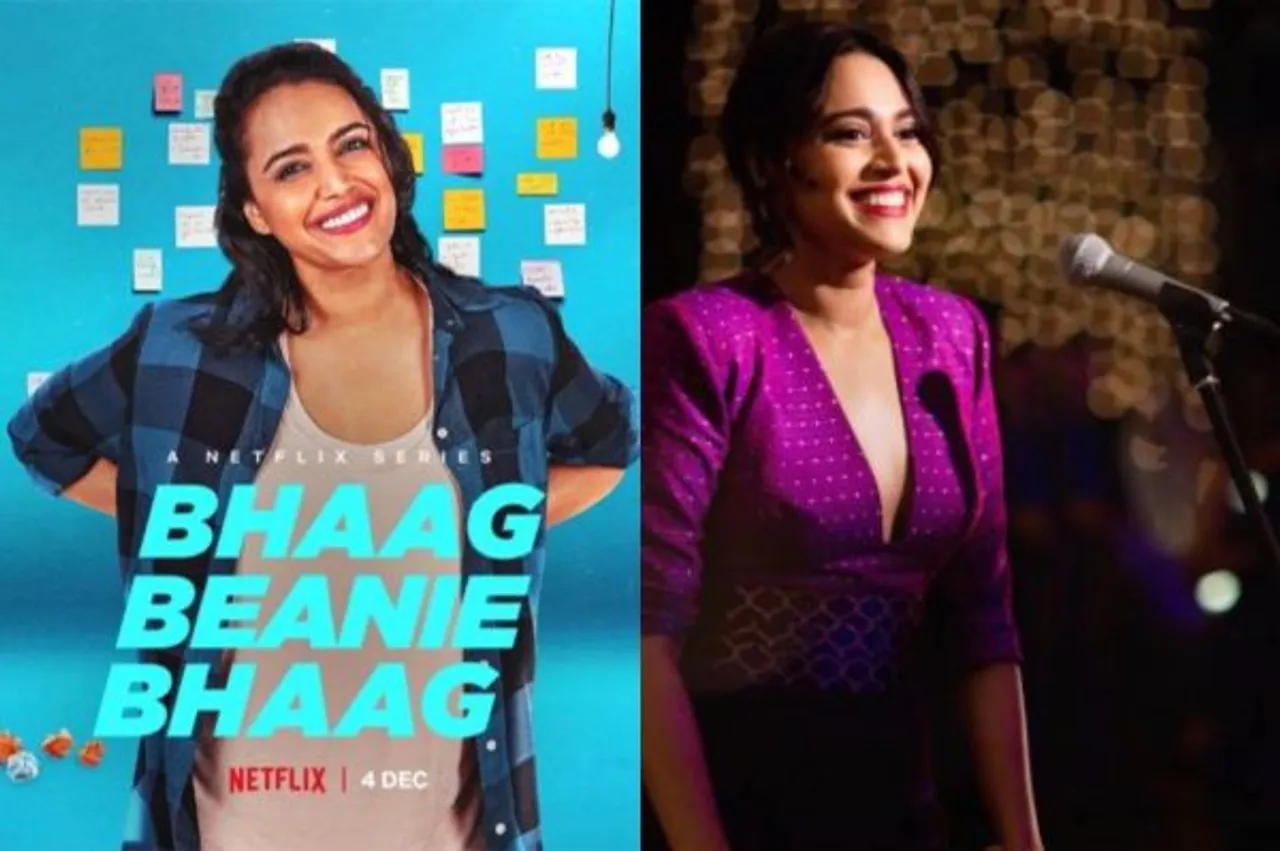 Bhaag Beanie Bhaag, starring Swara Bhasker in the main lead, is now streaming on Netflix, and if the trailer gave you major Marvellous Mrs Maisel vibes, rest assured because the show follows a pretty similar plot as well. Just that Bhaag Beanie Bhaag is set in India 2020 instead of the 1960s New York, and hence is far more relatable as the story progresses. The six-episode series is directed by Debbie Rao, Abi Varghese and Ishaan Nair and created by Ravi Patel and Neel Shah. Additionally, Jared Miller, Laura Chinn, Nisha Kalra and Devashree Shivadekar join Patel and Shah as scriptwriters. Apart from Bhasker, the show also stars Dolly Singh, Ravi Patel, Varun Thakur, Girish Kulkarni and Mona Ambegaonkar. There are also cameos by some recognisable comedians, notably Kaneez Surka, Sejal Bhatt and Rahul Subramanian.
Also Read: Feminism Is When Gender Doesn't Dictate Choices: Swara Bhaskar
The Plot
We are introduced to Beanie Bhatnagar as a girl who is an obedient daughter, an ideal girlfriend and a hardworking employee. "Like most middle-class kids," she got an MBA and a desk job. She is engaged to Arun (Varun Thakur), a guy who is boring but rich. She knows that her life is going to follow a predictable middle-class manual of marriage, children and expectations. Which is a perfect world for most women in the country, until Beanie realises everything that is wrong with it and decides to run.
Since her childhood, Beanie has been interested in comedy, and so when offered an invite to a 'new voices' showcase on the day of her roka ceremony, she upends her life and flees towards the challenging world of stand-up comedy. She is aware that the path she's taking is going to make her miserable since her family will never approve of her profession as a comedian. But she hates her job and her boss (Shantanu Ghatak), and while she loves her fiancée, she realises that she loves stand-up more. And so now with angry parents and a broken engagement, Beanie only has her best friend Kapi (Dolly Singh) and fellow comic Ravi (Ravi Patel) to hold her hand as she takes the first step towards fulfilling her dream.
Also Read: Mismatched Review: Prajakta Koli Shines, But As A Show For Millennials Is it Asking The Right Questions?
The Verdict
After playing a series of intense characters, this is a different side to actor Swara Bhaskar that we see in Bhaag Beanie Bhaag. She fits into the role effortlessly, and it becomes easy to root for her character. But it is Beanie's BFF Kapi aka comedian Dolly Singh who steals the show. While there is no doubt that Singh is one of the ace women comedians in the country today, she proves that she is as great an actor as well. The ease with which she plays the sassy-yet-supportive friend is honestly a treat to watch. Both Ravi Patel and Varun Thakur do a pretty good job, as far as their portrayals are concerned. Girish Kulkarni and Mona Ambegaonkar are also endearing as parents obsessed with their daughter's future.
In terms of the plotline, the story has some major loopholes. Like how can a father who thinks that gifting his son-in-law an Rs 8500 suit is a bit too much, ends up gifting him a Rolex watch worth two lakhs? Even in terms of comedy, the show lacks a lot. For an entire series to be built on the idea of stand-up, one at least expects the jokes to be on-point. But they aren't and most of the stuff said by Beanie on stage are just recycled one-liners that we've heard way too often. I actually laughed more when Dolly Singh flaunted her familiar sense of humour, which made me wonder if those were her original additions to the script.
Nevertheless, Bhaag Beanie Bhaag should be applauded for its attempt to show a woman pursuing an unusual dream, that too an Indian woman of her age. We want to see Beanie succeed in what is likely a very male stand-up field in India, because we've hardly been told tales like these before. And amidst the hate-watching we've been getting high on these days, Bhaag Beanie Bhaag is assuredly a binge-able show if you're up for a breezy watch.
Picture Credit: Netflix
Views expressed are the author's own.