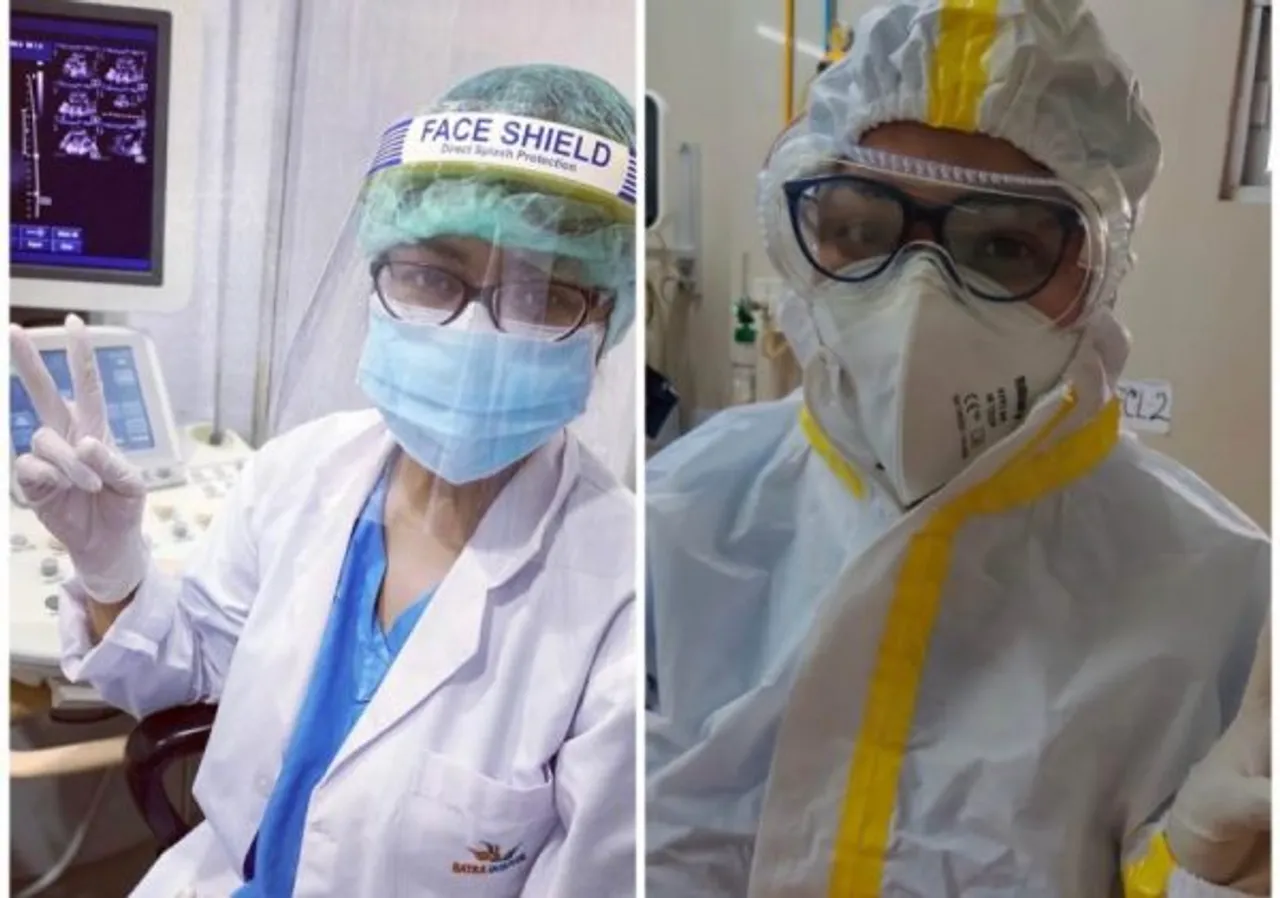 The unexpected coronavirus pandemic has not only brought forward a tragedy but also heroism that our frontline warriors like doctors have shown. Drenched in sweat, hustling endlessly to serve round the clock, the world is witnessing how doctors, and all the healthcare workers, are risking their own health - and their families' - for the greater good of humankind.
While it's an inexplicably difficult phase for all doctors around the globe, we decided to bring forward experiences of two young doctors who, away from their own families, are facing the pandemic as Corona Warriors. Dr Sneha K. Shah (26), an alumnus of the Mahatma Gandhi Institute of Medical Sciences, Maharashtra, is currently practising as a junior resident doctor (Obstetrics and Gynaecology) at R.G Kar Medical College and Hospital, Kolkata. Dr Nandini Passi (25), an alumnus of the prestigious Maulana Azad Medical College, is practising as a radiology resident at Batra Hospital & Medical Research Centre, New Delhi.
In a conversation with SheThePeople.TV, Dr Sneha and Dr Nandini share first-hand accounts of their experience with COVID-19, the toll it has taken on them, how they're dealing with panic-stricken patients, and how they go about every day risking their own health.
"It's difficult to breathe in those tight masks, it's terribly hot in the PPEs and it's definitely very uncomfortable, especially while performing medical procedures on the patients." - Dr Nandini
Challenges at work and home
With COVID-19 taking an increasing toll over the lives of all, doctors are facing huge challenges both professionally and personally. Dr Sneha, who hails from Patna, hasn't visited home for half the year now and she admits she wouldn't be visiting home even post lockdown to keep her family from being exposed to her. "Initially, more than us, our parents were worried considering the risk of contracting the infection since we are surrounded by patients all day and night. Having said that, we are doctors and it's our moral and legal duty to serve the people, we can't afford to hesitate even once to step forward in this war," she says.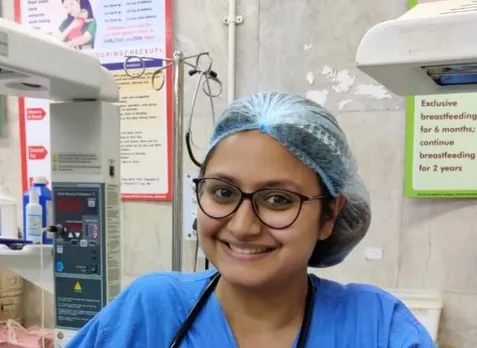 Dr Sneha Shah
Another huge challenge, she adds, is treating pregnant women, and those in delivery, because they have to go all out and make sure both the mother and the newborn are safe, no matter what. Dr Sneha feels sporting PPE kits for long-standing hours is really the most difficult task of her routine. "We know it's a vital protective gear, but it's not easy to function in these as, in even breaks, we cannot go to the washroom, cannot drink water, cannot eat, cannot sleep, and we're soaked in sweat because of the heat inside," she shares.
Dr Nandini admits she did not expect this pandemic would take the world by storm, minute by minute. "Professionally for us, as doctors, we've become extra vigilant while examining a patient considering the current scenario, where patients are now presenting without symptoms." The challenge of constantly protecting their patients and themselves is huge as the virus is also now at a stage where it's asymptotic in some people. When we ask her about the difficulty to function in double masks, face shields and protective gowns, she says, "it's difficult to breathe in those tight masks, it's terribly hot in the PPEs and it's definitely very uncomfortable, especially while performing medical procedures on the patients. But as we all know, desperate times call for desperate measures." 
Dr Nandini, who spoke to us after a 24-hour duty, feels relieved that she is away from her hometown, Bajpur, as the risk of infection does not end after duty hours. "I put up in the hostel, within the campus, so it's quite challenging to avoid bringing back the contaminants. I have to spend a considerable amount of time cleaning and sanitising my room, it becomes all the more difficult on the days I have a 24-hour duty. But I am thankful for the fact that I am not carrying the infection back to my family."
"Most of my colleagues who stay with their families have limited themselves to separate rooms, they are not hugging their children anymore. They are not eating together with their parents anymore, so, if you ask me, the pandemic has certainly created a personal turmoil in the lives of all frontline workers and first responders," Dr Nandini reveals.
Also Read: Virus researcher Gagandeep Kang breaks down India's corona challenge
On handling panic-stricken inhouse patients and outpatients
The doctors share how it's been a task managing panic among their existing patients as well. "Most of the patients who are coming to the hospital at this point are the ones who really have no other choice - they're either transplant patients or those who're on chemotherapy, and those who're in for urgent follow-ups. There sure is a panic amongst them about getting exposed in the hospital to the virus, and as to when life would get back to normal," shares Dr Nandini.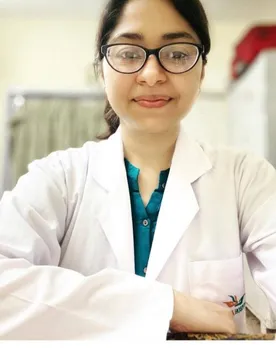 Dr Nandini Passi
According to Dr Sneha, it's exceedingly vital today to handle patients more observantly. From making sure the patients are well aware of the virus and its symptoms to instructing them about necessary precautions. "Educating citizens in a way that they understand is important," she says.
"Another extraordinary experience I face daily is that while these patients are isolated and lonely, it's us doctors and nurses who form a heartwarming link between these patients and their stressed families. We update them, comfort them and stand by them," shares Dr Sneha.
Their response to violence against healthcare employees
While the recent UP mob attack on doctors was brutal, it was, however, not surprising. Last year's horrid incident at the NRS medical college, Kolkata, gave us all chills.
According to Dr Sneha, these incidents do leave scars on the efforts they put in selflessly. However, she adds, even acts as horrific as the current ones won't stop them from serving diligently. "I agree that the first priority when it comes to honouring healthcare and frontline workers must be to cater to their protection and needs. It's also true that those who have been pelted with stones do understand what it means to be showered with flowers."
Dr Nandini calls these incidents nothing but dishonourable. "Well, this is quite a sensitive topic for me. Such episodes of violence are not new, we have faced these incidents in the past. Ignorance and rage among the patients have harmed so many doctors nationwide. Look at what happened to the doctors at NRS medical college. Earlier we tried to raise our voices by going on strikes, but it never caught the nation's eye. I am sad to state this, but it took a pandemic for the people in the country to talk about this grave issue."
Also Read: Discrimination Against Doctors: Why Has COVID-19 Turned Us Hostile?
On facing the panic of getting infected
On how they are fighting tooth and nail every single day Dr Sneha said, "We don't see it that way, you know. Going above and beyond the call of duty is our priority as life saviours." 
Dr Sneha, who was earlier exposed to a COVID positive patient, recalls, "I and my colleagues had been exposed to a patient two weeks back, without me wearing the PPE Kit at the time because the patient had not only hidden her travel history from Mumbai but also had kept important symptomatic information from us. We were examining her just as we examined a normal patient in a different ward and eventually she turned out to be positive. The entire team who came in contact with her was tested and put in quarantine for fourteen days and, thankfully, our reports came back negative. I can't describe to you the level of stress our families went through while we awaited our reports."
Dr Nandini holds the opinion that the panic is also justified because it is something we're all facing for the first time, especially since new information surrounding it surfaces every day which in turn makes them adapt to learning new ways to protect people and themselves every day.  
"See, the fear of facing a disease or infection is always on our mind, be it before this pandemic or after. A slight loss of focus and you get a needle prick, which is then followed by panic, a month of medications and the fear of testing positive for something grave. This infection is so brutal that it spreads by droplets, thus, it's easier to contract it. Given the fact that we were not expecting a pandemic like this in today's world, considering the advances which we've made in science and healthcare, we were and still are underprepared. So, sometimes, due to the lack of proper protective gear, or some patients' irresponsible behaviour when they tend to cough and sneeze without a mask, we wonder if the measures we are taking to protect ourselves are enough," she says.
Also Read: Mona Milkha Singh Attends COVID-19 Cases As An ER Doctor In NYC
On PPE equipment and necessary arrangements
The pandemic tells us a grim story surrounding the safety of our frontline workers. When asked how the situation is in their respective hospitals, Dr Sneha said that while currently her hospital is equipped with PPE kits, it's only a matter of time that with the number of cases swiftly rising, there will be a need for new guideless, upgrades and gear providence.
"Every hospital, in any country you pick, is complaining about the lack of PPEs, because we were clearly underprepared. Therefore, we, too, are definitely facing a shortage in our hospital as well, although all medical units and manufacturers are trying, and must try harder, to meet the rising demands on their level. Alongside, we're learning to use the available protective equipment judicially."
Also Read: 89 Mn Masks, 30 Mn Gowns Needed For Healthcare Workers Per Month
Plead to the public
Dr Nandini suggests that citizens need to take extra caution especially since several areas are easing the lockdown, and more and more asymptomatic cases are coming out. "I would advise people to treat doctors, nurses, police officials and all the others fighting this battle on the frontline with compassion and love. It'll motivate us to do our duties better. While I suggest you do not panic so much but, on the same hand, also don't take the situation lightly. You should consider every person a potential carrier and protect yourself. Don't forget to wash your hands regularly and please keep the children and elderly indoors. It's a tough phase, but it'll definitely pass," she adds.
"I request everyone to follow every rule there is to keep safe. This is an even difficult stage as the virus effects are worsening, hence we need to be extra careful with our actions. We're here to serve you but we'll need you to cooperate, as getting through this Pandemic requires us to stand together and fight it," signs off Dr Sneha, as she prepares to put on her protective gear and enter the overcrowded wards for night duty.
Also Read: 27 Corona Warriors Selflessly Working To Help Others During COVID-19