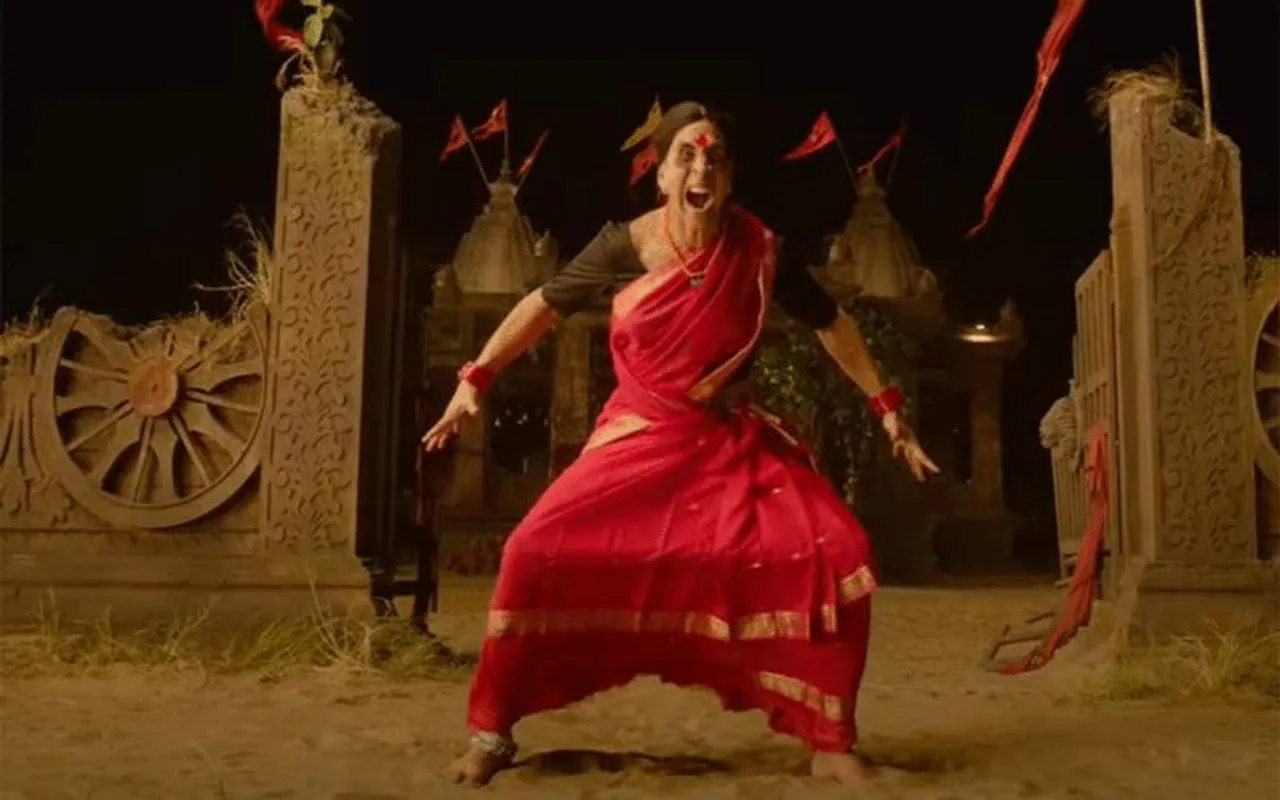 It's 2020 and Bollywood still thinks it's okay to make ghosts out of a transgender people's existence. Laxmii, starring Akshay Kumar and Kiara Advani, was released yesterday on Disney+Hotstar and if you dare to watch it, you may end up wondering who needed this film, especially in a sodden year such as this one.
You'd think that from the passing of the regressive Transgender Persons (Protection of Rights) Act, to the loss of livelihoods due to the pandemic, this year had already been a struggle enough for transgender people across the country without having the film industry add on to the burden. But no, with 141-minute runtime, Laxmii milks the worst of transphobic tropes, turning transgender identities into horror/comedy plots at the cost of their blatant dehumanisation. Throw in a haphazard narrative and an ever-incoherent script, it'll leave you with a headache and possibly a few dead brain cells by the time you finish the film (that is if you ever manage to).
The film stars Akshay Kumar, Kiara Advani, Manu Rishi Chadha, Ashwini Kalsekar, Rajesh Sharma, Ayesha Raza Mishra, Sharad Kelkar and Tarun Arora in pivotal roles. It's directed by Raghava Lawrence and is a remake of the 2011 Tamil film Kanchana, which was also directed by Lawrence himself. Sadly for us, nine years was apparently too less a time period for cis filmmakers to educate and sensitise themselves on trans issues.
Also Read: Movie Review: Kaali Khuhi Uses The Horror Genre To Showcase Female Rage Against Patriarchy
A Baffling Plot
The starting of the movie gives a semblance of hope when we see Aasif (Akshay Kumar) and his wife Rashmi (Kiara Advani) playing a Hindu-Muslim jodi on the verge of being accepted back into their families, despite having married without their blessings. There's even a comment by Aasif's nephew Shaan during the scenes where he expresses his surprise that people are still caught up in the Hindu-Muslim binary in the country. But just as you think that maybe the film wants to transgress a few boundaries, it moves on from this particular theme without ever looking back on it.
Then comes in the entire storyline of Aasif being possessed by a ghost who is out to seek vengeance. Aasif is a rationalist who doesn't believe in spirits and ghosts; he declares that if he ever chances upon a ghost, "main chudiya pehen loonga" (I will wear bangles). Which is precisely what he does when the spirit of a transgender woman named Laxmii (Sharad Kelkar) takes hold of him. He puts on red bangles, sways his hips and wears a sari, and all his family members are horrified by his "auraton waali harkatein" (feminine mannerisms). If you're a feminist, whether cis or trans, chances are that the misogynistic tropes will have already offended you by now.
In the name of seeking vengeance from a vicious villain (Tarun Arora) and his henchmen, the plot is then stuffed with babas, three-eyed coconuts and a kohl-eyed Muslim character who gives a taaweez to our hero to add to the supernatural quotient. There is also an unnecessary effort put into highlighting the fact that Aasif is a Muslim man who refuses to wear his religious identity on his sleeves, while Laxmii is someone whose beliefs and practices are firmly Hindu. Told you, nothing makes any narrative sense by the time you reach halfway through this film.
Also Read: Trailer Review: Deepa Mehta's Funny Boy Promises To Explore Queer Sexuality And Ethnic Conflict
The Blatant Stereotyping of Pretty Much Everything
There is a song sequence where the makers show a community of trans people doing some kind of a terror-inducing ritual dance on a full moon day. Do the film's makers realise the kind of stereotyping it could subject an already stereotyped community to? Transgender people are looked at with fear even today in many parts of our country? Won't the portrayal of a trans person as a ghost or of the trans community performing an intimidating ritual further reinforce this narrative?
When it comes to performances, most of the cast behave as mere props throughout the film. Akshay Kumar's acting is neither funny nor scary, and Kiara Advani appears lost in majority of the scenes. And what is up with that randomly-inserted inconsequential 'Burj Khalifa' song?
The lame gags feel like feeble attempts made to hide the film's regressive core: that it is, at the end of the day, a gross misrepresentation of the marginalised; an insensitive cis-gaze at the trans community. The film's humour feeds onto the same heteronormative patriarchy that makes trans people the victim of hate crimes on streets. And that's what perhaps is the scariest part about this horror-comedy.
Picture Credit: YouTube ScreenGrab
Views expressed are the author's own.