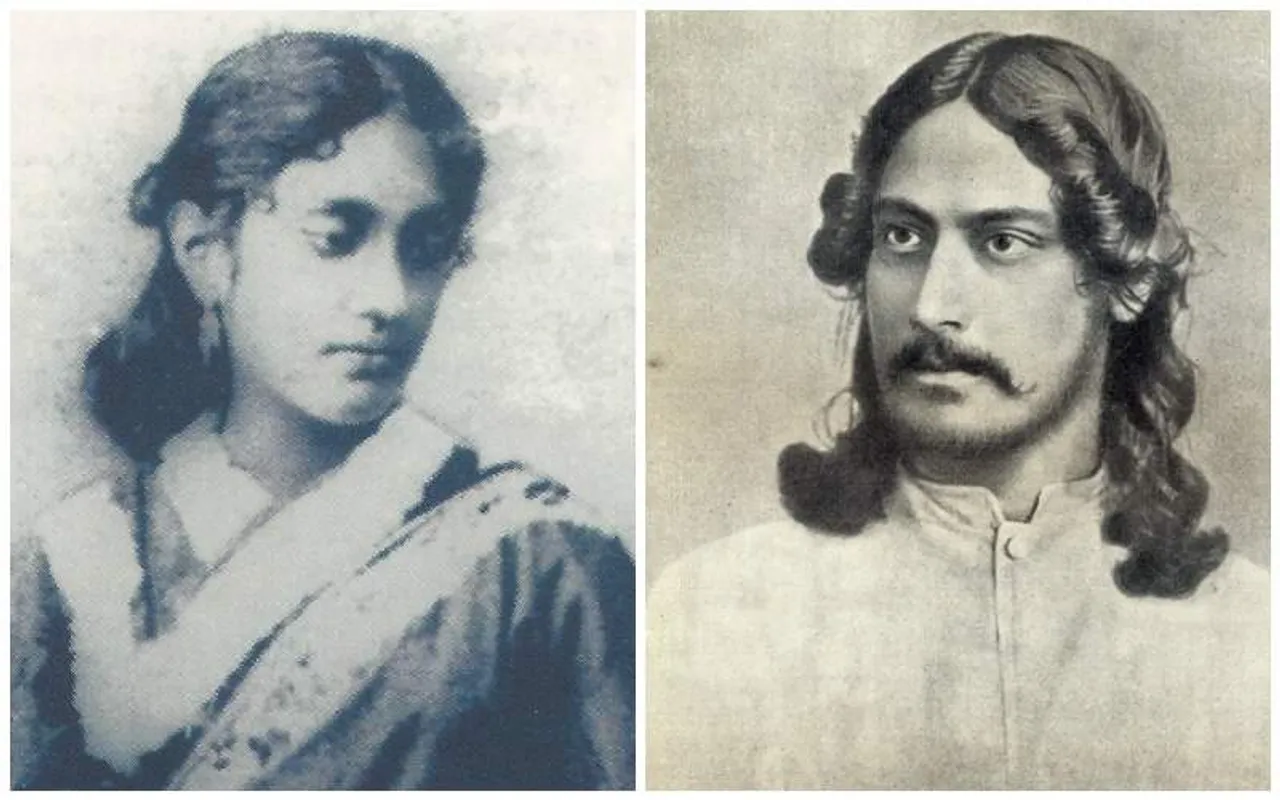 Kadambari Devi is a well-known name for anybody who has ever delved into the gamut of Tagorean Literature. Devi was married into the Tagore family, which was one of the most prominent Bengali families of 19th century Kolkata. There she met her brother-in-law Rabindranath Tagore, who was two years younger to her. Hence started their companionship, one that ended tragically with Devi taking her own life. Although the real cause behind her suicide was never known, numerous controversial theories have been forwarded from time to time. But while the mystery behind her death captured the attention of a nation, her life and contributions have often been overlooked in history.
Early Life
Devi was born Hemagini in the year 1859.  She was the daughter of one of the domestic helpers at the Tagore residence (popularly known as Thakurbari) at Jorasanko in Kolkata. In 1968, at the tender age of nine, she was married off to Jyotirindranath Thakur (Tagore's brother) who was almost 10 years older than her. It is widely believed that Maharshi Debendranath, the great humanitarian and philosopher, chose her as his daughter-in-law, without giving much thought to class differences.
From Rabindranath's autobiographical masterpiece, Chhelebelai (My Boyhood Days), we get glimpses of a young Devi: "A new bride came to the house, slender gold bracelets on her delicate brown hands…I circled around her at a safe distance, but I did not dare to go near. She was enthroned at the centre of affection..." This new bride, whom he addressed as Notun Bouthan (the new sister-in-law), was soon assigned the duty of looking after him. But Devi did not merely become a homemaker in Thakurbari, for the Tagores believed in educating their women. Devi's husband made arrangements so that she could be educated at home. She was also given the freedom to learn horse riding, an activity she dearly loved. It was said that she would often ride alongside the male members of her household in public, an act that initially horrified Kolkata's high society.
Also Read: 5 Fiercely Feminist Protagonists in Tagore's Works
Youth And Being Rabindranath Tagore's Literary Companion
Due to the similarity in their age-group and their resembling taste in literature, Devi and Tagore eventually became very close. Tagore's memoirs are replete with stories about the duo's mock fights and patch-ups. It's said that Devi often teased him but also asked him to read to her, while he "shared the benefits of my sister-in-law's hand fan," as he fondly remembered later in his writings. Devi became his best friend and harshest critic. She would constantly give him creative feedbacks on his poetry and other literary works.
Their camaraderie remained intact as they grew up. As Devi remained childless, even after several years of wedlock, she regularly avoided being in the company of other women. And because her husband got busier juggling family business alongside his creative pursuits, Devi was left with no one except her brother-in-law, in whose creative company she felt the happiest. Tagore later admitted that he wrote all his youthful poetry sitting next to her, and that it was her literary sensibility that helped him reach his potential. He even nicknamed Devi after Hectate, the Greek goddess of the moon, night, and magic.
The Tragic End
Tagore briefly stayed in England during which he maintained constant correspondence with Devi. After coming back to India, his family decided to get him married to a then 11-year-old Bhavatarini Devi, later known as Mrinalini. It is said that the event of Tagore's marriage proved highly traumatic to Devi, since she was bereft of even the one companion who kept her sane amidst a childless and lonely marriage. About four months after Tagore's marriage in 1883, Kadambari Devi took her life through an opium overdose.
The truth behind Devi's unfortunate demise was never revealed. The entire Thakurbari remained tight-lipped about it, although most people went on to believe that Tagore's marriage was the cause of her suicide. But then again, the common public had always been a sucker for tragic love stories, so no wonder this is the narrative that gained popularity. All we know is that Devi's death left a huge impact on Tagore's life. In a letter to C. F. Andrews, his close associate, social reformer and educationist, he expressed his distraught: "But where is the sweetheart of mine who was almost the only companion of my boyhood and with whom I spent my idle days of youth exploring the mysteries of dreamland? She, my Queen, has died and my world has shut against the door of its inner apartment of beauty which gives on the real taste of freedom."
Also Read: Priyanka Chopra To Bring Out Tagore's Secret Love Story On Celluloid
Kadambari Devi lived a short life of 25 years, but her shadow lingers upon the entire oeuvre of Tagorean literature. She was born with artistic sensibilities during a time when women's literary calibres were suppressed by the larger society. She still managed to become the muse and literary companion of the famous Bard of Bengal. And it is only in his works and her grainy sepia print pictures available that we can still find the remnants of this mysterious figure in the world of literature.
Dyuti Gupta is an intern with SheThePeople.TV.