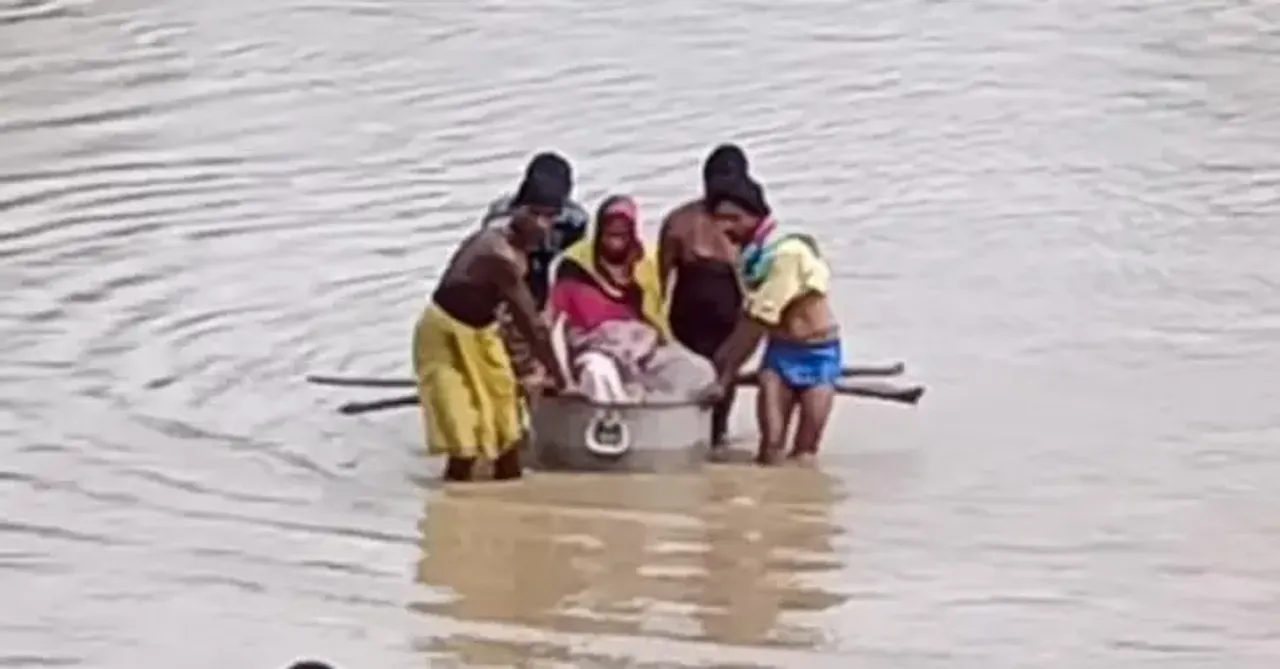 Lakshmi Yalam lives in a village of Chhattisgarh. She was pregnant. As her delivery date was approaching, it was time to take her to the nearest hospital which was 15 km away. She also had to cross Chintawagu river without any bridge. So how did the family manage? They carried Lakshmi in a utensil and crossed the river to reach the Bhopal Patnam Community Health Centre.  But, even more, unfortunate was that after all this effort, Lakshmi gave birth to a stillborn. Why are rural India pregnant women subject to such challenges and just what can we do about them?
Although we are living in one of the most difficult times of our lives, the predicament unleashed in rural India due to lack of infrastructure is an old story. Lakshmi is not the only woman who had to face such situations during their pregnancy. Every 20 minutes a woman dies due to pregnancy-related issues. Stillbirths have also increased from 495 in 2018 to 1,070 in 2019. How long will rural India's lack of infrastructure and poor and unapproachable healthcare facility fail pregnant women?
In India, there is a significant gap in the healthcare system between the rural and urban areas. Proper and timely medical help is a luxury for the rural women even today.
Pregnant women who are already at the most vulnerable situation bear the worst brunt of the state's negligence to develop the rural areas. During pregnancy, healthcare is very important both before and after the delivery. WHO recommends at least four regular antenatal check-ups to ensure the proper health of the mother and the foetus. Besides, institutional delivery or delivery in the presence of a medical professional is also expedient for a safe pregnancy.
Also Read: Things Pregnant Women Should Know During COVID-19
But recent reports have revealed that rural women receive less to no antenatal check-ups. NFHS-4 revealed that one in every seven women do not receive full antenatal care. Only 16.7 per cent in rural India receive a complete antenatal check-up. Moreover, most of the pregnancies and abortions are conducted at home by the family members or kins and not in the presence of any medical professional. As many as 40 per cent of women do not consider institutional delivery "necessary". Due to this the maternal mortality rate and the infant mortality rate in India is significantly high.
The major reasons why rural India lags in meeting the basic healthcare requirements for pregnant women is the lack of infrastructure, transportation and connectivity to reach the health care centres. Besides, there are no primary healthcare centres located in the proximity that can address the emergency situation. If women have to cross rivers, damaged roads and pay for transportation to travel 10-15 km, just how will they be encouraged to go for regular check-ups?
In fact, the government has recognised the difficulties of the pregnant rural women and introduced schemes to ensure free antenatal check-ups, transportation and delivery. But how many women are aware of it? Moreover, research shows that free healthcare services lack quality, equity and access. Private healthcare centres are still preferred by people over government hospitals as far as critical treatments are concerned. But rural women cannot, in any case, prefer private hospitals. They only look up to the government services for proper healthcare. Then why isn't India investing in strengthening the government healthcare systems? Why even today there are indefinite delays in emergency services due to red-tapism? It is not enough to introduce schemes. The government is equally responsible to ensure that the schemes and benefits are actually reaching out to the people who need it.
Since the onset of pandemic and lockdown, the difficulties of pregnant women has increased evermore due to lack of awareness about the lockdown and the coronavirus. Maternal healthcare in hospitals has reduced by 32.9 per cent since March 2020 as they were engaged in coronavirus patients. Besides, the availability of ambulances and transportation decreased evermore. The government clarified the inclusion of maternal health in the essential services by the third week of the lockdown.
Consequently, the rate of institutional birth and the antenatal care of pregnant woman has decreased since March 2020 and is expected to dip further - Pregnant women rural India challenges big during COVID
We cannot ignore the fact that women's health, especially in rural India, is not given much preference. Either because they are costly or are not considered necessary. Women get pregnant when they are still minors and have no maturity, both in body and minds, to handle pregnancy. In such a situation, lack of proper health care system that is woman-friendly only enforces double discrimination on women. In order to empower women in India, it is important that the infrastructure is strengthened and simplified so that they can ensure their well being even though they have to do it alone.
Also Read: Survey Shows Dismal Condition Of Pregnant Women In Rural India