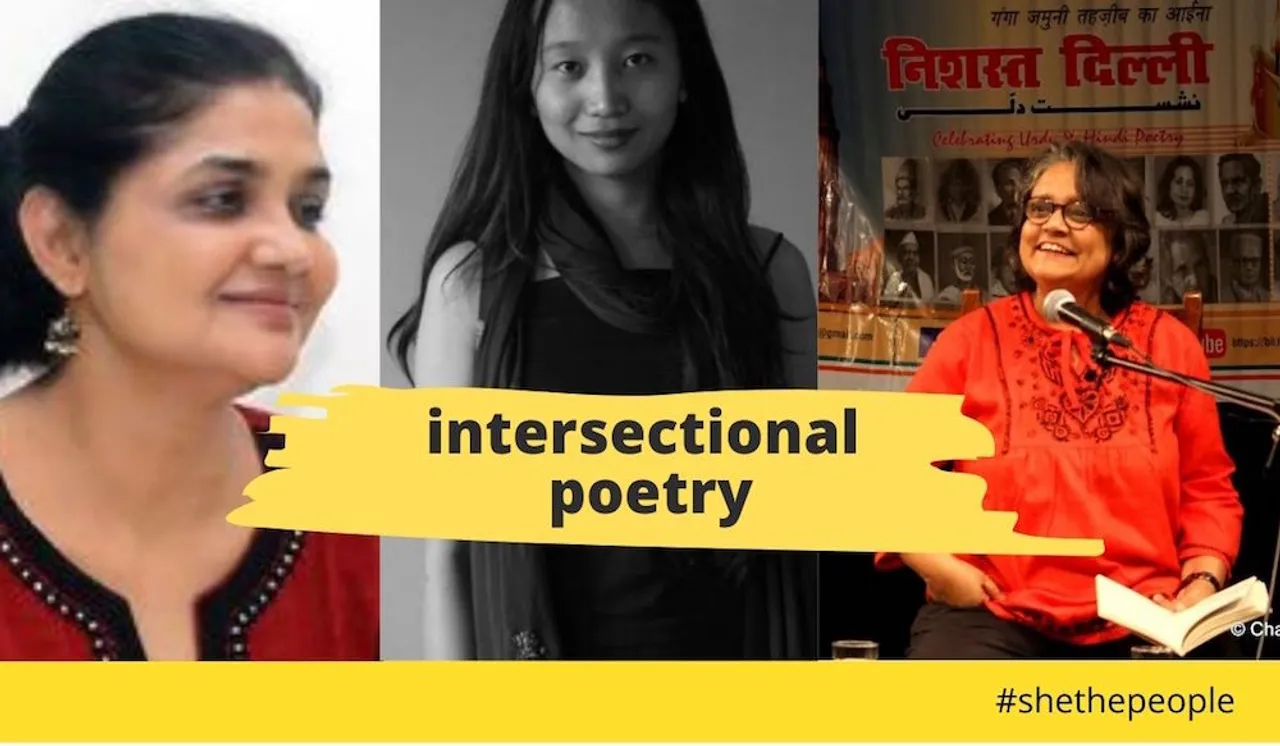 Intersectional poetry has always been among the most relevant and all-encompassing genres of poetry, given its multifaceted themes that cut across all the identities of an individual. Maya Sriram, speaking at SheThePeople Feminist Poetry Fest said, "It's everything... it's your gender, race, colour, language, community, caste... It's also your geographical identity. I'm conscious of my female identity and the oppression that I face. But I'm also aware of my privileges." 
Also Read: When Life Gives You Pain, Turn It Into Poetry, Says Ayushi Shridhar
Since Sriram draws her primary inspiration from Tamil Bhakti poets, she goes on to recite a hymn by Karaikkal Ammaiyar, a 6th century "subversive feminist," who shed her patriarchal duties to devote herself to Shiva: "She gets very angry, and gathers dust to extinguish this fire, this place where her Lord dances."
The women agreed that by virtue of being women, the intersectionality in their works makes for a socially, politically, and sexually liberating expression that ultimately aims to achieve emancipation. Mishra, taking a more philosophical spin, expands on this, saying, "I have a two-path responsibility in this intersectional dialogue; I belong to both the worlds. I am a carrier of information from one generation to the next, and that is the reason I write about my own experiences." 
Moderated by author and columnist Baisali Chatterjee Dutt, other than Sriram, the panel featured poet-speakers Sekulu Nyekha from Nagaland and Kasturika Mishra from Orissa, who spoke on the unending relevance of intersectionality in verses written by Indian women throughout history.  
Trying To Assimilate The Marginalised Into The Mainstream
Nyekha feels that being an intersectional poet "requires courage" since it requires "pointing fingers back at yourself." Citing a great example, she says that the goal of intersectionality and poetry is "not to make your table higher, but expanding it in a way that all of us come together."
Intersectionality is "like a Venn diagram," the women say, converging the various identities of people at one point without discounting their other experiences. Nyekha focuses on the importance of assimilating the marginalised communities into the mainstream, by allowing voices of Dalit and tribal women to come to the fore.
Also Read: Feminist Poetry Fest: Women Poets Discuss The Art Of Writing Poetry
She reads out a piece by Dalit poet Aruna Gogulamanda titled A Dalit Woman in the Land of Goddesses, which goes: "Her eyes two dry hollows bear silent witness… To hundreds of deaths of her mothers, daughters, sisters… Their dreams, respect and their bodies."
Finding Feminism In The Pages Of Early Intersectional Poetry
Mishra, who is also a singer, serenaded the audience with verses from 17th century Oriya literature by male poets Upendra Bhanja and Baladeva Ratha, who despite their early sacred symbolic works showed women as independent thinkers. Nyekha affirms Mishra's insistence on the importance of music in intersectionality, saying that in her native Naga culture, the word "poetry" does not exist, but folk songs take on that particular significance.
Also Read: How Kamala Das' Poetry Voiced My Sense Of Fearless And Free Womanhood
The women even answered questions posed by the audience, with reference to feminism and intersectional poetry in history. "There are so many kinds of feminism," Sriram elaborates, "but finding and grabbing agency wherever you can and subverting patriarchy is absolutely feminism, and that's what historical female poets used to do. In the intersection of women poets writing poetry is where you'll find feminism."
Dutt agrees, saying that a similar pattern of feminism can even be noted in poems written by Marathi women, while Mishra brings attention to Sufi poets who helped propagate the same message. And rather symbolically, the session thus concludes with a commemoration of all these poets from different religions, different backgrounds, reiterating the ultimate meaning of intersectionality.
Views expressed are the author's own.