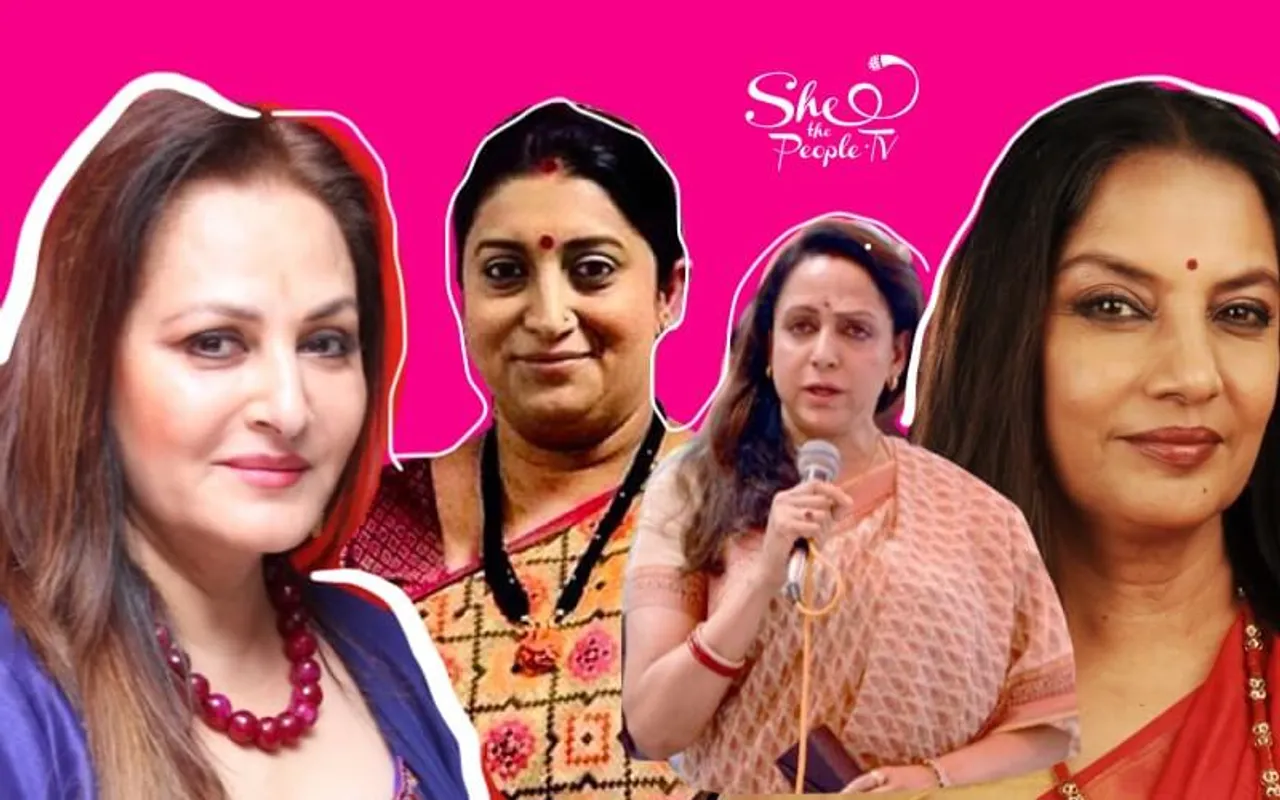 Misogyny in Indian politics, especially at the time of election campaigning, is not a new occurrence. SheThePeople.TV attempts to unpack the nuances of women actor politicians being subjected to scrutiny and whether it is always unfair
In the world of Indian politics, among several others, there are two common phenomena that particularly stand out during the time of elections- one, actors becoming politicians and gaining quick prominence; two, the lowering of public discourse due to attacks based on identity such as caste, class, religion, and of course- gender. Often, these intersect and we get to witness some vile attacks on women actors-turned-politicians. The sexist slant to some of these attacks is hard to ignore. When the worlds of cinema and politics collide, it is women who witness the weight of calumny as collateral damage.
Shaina NC - We need more women to stand up for each other and I hope that the women votebank punishes repeat who baselessly insult our women actor politicians.
One of the earliest actresses to join politics was Nargis, whose iconic Mother India released in 1957. In 1980, she was nominated to the Rajya Sabha. Several other stars whose careers peaked in the 1970-80s, like Hema Malini, Rekha and Jaya Bachchan are also now senior politicians. Smriti Irani, Union Minister for Textiles and a top BJP leader at the national level was massively loved in her erstwhile television avatar as Tulsi in a popular soap opera. Urmila Matondkar is contesting on the Congress ticket from Mumbai North constituency. At the regional level, J Jayalalithaa is perhaps the best example of an actress making it big in politics as she transitioned from being a popular movie star with several successful films to her credit, to being five-time Chief Minister of Tamil Nadu and a key player in national politics and governance. Other women actors who achieved various degrees of prominence in the political arena include Nafisa Ali, Roopa Ganguly, Kirron Kher, Nagma, Jaya Prada, Umashree, Moon Moon Sen and Vyjayanthimala Bali. They belong to national and regional parties with several of them making multiple moves between parties.
Also Read: Azam Khan's Khaki Underwear Remark A New Low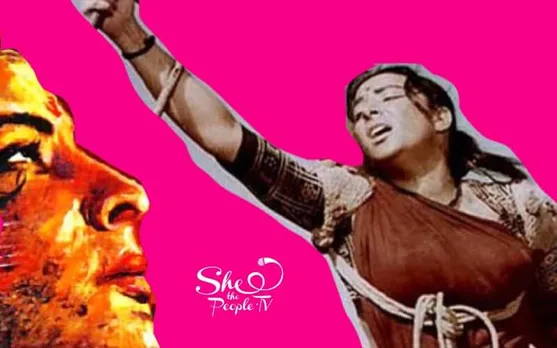 What do actresses bring to the table?
The larger-than-life personas of film stars created by the silver screen and the nature of our cinema-watching experience ties into our politics. While local and national issues as well as ideology remain significant factors that voters consider, constituency-level factors include a judgment of the candidate contesting. The star power of actors appeals to the general public even in the political arena as there is a buzz about the person.
Often, politicians try to build a larger-than-life image of themselves and try to portray themselves as celebrities to their respective electorates, as the frenzy of fame helps fulfil the function of capturing mindspace during elections. This happens through media attention, branding exercises, social media and word-of-mouth marketing.
Explore: Entire Universe of Our Stories and Research on #WomenAndTheVote
Film and television personality Malavika Avinash, who is now a member of the BJP's Mahila Morcha believes that given the size of our population and the demographics of the electorate, widespread public appeal and instant connect with the masses become essential to be able to garner electoral support. "It is important for the public to be able to recognize a name, face and correlate it to a party. Building a support base at the grassroots is not easy and leaders take several years. In the case of actors, there is instant familiarity and recognition. We command large crowds automatically and in the age of social media, any form of celebrity that gains quick traction adds weight to the campaign," she says. However, "selfie-capital" is not the only thing actors add to a campaign. "Today, parties realize that actors have the ability to mobilize crowds and appeal to the masses. They also bring in social, cultural and intellectual capital," believes author and journalist Rasheed Kidwai, who has recently written a book Neta–Abhineta: Bollywood Star Power in Indian Politics. In the age of a hyperactive media environment with 24x7 news cycles run by corporate adveritising, and social media leading to an information overload, the prominence of these celebrities help attract eyeballs and engagement. This serves the purpose of the individual, the party, and the media.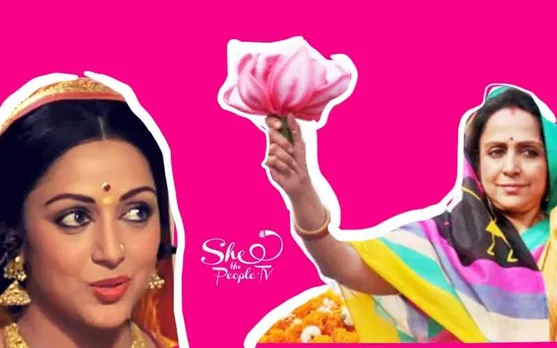 For instance, on Monday, Smriti Irani created a flutter on her campaign visit to Chennai purely because of her star power, as it is evident that she has no political capital there. Irani was handicapped by her inability to speak Tamil in a state known for resisting north Indian hegemony. Yet, she addressed gatherings in Hindi & Gujarati. The BJP fielded the star to campaign in the north-indian dominated area of Sowcarpet, where people were also heard referring to her as Tulsi, and not Smriti.
Building a support base at the grassroots is not easy and leaders take several years. In the case of actors, there is instant familiarity and recognition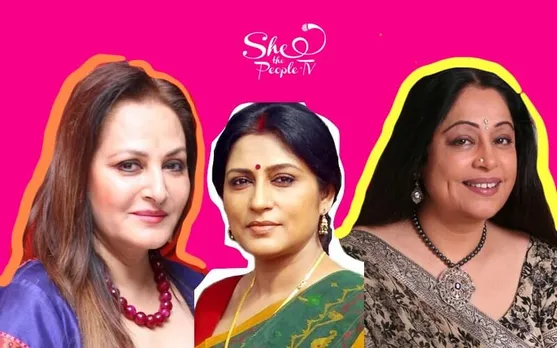 Actors Vs. Actresses : Different yardsticks?
Kidwai believes the road to political success is not hunky dory for women actors. "The glamour quotient that celebrities bring is high, so at the entry level, it is easier for women actors to get into politics. However, they are held to much higher standards and judged quite harshly as compared to men. After all, politics reflects the stereotypes of society and people's thinking of women actors vis-à-vis men is not going to be much different," he says.
https://www.facebook.com/SheThePeoplePage/videos/832304750469944/
Fashion designer and social activist Shaina NC of the BJP agrees. "Actresses are not just soft targets, but often receive coordinated attacks from opponents," she rues.
An entry into politics is viewed as the logical next step for male actors past their cinematic prime. But for women actors, the transition is often ugly.
Film and television personality Malavika Avinash says widespread public appeal and instant connect with the masses become essential
Avinash has been at the receiving end of much scrutiny herself. She welcomes political disagreement but maintains that personal and sexist attacks lower political discourse. "They are reflective of the lack of culture and decency in our polity," she says and adds, "the verbal abuse, snide remarks, comments on physical appearance, judgment based on characters portrayed on screen and so on… are unique to women actor politicians."
Leaders across parties have made sexist remarks about women actor politicians in the past too. For instance, in 2012, senior Congress leader Sanjay Nirupam said, "Aap toh TV pe thumke lagati thi, aaj chunavi vishleshak ban gayi." (Till some time ago you were dancing on TV screens and now you have become a psephologist) He was talking to Smriti Irani on a television debate and subsequently received condemnation from across the political spectrum.
The burden of proving credibility falls on the women too. "The challenge is to transcend from being an actor-politician to just a politician by showcasing dedication and hard work to win people's trust," says Avinash.
Performance: Expectations Vs. Reality
Often, the scrutiny of women actors is justified by using the metric of "performance" as a Parliamentarian. Hema Malini's attendance in Parliament was 39% versus a national average of 80% and she participated in just 17 debates versus a national average of 67 debates. Ostensibly, this is really poor performance.
While the Hema Malini example is slightly different because several other issues such as lack of engagement and of being an MP-in-absence have been pointed out, Kidwai warns against falling into this trap for others. "We must keep in mind that when the media and parties use Parliamentary statistics, they are contextual. It depends on whether the MP is in the Lok Sabha or Rajya Sabha, the time they are allotted to speak for, the comparative necessity of being physically present in the House, and so on," he says.
He goes on to cite several examples of women actors who have been successful Parliamentarians. "Nargis in the Rajya Sabha did a lot of social activism and raised important issues. Similarly, Shabana Azmi excelled in the House. Women actors have shown they can be good representatives and raise sensitive issues that nobody else does."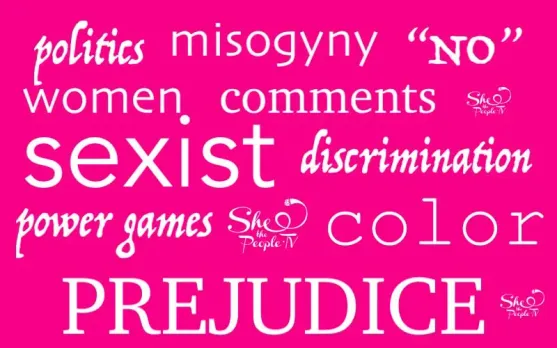 "More recently, Jaya Prada's evolution and move from the south to the north despite linguistic handicaps has been phenomenal. She is facing all kinds of challenges due to party feuds, but is able to hold her own. For Smriti Irani, Amethi is a big test. She has to now prove herself by winning the constituency. She has had a good political career overall, and has even held key positions in the party and the Government. She is comparatively young and can hope for a long innings in politics. Divya Spandana deserves credit for almost singlehandedly leading the turnaround of the Congress Party's fortunes on social media. She comes across as a genuine political figure who was able to combine the opportunities offered to her with talent and hard work," adds Kidwai while explaining why success in politics is beyond plain Parliamentary practice.
Hema Malini's attendance in Parliament was 39% versus a national average of 80% and she participated in just 17 debates
The amount of publicity and criticism opened up by a foray into politics is apparently not a factor that bothers women actors looking to enter the arena. "Actresses are open to more attention as they are used to being in public view, but also face the brickbats that come along with it. They are well-prepared, though. A woman coming from a village with no public platform or skills would find it way harder to deal with the discrimination than one who knows what it is to be part of a narrative," believes Priyanka Chaturvedi, social activist and Congress spokesperson.
Kidwai agrees and he says, "Just like Alia Bhatt & Kangana Ranaut have the ability to carry a film on their shoulders nowadays because people are open to new kinds of cinema, women politicians are also aware that they have to offer something different to voters in order to win."
Differentiating between legitimate criticism and sexism
Following the recent controversies surrounding Hema Malini and Smriti Irani regarding their performance and education respectively, allegations of sexism and singling out of women actors were levelled by BJP supporters. However, not all criticism of women actors is necessarily sexist, as they also have a responsibility towards their constituents.
"Hema Malini is not being judged on her performance as Basanti. She is being judged for her performance in Mathura and her ignorance and insensitivity on social media. Yet, I also believe that women face the greater share of the brunt as compared to men. Paresh Rawal and Manoj Tiwari may get away with a lot more than Hema Malini would ever be able to," says Chaturvedi.
Just like Alia Bhatt & Kangana Ranaut have the ability to carry a film on their shoulders nowadays women politicians have to offer something different to voters in order to win - Rasheed Kidwai
A clip of Chaturvedi of the Congress party "musically" holding Irani accountable for discrepancies in her educational qualifications in election affidavits has gone viral. She categorically states that this has got nothing to do with Irani's background as an actor, though some on Twitter ask why Narendra Modi's educational qualification doesn't invite similar scrutiny.
"At the Panchayat level, the Congress Party has been fighting for women's representation and we encourage women to join politics irrespective of their education level. The problem is continuing to lie in your affidavit. If I haven't graduated, I can choose not to add it. What she has done is deliberate misleading and she is brazenly lying through her teeth. When the opposition talks about it, she plays the victim card, but when it suits her political agenda, she invokes her past as a television star," she says.
A sense of Solidarity
On the positive side of things, it seems that there is mutual consensus from women across parties that there needs to be more cross-party support in cases of targeted sexism towards all women leaders, including actors. In the past, we have seen Sushma Swaraj condemn Naresh Agarwal's  sexist comment about Jaya Bachchan, despite him having been a new entrant into the BJP at the time.
Recently, there was widespread criticism towards Azam Khan's remarks about Jaya Prada. An FIR is now filed against him. "The term 'Khakhi Chaddis' is often used against women who belong to a nationalist ideology or are sympathetic to the BJP. This only furthers misogyny. We need to build cooperation across party and ideological lines," hopes Avinash.
Shaina NC says, "We need more women to stand up for each other and I hope that the women votebank punishes repeat offenders who baselessly insult our women actor politicians."
Surya is a Research Assistant with the Trivedi Centre for Political Data, Ashoka University. Views expressed and information shared is the author's own