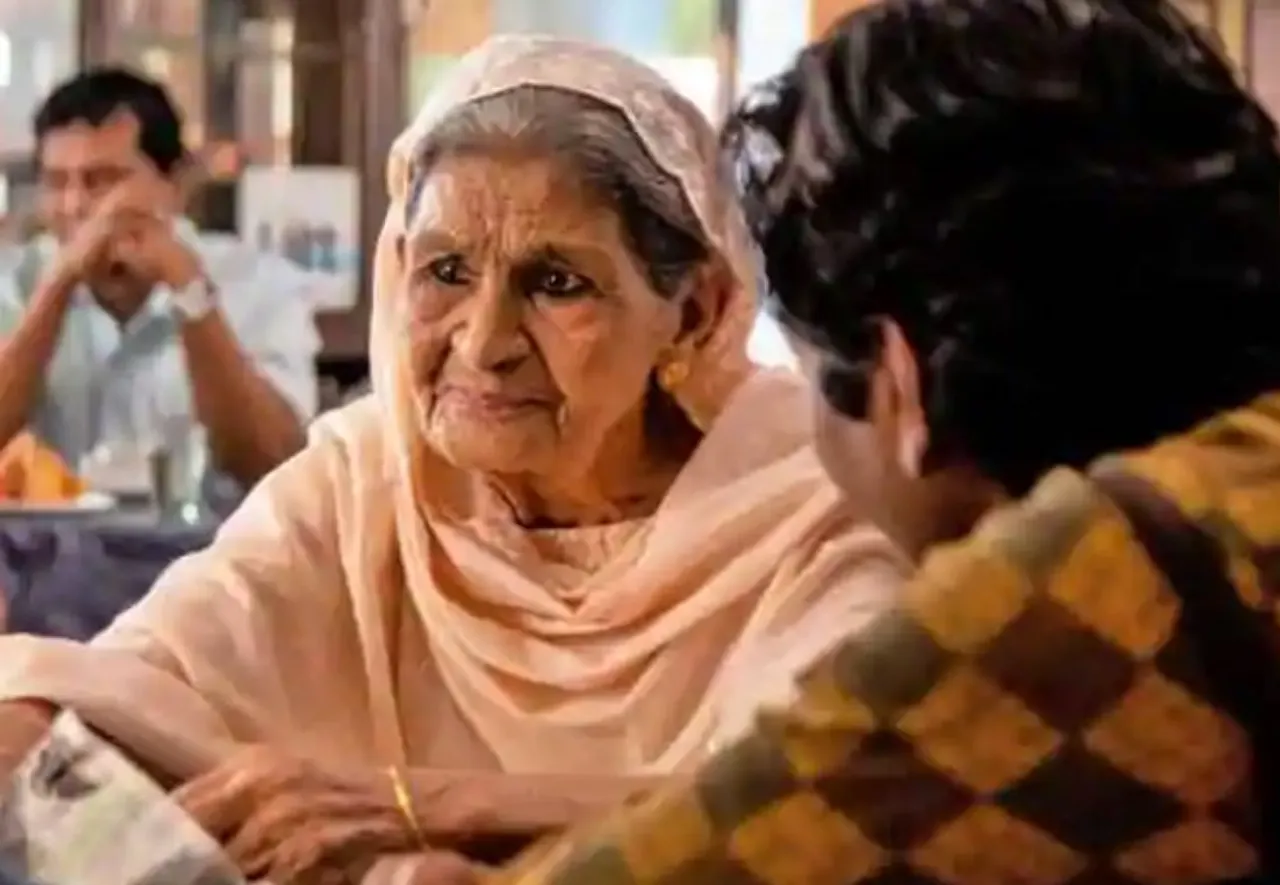 My maternal grandmother ("Aaji") was born in the year 1936 in a small village in Kolhapur. It was a huge family of 7 children – 3 boys and 4 girls and educating every child were not possible for the father and therefore, the children had to fend for themselves for their education. Aaji was fortunate enough to have a father who believed that his daughters should be independent. She opted for nursing because she could earn simultaneously. She even worked in the Cama hospital for a year before moving back to Kolhapur, for her marriage. She got married at the age of 23, which was a rather "late" for a woman to get married then. She chose to stay at home and left her job to look after the house and children.
Aaji is educated, she read a lot of Marathi literature by contemporary and subsequent women authors. She is inspired by Pandita Ramabai's work. Pandita Ramabai was a radical woman living in the early 1900s who strongly believed the key to female empowerment was through the woman's education and employment. Although, her options of employment for women were only the ones which suited the upper-class women more - like medicine, teaching, governess, etc. Aaji's pearl of wisdom is that independence comes with a cost – if you want to live life on your terms, you literally must shell out money for it, your own money. Something she says she learnt too late in her life. She regrets not taking a stand to continue her work, to become financially independent, despite having very supportive parents and in-laws; because she was content with her life, and the way her path was paved for her. She has, however, passed on the feminist fire to her daughter, who understands the motto and has worked hard to build the present life on her terms.
Contrast to Aaji's upbringing was my paternal grandmother's ("Jiji") upbringing. Jiji was born in a smaller village in the heart of Madhya Pradesh in 1926 in a conservative, devout household. She was married to an elder boy as soon as she started menstruating. She suffered multiple pregnancies alongside looking after her extended family. So Jiji would juggle between pregnancies and cooking till her body gave in. Unfortunately, she always lived in a family who believed women will produce children until they can and serve the family. Her opinion, her voice was insignificant and unnecessary.
Both my grandmothers had starkly contrasting upbringings. However, they were not aware did not bother to care what someone thought of their existence or opinion. They knew they were women and hence, they never cared to protest. All their lives, some man took a decision for them and they readily accepted it and made peace with it. It is not surprising to note that their fathers played an important role in chartering their education. Aaji had a compassionate father and Jiji, unfortunately, was born under a patriarchal roof. So their education or lack of it shaped their futures, or did it?
Despite such a background and with the little elementary education, Jiji inculcated in herself a habit to read and was a polyglot. She read newspapers, magazines, children's textbooks, and any other thing that could be read and accessible to her at that time. She had a sharp intellect to learn new things on her own. She learnt to play chess, card games; she even learnt elementary English. But her most radical move was not just encouraging independence in her daughters, it was also in her son. She encouraged her son to manage the household just as efficiently as she expected her daughters to. It is no surprise that my father, still true to her teachings, takes on domestic responsibility without considering it as sharing the woman's load.
Jiji was radical for her time, however, she was not aware that she was. She was tolerant of all religions, castes, genders and that reflects in her children. Jiji's feminism reminds me of Mahatma Jyotirao Phule's principles. Phule's beliefs, his work for uplifting women and acknowledging that a community progresses only when women progress was revolutionary for the 19th century. Unlike Aaji though, Jiji could never acknowledge that her life was unjust, that she had a right to education (she considered it a privilege), she was married before the legal age, she had a choice about her pregnancies, her health deteriorated because of her hardships, but most importantly, the way she was abused in her life, by her in-laws, by her husband was not acceptable, it was a crime.
My grandmothers did not know the word feminism, but they sowed the seeds of feminism in their children. Unfortunately, people like my grandmothers were far and few. Feminism was born in an era when the atrocities against women started to be considered as criminal acts - like child marriage, abuse of wives and widows, sati, female infanticides, etc. Some issues have been eradicated, some remain. The cause of these issues is embedded patriarchal mindset, lack of education (not literacy) and lack of courage remains. This generation of grandmothers ensured that their children (daughters mostly) do not lack the opportunities they did not get and their children only grabbed the opportunities that they were given but left behind the feminist thinking.
Feminism wave ensured that at its peak it will bring those sweeping changes in the society – constantly ensuring that the pre-decided roles and positions of the weaker human changes. However, the feminist wave fizzled out as soon as some minor movement was seen amongst people. Mostly there was no follow-up on the movement. Feminists who now enjoy the fruits of the efforts made by the previous generation of feminists have gotten complacent in their comfort. And when something drastic happens (like the Nirbhaya rape incident, #metoo movement, rape threats becoming synonymous to common abuses) against the very principle of human rights, then another wave of feminism will emerge. It is possible that because these waves of feminism are so wide apart we have not been able to tackle all the issues related to gender and caste. Unfortunately, change in social mindset is plodding which is why probably some of the issues raised by women 100 years ago continue to persist.
---
Views are the author's own. Our readers submit their opinions and articles through stories@shethepeople.tv. The opinions expressed within this article are the personal opinions of the author. The facts and opinions appearing in the article do not reflect the views of SheThePeople and SheThePeople does not assume any responsibility or liability for the same. Author is responsible for the veracity of her piece.