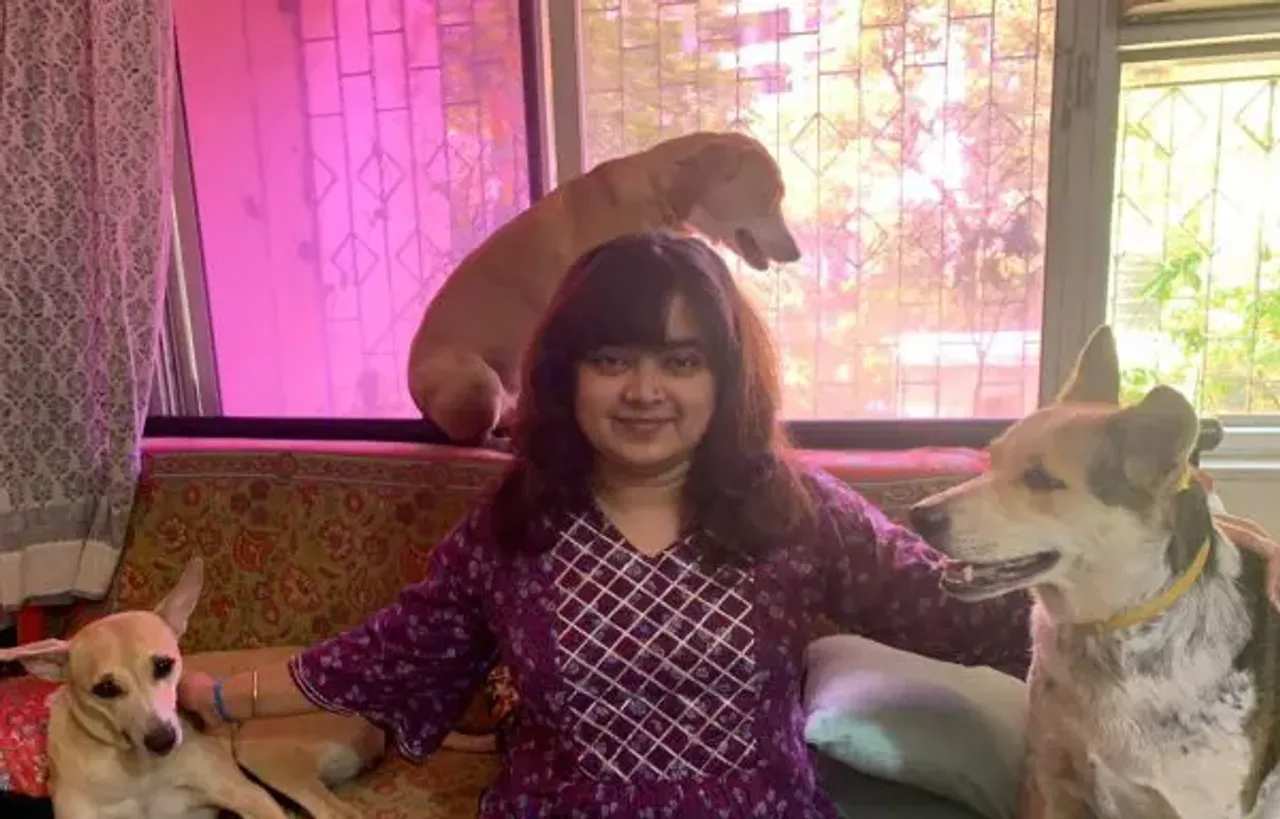 We are all living our own bittersweet lockdown experiences that would form the most amusing anecdotes post this phase. Amid all the tension and hullabaloo that is going on, Amrita Panja, a communication professional has three dogs to look after and she owes her sanity in these insane times to them. A loving pet parent, Amrita is glad to have the cute creatures shadow her around the house throughout the day. SheThePeople talked to this mom of three dogs and she revealed how delighted she is to live through the lockdown with her pets.
Also Read: What makes Women So Emotionally Attached To Their Feline Pets?
Looking after the dogs
Calling her husband the 'home manager', she says they have distributed responsibilities which includes taking care of the dogs. While office work occupies her for a major part of the day, the evenings are dedicated to her furry friends. The couple goes out to feed the dogs in society in the afternoon. Owing to the assistance she gets from her husband, managing the dogs hasn't been a difficult task.
Because of the closed down shops and limited availability of dog food, the family has made their dogs used to home-cooked food. However, raw food like meat and dry food such as kibble is not readily available. She asserted, "We have been ordering non-veg online but we have to time the shopping as items go out of stock in a short span. Also, given that not all pet stores are open we source it from our pet store owner in bulk."
They live in a pet-friendly society that hasn't put restrictions on walking the dogs. The pets can easily be taken out for strolls on the small porch within the premises of the society. "So the walks," she told, "have been regular but we take extra care with their hygiene. Wash their paws with water and sanitizer every time. We personally are very cautious about our own hygiene and sanitization because they are always around us. The weather is sultry so even their diet involves food that cools their system and keeps them hydrated."
Also Read: Stray Dogs Guard Abandoned Baby As People Walk By
A dog-friendly family
Amrita grew up with pets around the house and so did her husband. She says, "We share a common love for animals and taking care of them. As a kid I didn't have to personally take care of our pets, they were more like siblings. It was only when we adopted our first pup, that I became a caregiver, learning it hands-on!" The two are mum and dad to three dogs and could have adopted more if they had had a bigger house and that's what motivates them to work harder in life.
Dogs in the lockdown
She has observed small behavioural changes in her pets. She revealed, "They have been fairly quiet. Maybe because there is not too much activity around and they don't see too many people. Also, they have been a little clingy. That could also be because we are at home all the time and that's not how it is usually." Nevertheless, she believes that lockdown or no lockdown, there is a lot to learn from the dogs. "Dogs just need the basic things like food, rest, play and they are fine. Also, they teach us compassion. I think animals just help us be better human beings."
Lockdown anecdotes
The canines were amused by the sudden coming together of everybody to show support to the selfless corona warriors. Panja remarked, "The two Sundays when the Prime Minister asked the nation to show solidarity towards our frontline warriors, they were just so excited. As if it was some fun activity going on. They perched themselves on the window ledge both the days watching the going-ons. It was really memorable." She says how she'd miss having them around all through the day once they get back to the usual work at office.
Dogs are a blessing
Amrita is a truly happy pet parent and is thankful to have the companionship of her dogs. "I think it would have been very difficult to sail through this time if not for them. They give us a purpose and a sense of responsibility. Their silly playful acts are just so entertaining. There is a certain calming effect to have them around. And the best part, every day is bring-your-dog-to-work day."
Not only is she pleased to be in the company of her canines but also wishes to send out an appeal to people that dogs do not spread the virus. The cases of pet abandonment due to the lack of knowledge were really sad and she wants people to sensitise with animals in these times.
Saavriti is an intern at SheThePeople.TV