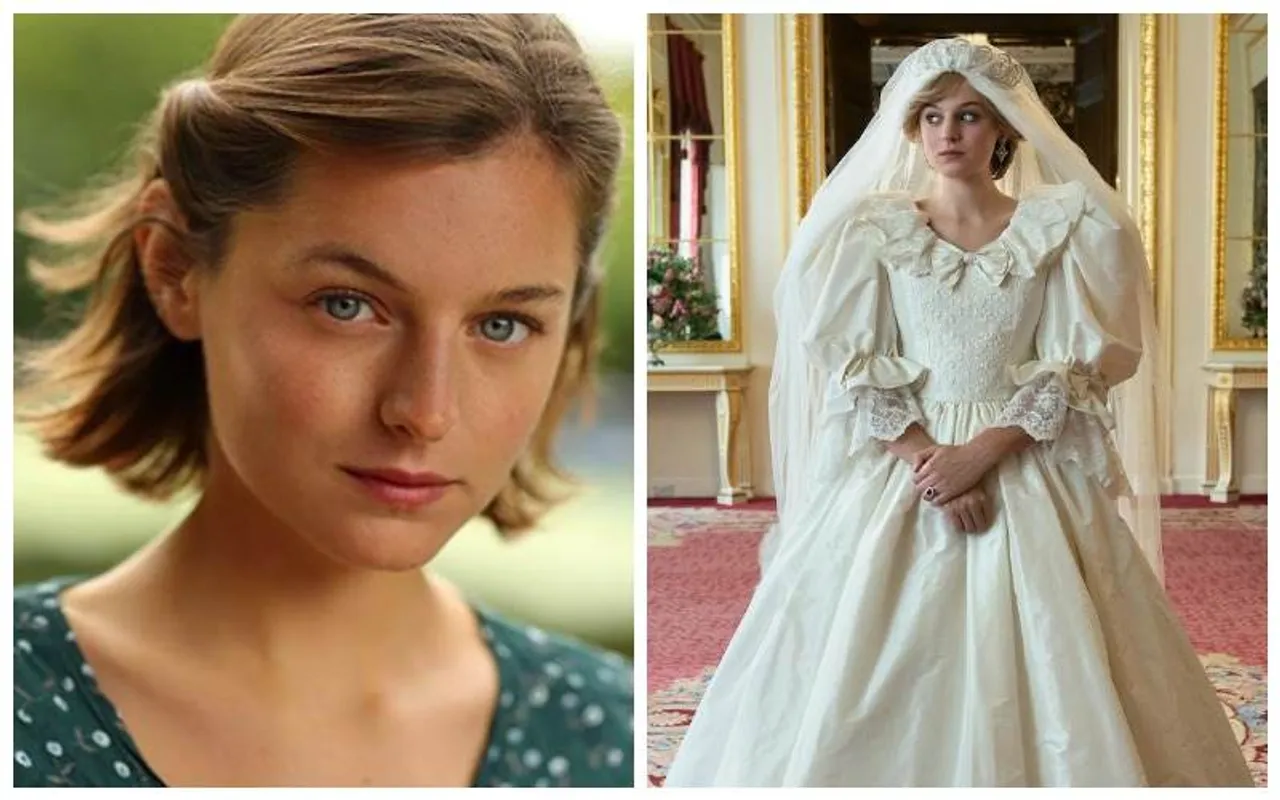 The character of Princess Diana has made her appearance in the Netflix series The Crown, worth every bit and fans of the series absolutely cannot keep their calm. How can they when The Crown presents an exact lookalike actress playing the role of the former Princess of Wales? Dolled up in Diana's colourful and daring outfits, mirroring Diana's exact posture and demeanour, and imitating Diana's dialect and voice is a rather new face in the industry: Emma Corrin. Previously having appeared in small roles in a few films and television series, Corrin is has become a household name playing the iconic role of Princess Diana. So who is this newcomer in pop-culture town?
Early Life and Education
Born in December 1995 in Kent, UK, Corrin is the eldest of three children of businessman Chris Corrin and his South African wife, Dr Juliette Corrin, a child speech therapist. Corrin's brothers were educated privately, with the actress attending a Roman Catholic girls' school near Oxted in Surrey. After graduating from school, Corrin took a gap year, during which she took a Shakespeare course at the London Academy of Music and Dramatic Art and worked as a volunteer teacher at a school in Knysna, South Africa.
Also Read: Taking A Look At The Women Protagonists Of Netflix's The Crown
She then enrolled herself at St John's College, Cambridge, to study education, English and drama. During her college life, Corrin acted in several productions of the Cambridge University Amateur Dramatic Club, UK's oldest and most prestigious student drama society. Like her new co-star Olivia Colman – who plays the Queen in The Crown – she threw herself into stage roles at Cambridge, where she appeared in more than 20 productions.
Debut Roles and Political Stances
Corrin's screen characters since then have included Miss South Africa in the recent film Misbehaviour which revolved around the women's liberation plot to disrupt the 1970 Miss World contest. She has also appeared in the US drama series Pennyworth, an episode of ITV's Grantchester, and the 2018 short film Alex's Dream.
She then spent an audition-packed year fighting for a role in The Crown. Corrin initially went in to read when the makers were choosing a girl to play Camilla Parker Bowles for season three. But she chanced upon an opportunity of a lifetime when her agent called her in to read for Diana in a few scenes with Josh O'Connor. Her performance and lookalike features stunned the producers, casting directors and director Benjamin Caron, who himself was present alongside all the others in the room. It was then and there that the decision was made to put Corrin on tape, and the series found its Princess Diana.
Corrin initially wanted to enter the modelling industry, but whilst modelling at London Fashion Week, she was once snubbed for not being able to fit a pair of breeches over her legs due to her size. She henceforth left modelling and pursued acting full-time, and has since then spoken a lot about feminism and body image in the fashion industry. She has also shown her support for the Black Lives Matter movement and a campaign to "Make white privilege and systematic racism a compulsory part of the British education course". Her Instagram profile also shows the actress supporting causes like prison abolition in the US and Aids awareness programs.
Also Read: The Crown Season 4 Teaser Celebrates The Free Spirit Of Princess Diana
Getting Ready To Play Princess Diana
Princess Diana has been one of the most beloved figures in the history of the British monarchy. She is largely remembered for her pioneering humanitarian work as well as her iconic wardrobe. As Corrin herself admits in an interview with Elle magazine, "If you say name, you instantly have her image, you have her voice, you have her mannerisms. That's a very intimidating thing to be up against." In her bid to play the People's Princess, Corrin says that she had to research a lot and even had to attend several meetings with Patrick Jepson, who was Diana's former private secretary. Corrin also worked alongside William Conacher, her dialect coach, and Polly Bennett, her movement, character coach, in order to accurately capture Diana's physicality and her psychology.
Corrin has also made known that the new season of The Crown will not just show Diana through the public's eye, but will also focus on her private life as well. The audience will get to see Diana's struggles with mental health issues and bulimia, and for Corrin, these were the scenes that were "the trickiest" to shoot. Over the course of the season, Corrin will take Diana from a young girl of 16 to a confident and increasingly independent 28-year-old, and as the trailer indicates, will give us a glimpse into the wedding-of-the-century, with Diana marrying Prince Charles. And as fans of the series, we cannot wait to watch what more season four holds and how Corrin brings the former Princess of Wales to life.
&feature=youtu.be
Picture Credits: PC-Netflix/YouTube Screengrab
Views expressed are the author's own.