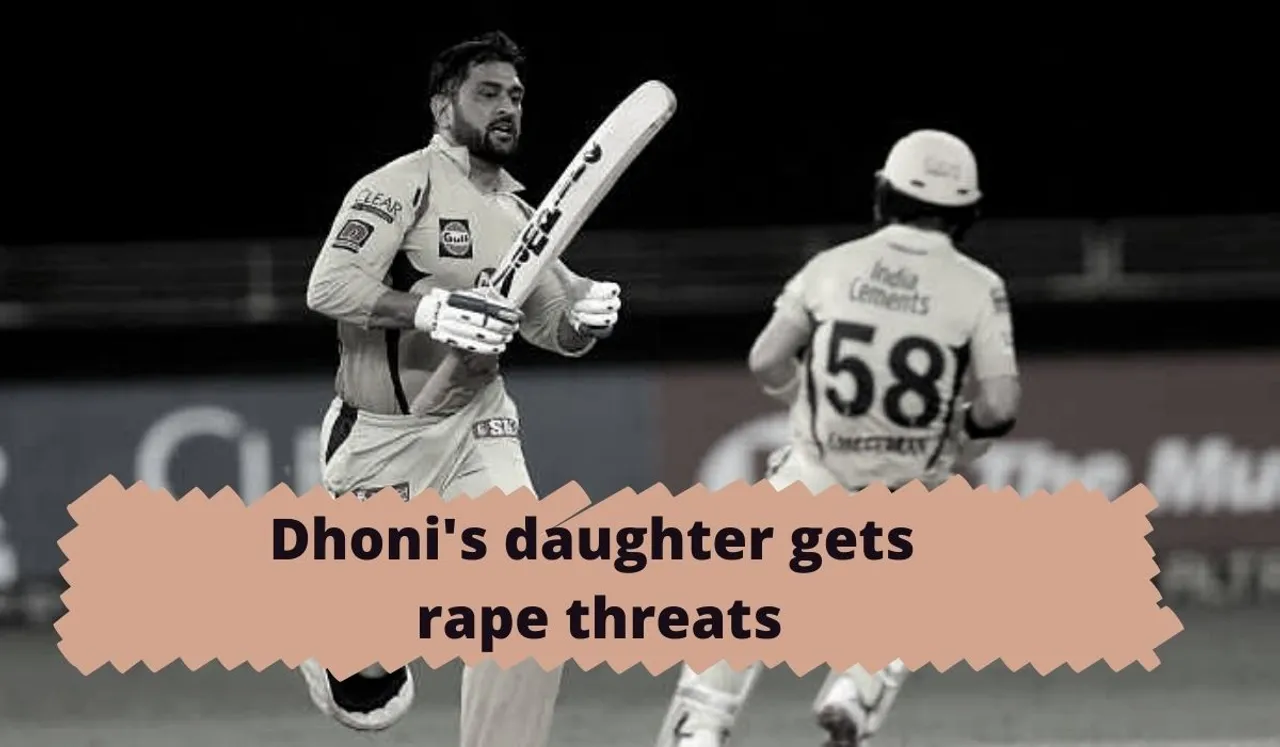 Indian cricket fans' obsession with IPL took an ugly turn showing us once again that India is no country for women. Mahendra Singh Dhoni headed Chennai Super Kings lost to Kolkata Night Riders on Wednesday, October 7, 2020. This led to immense disappointment among the fans. Dhoni who is seen as the game-changer could not perform well as he walked back to the pavilion scoring 11 runs on 12 balls. The bad performance of captain cool disturbed the fans so much that some of them took to Instagram and sent rape threats to Dhoni's five-year-old daughter Ziva. The messages were sent to Dhoni's and Sakshi's Instagram handles. A screenshot shared by a twitter user shows the disgusting messages which talked about raping and impregnating the Ziva once she grows up.
Just saw that Dhoni's 6-year-old daughter Ziva is getting rape and death threats because he didn't play well in #IPL2020

Do people realize what shithole we have become? Can you even imagine where we are heading as a country?

Morally dead and decayed nation! pic.twitter.com/tYF9CsMleY

— Aryan (@aryansrivastav_) October 8, 2020
Reading the news was not only a mind-numbing experience but a reaffirmation of the fact women, irrespective of age, family, caste or celebrity status, have no respect and safety in India.
How can a loss in a cricket match, bad performance of a cricketer who is already retired and the disappointment lead to the gross consequence of sending rape threats to a 5-year-old daughter?
One cannot fail to connect this case with many incidents in which daughters of families and politicians are abducted and raped to avenge and inflict shame on the families. This only reiterates the patriarchal idea that a woman's body and sexuality becomes the ground of all the political, professional and personal battles. The anger against a man is avenged by asserting power over the woman of his family who embodies the weaker sex, the reputation of the man and many times the reason for his loss.
As far as cricket is concerned, this is not the first incident in which the blame and criticism of a player's bad performance were inflicted on the woman of his family. Anushka Sharma has always been on the radar of criticism for distracting Virat Kohli and thus affecting his performance. Recently, when Kohli couldn't perform in the IPL match, social media trolls and even the renowned commentator Sunil Gavaskar blamed Sharma for it.
What we need to question is why should women be on the receiving end of all the blaming and shaming when men are at dispute?
Why should the wife or daughter of a cricketer feel unsafe because he could not perform well in the match? Is the loss and disappointment of a match so big a concern that it can be compensated by committing a crime of raping a woman or a child? Or have people internalised the sense of impunity and are no longer afraid of raping women?
Unfortunately, there is evidence to corroborate this as the conviction rate of rapes in India is still as low as 27.8 per cent, according to the latest NCRB data. 87 cases of rape were reported in India every day in the year 2019. Just now the country witnessed the brutality of caste-based crime against a 19-year-old girl in Hathras. But rather than making the country more vigilant towards women's safety, it is creating a narrative of ignorance, impunity and normalising crime against women in India. Ministers are only fanning these narratives by issuing statements like women do not deserve freedom, rape isn't a serious crime and it is the woman who should be blamed and restricted to stop rape. If it wasn't so, a man wouldn't have randomly picked up his phone and sent rape threats to Dhoni's daughter. There would have been a sense of shame for disrespecting a girl and a fear of what could be its consequences.
India, when are you going to wake up and realise that women have respect and dignity of her own which should be respected no matter what? When are you going to stop bestowing men with power and subverting women by dehumanising, disrespecting and raping her?