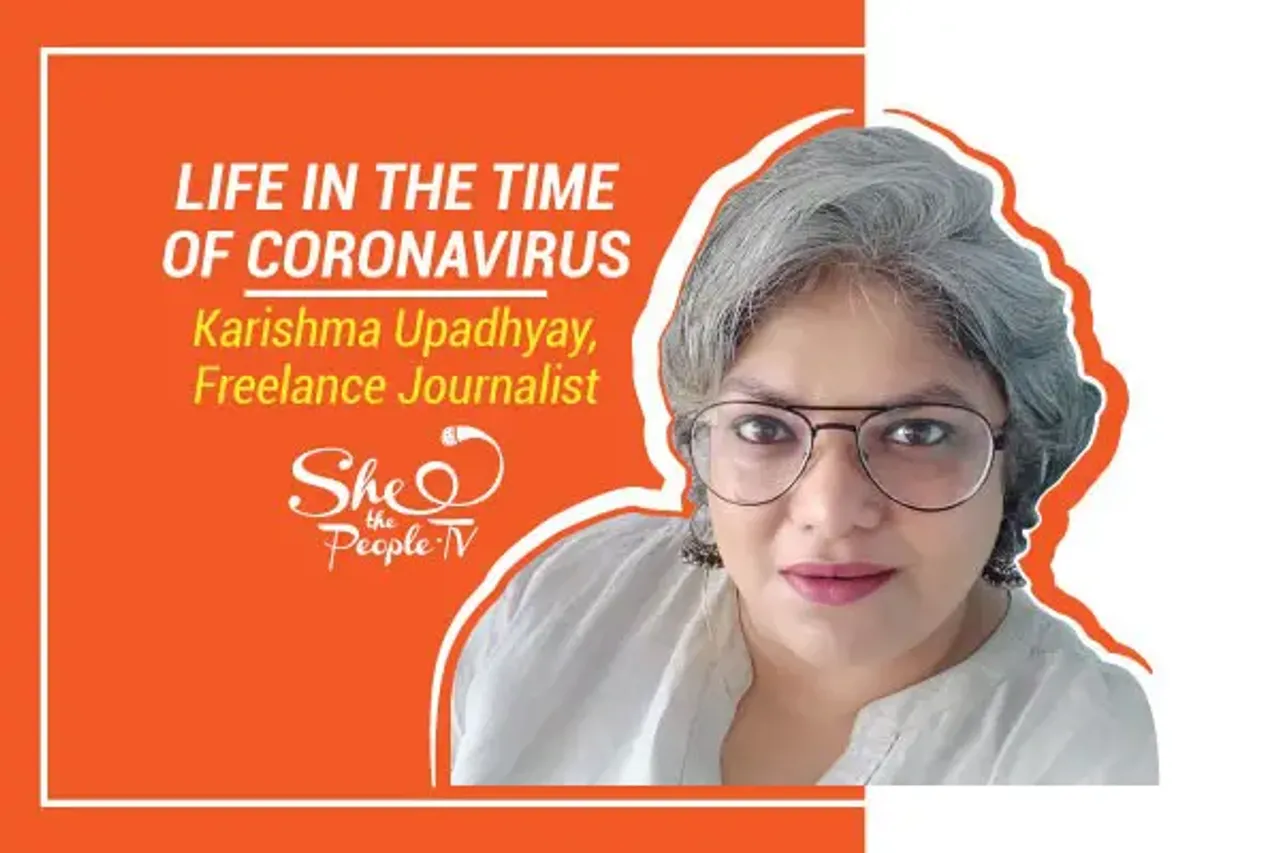 The sudden lockdown has affected all of us and the long-term economic implication this downtime may have is also on everybody's minds. We at SheThePeople, as a part of our series 'How Coronavirus Changed My Life' are speaking to people across the country, whose lives have either been upended or are experiencing the stress of what's yet to come due to this pandemic.
As a part of this series, we spoke to Karishma Upadhyay, a freelance journalist from Mumbai. Along with being a travel enthusiast, she has been a writer for the last 20 years, having worked at and contributed to publications like Bombay Times, People Magazine, Hello, The Hindu, Forbes and The Telegraph. As a part of her work, she interviews film celebrities and others in the film industry. We spoke to her about how her life has changed after the lockdown. Read on to know what she says.
How Has The Lockdown Affected Your Life?
I had a book release scheduled, but now I don't know when it's going to come out. I primarily write about films, interview actors, directors and other people in the industry. Earlier, I could be interviewing anywhere between one to ten people in a week. Right now, though, as far as Bollywood is concerned, nothing is happening. So the work has completely dried up and I haven't done even a single interview in over a week.
Are You Facing Financial Issues Because Of The Lockdown?
Not right now, but I know it might get difficult. We do have savings but since one doesn't know how long is this going to last, we don't know how much of those savings we're going to dip into. And then there are added expenditures, like house rent, EMIs, etc. There is definitely uncertainty about pretty much everything.
Also Read: Oh my office, how I miss being 'at work': Work from Home Challenges
What Are You Doing In These Lockdown Days?
I've finished one last round of corrections to my book which is a biography, and I've been trying to write more fiction. I'm also reading a lot these days. I'm not someone who gets easily stressed though — it's pointless to get unduly anxious in an emergency because it helps nobody. It is very natural to be anxious in times like these, so all we can do is indulge in the things that make us happy. I'm avoiding dark content, so I'm not reading murder mysteries or watching depressing TV Shows. I'm reading happier stuff and watching a lot of comedy, like The Office and Modern Family. I've consciously been trying to cut down on the time I spend on social media because that can also be a trigger.
Do You Have Any Plans For The Upcoming Days?
It's not like I can start thinking of a brand-new profession suddenly, so I'll continue doing what I'm doing and wait and see what happens. One has no choice really because this might go on for at least another three months. And we are only in the middle of the first half of those three months. Mentally, I'm quite prepared for this to go on till June. I'm not thinking of life beyond that right now.
Are You Satisfied With The Steps That The Government Has Taken?
Not at all! They've bungled this up very badly, especially at the centre. I would want them to communicate a lot more than they're doing right now. One of the key things that's missing right now is a proper conversation about the pandemic. While there's an overflow of information for people like us, those living in villages still haven't been made to understand what's going on. Also, instead of beating up people who are desperately trying to get home, create facilities for them to wait this out and feed them. I don't even see the most basic of care for our citizens, leave aside larger issues like the shortsightedness when it comes to testing, PPE and ventilators.
Also Read: Contagion: What Makes The Film Relevant Amidst Coronavirus Outbreak