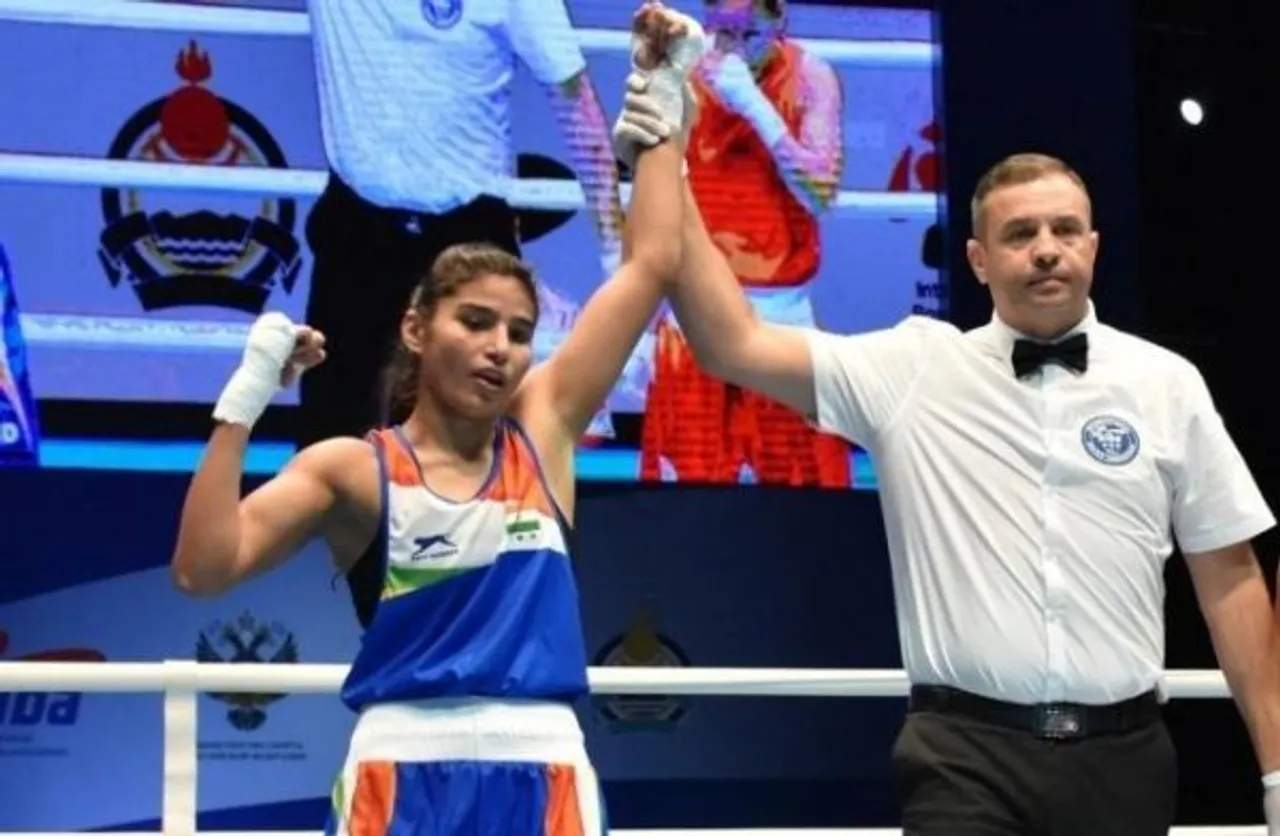 Manju Rani, the 19-year-old pugilist is now a poster girl of the boxing fraternity of the country. She defied odds to win a World Boxing Championships silver medal, but prior to that she entered the final of the championships to become the first Indian — man or woman — in 18 years to do so. In 2011, Mary Kom being the one to do so. This was her maiden appearance at the event. Manju was also the only Indian to reach Worlds final in Russia. Needless to say, the young boxer might not have a huge reservoir of experience but the confidence she has shown in the ring signifies development.
While talking to SheThePeople.TV, Manju engages in a candid chat and reveals the secret to her success. She says she is here to sustain and that years of societal criticism and the doubt on her that she can't achieve big boil down to the willpower to make a successful sportsperson that she is today. It wasn't a smooth starting for her as the Haryana boxer experienced tragedy at a very young age. Manju lost her father, Bhim Sen, due to illness. She was 10 then. Bhim was a Border Security Force (BSF) havaldar, who had died of stomach cancer nine years ago. She gathers strength from her mother Ishwati Devi, who took up all the responsibilities to give her children normal lives. She had to take care of Manju and her four siblings and cousins whose father was unemployed. Money was and still is a huge concern for the family.
Today, Manju is an inspiration to many aspirant girls in her village called Rithal, in Haryana. The novelty factors she swears by are her ability to understand a good opportunity to make a strong move (or should we say powerful punch) in the ring, pre-game strategies to build up a healthy competition, and a good bonding with the coach and teammates.
Manju is a strong advocate of the right to choose one's own road. Internationally acclaimed boxer of the country Mary Kom is her all-time idol. She says she's been grown up watching Kom's art of knocking down her opponents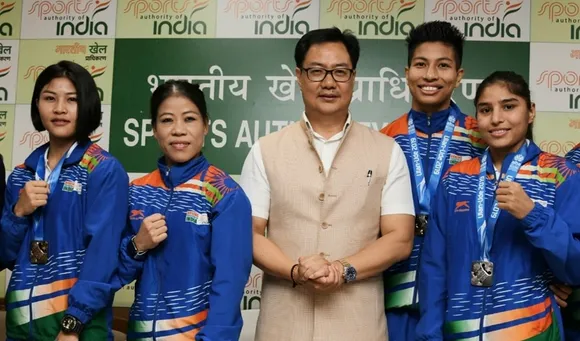 Boxing Champions Mary Kom, Manju Rani, Lovlina Borgohain, Jamuna Boro were felicitated with prize money for winning medals at the Women's World Boxing Championships. Image credit: Kiren Rijiju / Facebook
Manju is a student of BSc first year from Lovely Professional University (LPU), Jalandhar. Always fascinated by various genres of sports, Manju first used to play Kabaddi and go for runs in the village track. When her father died in 2010, she had to deal with the pain of the loss, and says sports kept her motivated. Amidst such a situation, boxing helped her keep the mind off of the tragedy. "In Rithal, I trained in the mud pit with other girls. In 2012, boxing coach Sube Singh Beniwal, father of the famed Poonam and Preeti Beniwal, visited my place. He was highly impressed with me. He said he saw a special skill-set in me. But my mother had only Rs 9000. This was my father's pension. With which she started a small shop in the village. Fortunately, one of my father's friends, Sahab Singh, took care of the finances initially," she claims.
Coached under Beniwal, Manju started winning state championships and later went on to win the 48kg gold at the Nationals in Vijayanagar and also qualify for the national camp.
Training hard from mud pit to the worlds, she said every struggle gave her control and put "my own life in my hands." At the worlds, a confident sixth-seeded Manju first shocked top-seeded Kim Hyang-Mi in 48kg division, who had won bronze in the 2018 edition of the World Championships that was held in New Delhi. Her punches were clean and definitive. She lost her light flyweight (48kg) final 1-4 to local-favourite Russia's Ekaterina Paltceva, and settled for silver.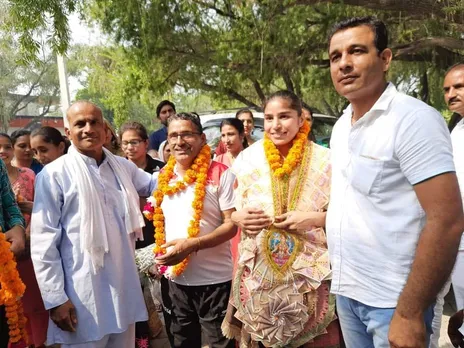 A grand welcome at Manju's village. Image credit: Boxing Federation of India
READ: What Makes Mary Kom's Life So Inspirational, Every Single Day
Starting this year, Rani's strong punches won us a silver medal at Stranja Memorial Boxing Championship. She then clinched the bronze medal at Thailand Open before winning a bronze medal at India Open. Soon, she won a gold medal at the 3rd Elite Women's National Boxing Championship, held in Vijayanagara (Karnataka) in the women's 48-kg weight category.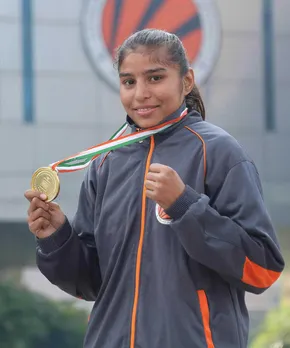 Manju Rani flaunts her medals. Image credit: Tribune India
Talking about the challenges she faced before making it to the big podium, Manju elaborated saying, "Yes, there are certain aspects to take care of before you decide on the voyage. Will you be able to voice up, fight it out when the time's right? Are you totally secured with your passion for pursuing sports? Are you willing to sacrifice? Do you possess the inner-strength to continue without proper support? Are you confident enough to take up the challenge to go up against those who would doubt your capabilities? I had a few people doubting my abilities at the beginning but I never feared them because my mother was my backbone. One day I decided to shift from Karate to boxing and my mother was the first one to support. As far as the problem with finances goes, I come from a poor family with a sole earner. We struggle everyday but never lose hope."
"Looking back, I think, the best answer I would give someone who doubted me, is to not give any answers at all. My achievements and medals will speak for itself."
Asked about the infrastructure and facilities provided by the government, Manju sounded very positive. "I am happy with what I got. Haryana is known to be the best state for a sportsperson and even though beginners might find it hard to get proper help, once you take the initial step everything seems smooth. The support is coming, so I think, we just have to have faith in the government. I started training in the mud pit with other girls and look where it got me. The success of sportspersons is the success of the country. So they will do everything on their power to keep up that image, isn't it?  The ground condition is improving than when I started out. In terms of training facilities, since India is now recognised internationally, people here are working hard to bring laurels from every corner of the world; good training grounds are also being built. Girls need changing rooms and secure premises. If we continue fighting social barriers there will be no time left to fight in the ring. So the government needs to provide all the facilities required."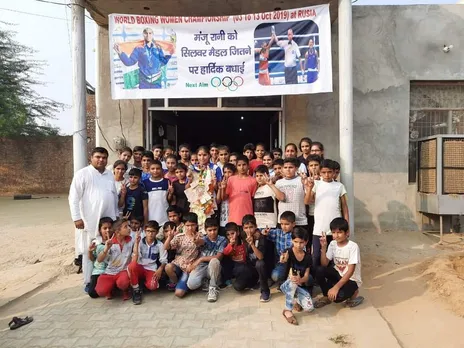 Manju Rani with kids at her village
Sharing a message with girls of her age, Manju said, "Don't try to overdo anything. Take circumstantial decision. Avoid being overbearing. And, pursue your passion, no matter what."
"We have only one life, let's make it worthy and enjoy the little moments."
After her World Championships success, Manju has set her sight at the 2024 Olympics in Paris. "Firstly, I will try to win a gold medal next time. Winning has just started. I have to go a long way. My big aim is to go to the 2024 Olympics and with the right people beside me I am sure I will do it," Manju signed off.
Feature Image Credit: IANS