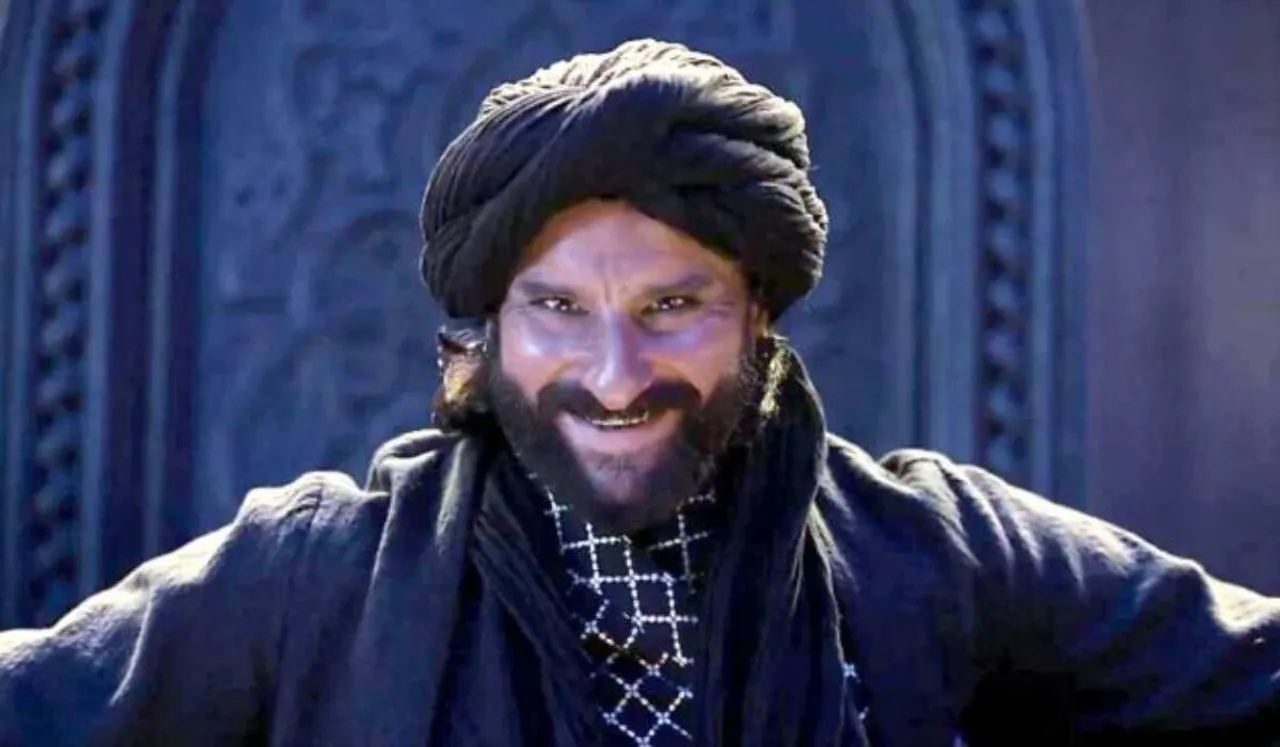 Actor Saif Ali Khan is trending on Twitter for a foot-in-mouth remark he allegedly made in connection to his role as Ravana, in Om Raut's upcoming film Adipurush, starring Prabhas in lead. Khan, speaking to Mumbai Mirror, reportedly said, "It's interesting to play a demon king, less strictures in that. But we will make him humane, up the entertainment quotient, justify his abduction of Sita and the war with Ram as revenge for what was done to his sister Surpanakha by Lakshman, who cut off her nose."
Online, several who have taken "religious" offence at Khan's remark deeming it "blasphemous," are crusading for the actor to be replaced in the film. However, they are failing to see that Khan's problematic statement extends far beyond communal lines.
To me, what's most glaring is an influential actor's attempt to seek justification for a woman's abduction, even if within the limits of his art. Khan may have been referring only to the mythical character of Sita, but in even justifying her fictitious abduction, he justified an abduction. In measures not restricted to film, such an opinion sets a dangerous precedent for the scope of women's safety, especially in a country where the latter is highly compromised. The reason he gives for it - as Ravana's revenge for his sister's cut nose - anyway doesn't hold ground. But can any reason ever? Should abduction or harassment or the use of force against a woman under any circumstances be acceptable?
Also Read: It's Unfair To Vilify Suhana Khan For Protesting Colourism All Because Her Father Endorsed A Fairness Cream
Creative Freedom At The Cost Of Justice?
I have always been a strong advocate of full character representation on screen, even the most problematic, violent, abusive kinds. From the Joker to Kabir Singh to the Kiran-obsessed Rahul. But though I am all for giving them an opportunity of portrayal, I'm aware of not romanticising them or empathising with them. Their villainy is to be acknowledged and condemned, without excuse.
But how to collaborate this creative freedom with morality? It is then upon the filmmakers, actors, cast, and crew to communicate to the audience that these characters deserve to be abhorred, deserve to be resigned to a fate brought upon by their actions, deserve incarceration or more. If art imitates life, and vice versa, then due justice even on celluloid should be non-negotiable.
Also Read: Fabulous Lives of Bollywood Wives Is A Cringe-Fest That Gets The Nepotism Debate Wrong Again: Review
Should A Criminal Be White-Washed?
So from a tilted angle, if one were to really scrutinise, it may appear that Khan through his remark was probably trying to communicate the grey layers to his role as Ravana. But communication as loose as this can easily pass off as white-washing of a mythical character who, inarguably, was a criminal. A man who kidnapped a woman, exercised force against her, inhumanely took agency over her life. What then would giving him a "humane" colour even entail? And would humanising him let him off the hook for the grievances he committed? Should Ravana's pursuit of justice through revenge for one woman discount the horror of his actions against another?
According to the latest NCRB data, in 2019, crimes against women registered a 7.3 percent increase from 2018. Cases were registered "under 'cruelty by husband or his relatives' (30.9 percent), followed by 'assault on women with intent to outrage her modesty' (21.8 percent), 'kidnapping & abduction of women' (17.9 percent) and 'rape' (7.9 percent)."
Also Read: FIFA Approves 14-Week Maternity Leave For Women Football Players
With statistics as alarming as these, and kidnapping, abduction, and rapes on the rise against women, should the humanising of heinous crimes and their perpetrators be given space? Isn't creative, but prudently responsible, representation the need of the hour? Actors can take on grey or wholly dark characters all they want. But not at the cost of our real-time safety.  
Days after social media backlash, a case has also been filed against Khan in Uttar Pradesh for outraging religious sentiments. As per IANS, the advocate spearheading the case argued that Khan's alleged statement that Ravana was justified in abducting Sita is a "negative portrayal of faith and faith in Sanatan Dharma.
Indian Express reports that the case will be heard in the court on December 23 by Additional Chief Judicial Magistrate (ACJM).
Image Credit: Rediff
Views expressed are the author's own. 
(The story has been updated after recent developments.)