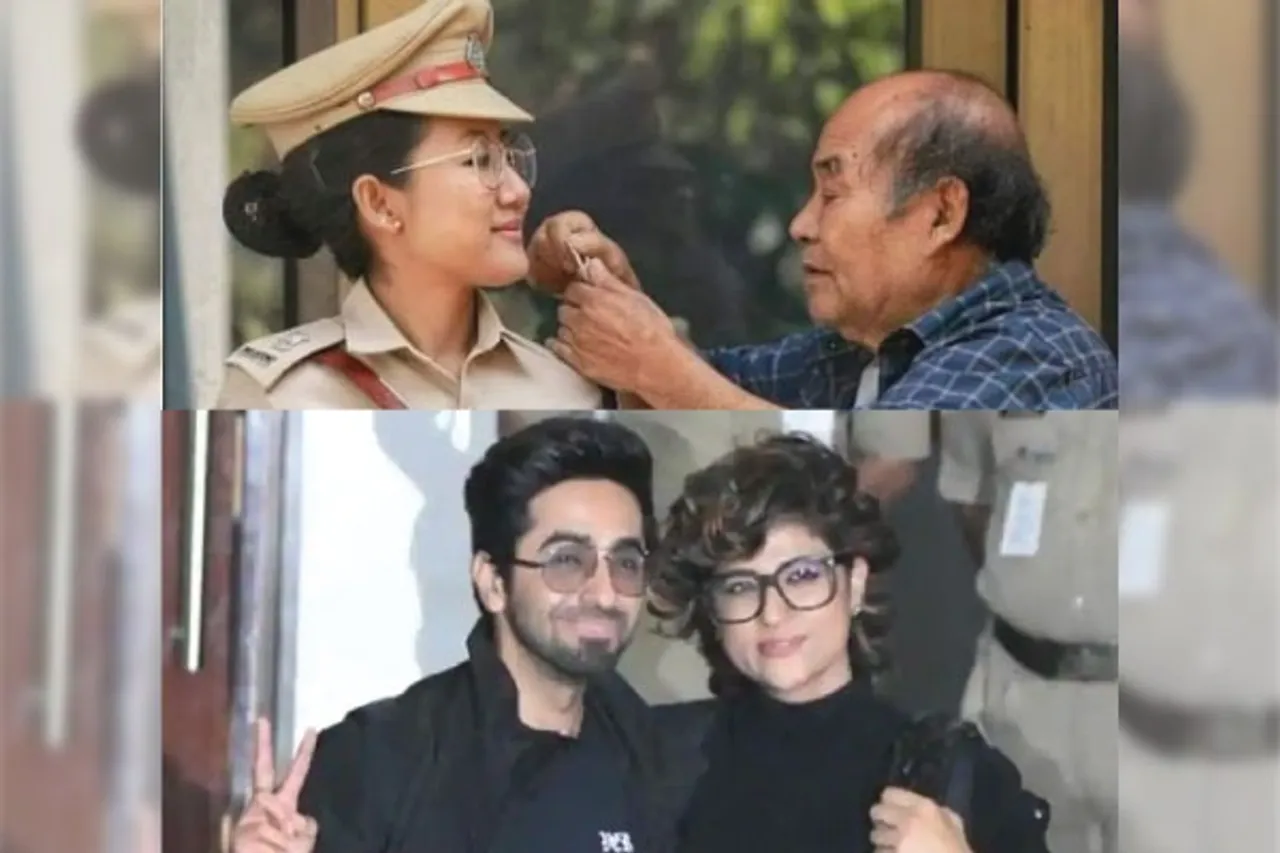 There are few things as powerful as a man standing by his wife for taking on patriarchy, breaking new ground in places she isn't expected to. Every time a dad supports his daughter, a husband his wife, a son his mother, we inspire so many others to do the same for their own. And make it so much easier on women who are fighting stereotypes and patriarchy at every level, every single day. From a mother-in-law who remarried her daughter-in-law to a dad who supported his daughter for putting patients ahead of marriage, here's a list of examples of what women need from their own families.
Also Read: Dear Neighbourhood Aunty, My Future Doesn't Depend On My Skin Colour
Odisha woman solemnized the marriage of her 20-year-old widowed daughter-in-law
Pratima Behera from Odisha's Angul district solemnized the marriage of her 20-year-old widowed daughter-in-law Lily. The decision indeed sets a new example in society. We do think of getting widowed sons remarried but do we think to remarry widowed daughters or daughters-in-law? Conventionally, it is expected that a female has to abandon all her life's happiness and take care of her mother-in-law and father-in-law after the demise of her husband. Why a female has no right to start a new life but a man has? And if a woman goes on to start a new life will she always have to bear the burden of being judged and questioned every time?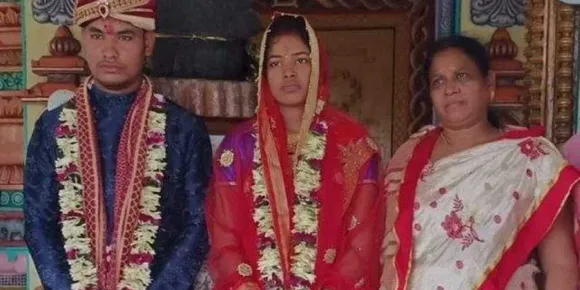 Odisha woman solemnises marriage of daughter-in-law widowed at 20
But the decision taken by Pratima Behera has given her daughter-in-law a new life, a new meaning. It has also challenged the accepted notion that there is always some tension and jealousy in a daughter-in-law and mother-in-law relationship. Pratima Behera has proved that above these relations is humanity. She didn't let her daughter-in-law's life get destroyed and proved that a woman's life is not subservient to a man's life.
9 true stories of Indian families being feminist allies to their daughters, wives, and daughter in-laws
Read also: Raising Feminist Boys: Are You Having These Conversations At Home?
Ayushmann Khurrana Takes Break From Work for giving time to wife
Ayushman Khurrana even after being at the peak of his career decides to take a break from his work and spend time with his wife. How many men prioritize their families over their careers? Ayushman Khurrana here sets an example and reminds everyone that home and kids are the responsibility of men as much as it is of women. They should not escape it in the name of work. Along with it, his decision becomes exemplary in maintaining work-life balance.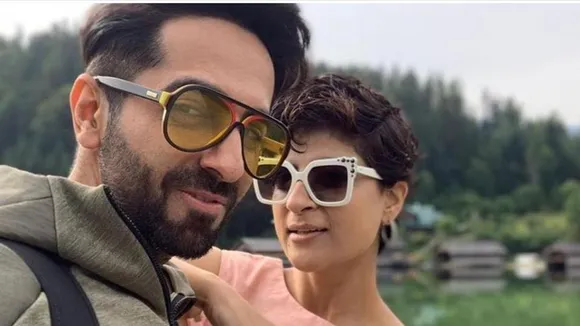 Credits: HT
Read also:Will Men Continue To Share Household Workload Post Lockdown?
Father supports the decision of his daughter to cancel her marriage and attend to COVID patients
Dr. Shifa M Mohammed, a house surgeon, decided to cancel her marriage and treat a COVID-19 patient fighting for life on her marriage day. Her father fully supported her decision.
We live in a society where the marriage of daughters is considered as the prime responsibility of parents. And for women it is considered as the prime motive of life. We all are well aware of the tension and pressure the bride's family has to bear on the day of the daughter's marriage in the name of respect in society. Is this burden even justified? Why the bride's family always have to live in fear of disrespect if anything goes wrong? Is getting married the only aspiration of a girl? Why there is so much unnecessary hype around marriages?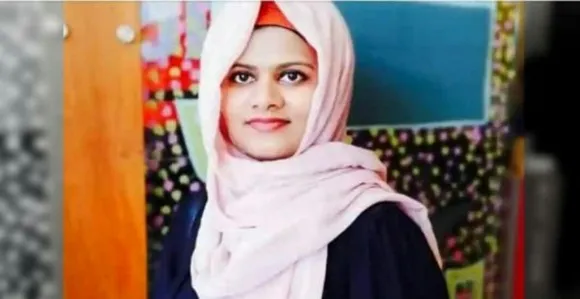 Dr. Shifa M Mohammed
PC: Hindustan Times
And on the same day, the father instead of putting any sort of pressure on his daughter supported her decision to cancel the marriage and treat her patient. It sends the message in the society that it's work that is her identity and priority and not marriage. Isn't this the kind of support one needs in such crucial times? In addition, it sends the message that there is more to a woman's life than just marriage.
 Ex-CM pushes daughter to join Army Medical Corps
The daughter of Uttarakhand's former chief minister and BJP MP Ramesh Pokhriyal joined the Army Medical Corps. How many fathers are comfortable sending their daughters to the army? Being a politician he could have not allowed his daughter to work and have given her all the comforts of life. But he chose not to. Why? because he understood that making your own identity gives you the utmost happiness and satisfaction. Why more importance is given to a woman's salary than her independence?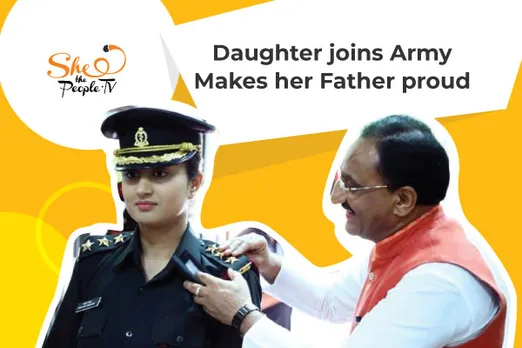 Former CM Pokhriyal's daughter joins Army, Picture by STP
The decision challenges the notion that women choose comfort provided by others over being self-reliant. And above all sends a clear message that if given a chance, women can break all boundaries, set new examples, and are no less than men.
Sonam Kapoor's Husband Anand Ahuja Changed his name to Anand S Ahuja
Anand Ahuja, husband of Sonam Ahuja within hours of his marriage with Sonam Kapoor changed his surname from 'Anand Ahuja' to 'Anand S Ahuja. Why don't men also change their names after marriage? Doesn't this culture signify the superiority of men? Isn't men changing their names a good way of challenging old dictates? This refreshing move by Anand Ahuja is a challenge to the prominent and conventional patriarchal practice of only women changing their surnames. His decision is a reminder to everyone that equality in marriage should be at every step.
A father helps his Daughters Seek Education fighting all odds
Even today time it is considered more sensible to educate only sons and teach girls how to manage home. However, for this father right to education is no specified by gender. No matter how many financial limitations he had to face he never abandoned his idea of educating his daughters. Why a boy is always considered more eligible than girls in getting an education? Above all this, as in many other families he had hundreds of reasons to not educate his girls but he chose the other way. His decision to educate his daughters has opened the doors to a better life. Shouldn't more fathers do this? Instead of making your daughters helpless, isn't it a better idea to educate them so that they become independent?
Father is so proud of his daughter in police that he counts her uniform stars with happiness.
A powerful picture of Deputy SP Rattana Ngaseppam with her father checking her uniform stars went viral. Her father was clearly, beaming with pride. She with her head held high is smiling back at her dad.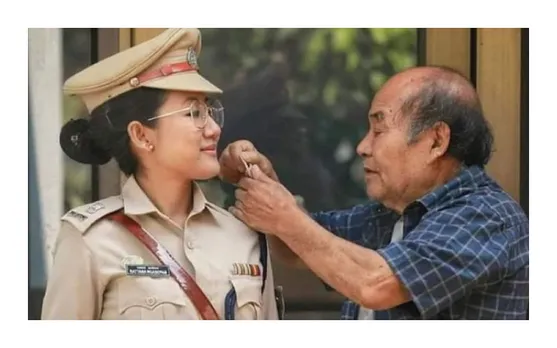 The picture sends the message that how imperative it is that in a society like ours, men become allies of women. Rattana Ngaseppam's father is a great example of that possible movement. Today the daughters are no less than sons in any field. The picture is an example and proof that if given the right support and education, girls can reach new heights, breaking all stereotypes. 
Don't we need more such pictures? Don't we need more such encouraging fathers? Young women, officers or scientists, finding their place in the world and their dads by their side. What is stopping people from letting their daughters getting educated?
Read also: My Mother Brought Up Four Daughters Without Ever Raising Her Voice
Dad carries his disabled daughter on his shoulder to college every day
Ayesha from Vadodara dreams of studying Chartered Accountancy but her inability to walk is the biggest impediment of her life. However, the father didn't let his daughter's inability to walk, ruin her dream of pursuing CA. The father carries his daughter on his shoulders to college every day! Don't we need more such fathers who instead of giving excuses, support their daughters? This sets an example that with your family support you can successfully win over all the impediments of life.
Mother From Odisha Clears Class 10 Exams With the support of her son and husband
Basanti Muduli, 34 years, cleared the class 10th exam 18 years after leaving her education because of her marriage. Why education for females is considered secondary? Why after marriage a woman isn't allowed to study further? Why she has to confine herself to household work?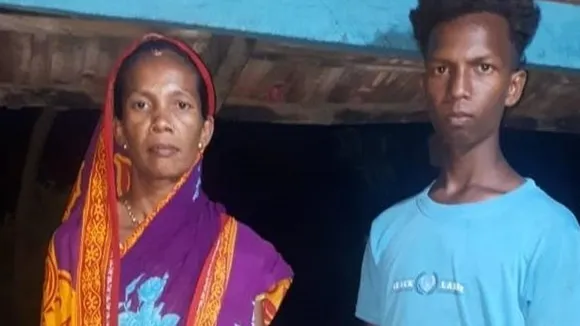 A-Mother-From-Odisha-Clears-Class-10-Exam-With-son
Basanti's husband Laba Pattanayak and son Sibananda challenged these sexist notions. They encouraged, supported, motivated, and helped Basanti in her studies. This is what everyone should do. A female's dreams and aspirations shouldn't be sacrificed in the name of other responsibilities.
Saumya Tiwari is an intern with SheThePeople.TV