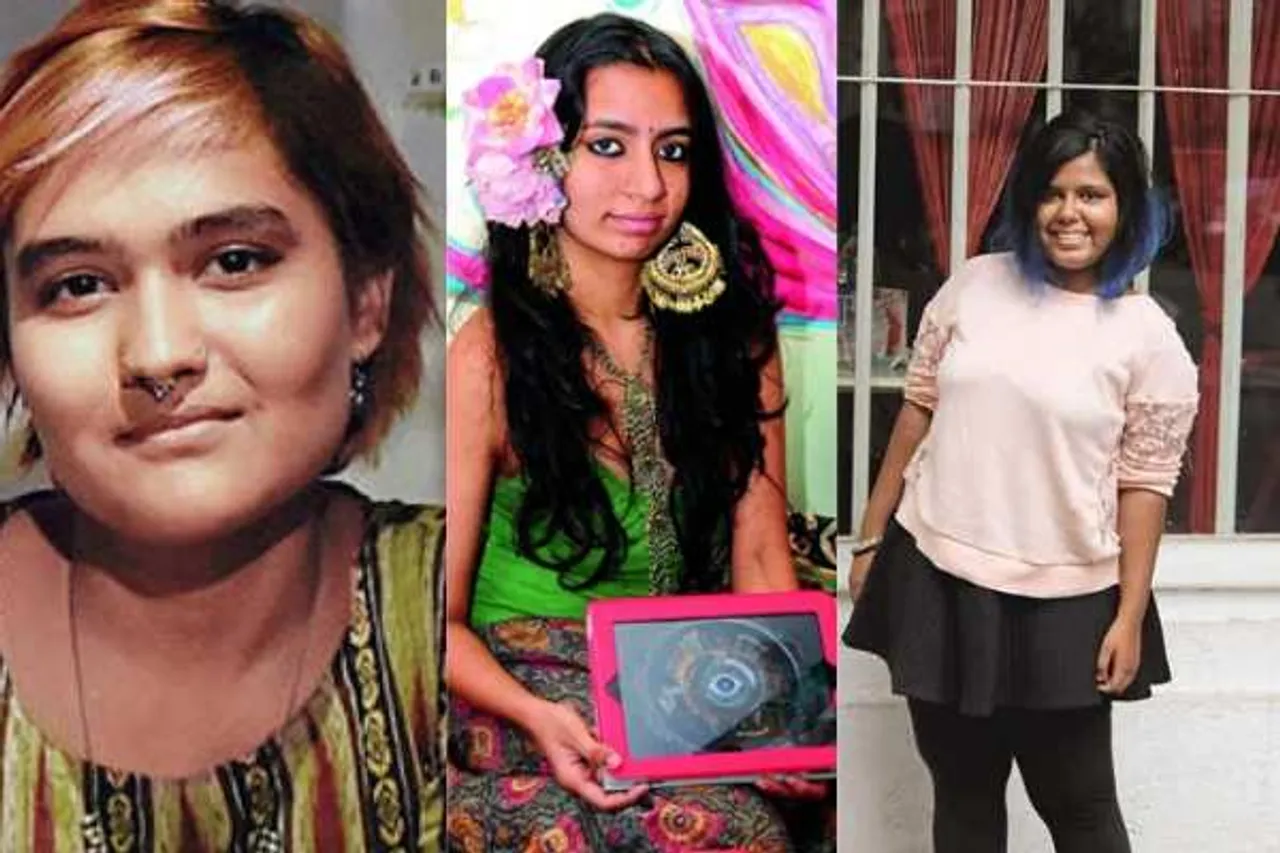 Art is activism. At least for these fantastic Indian female artists who are challenging new ground with their illustrations and works on Instagram. From Priyanka Paul to Sarah Naqvi, they break notions of patriarchy and sexism, and truly embrace themselves as artists and designers with a message.
Shilo Shiv Suleman (@shiloshivsuleman)
Shilo is the founder and director of The Fearless Collective, an NGO that is focussed on gender issues. She is a contemporary artist, and was born and raised in Bengaluru, Karnataka.
Her work embraces the combined art of illustration and installation. The designs of Shilo are based on the intersection of realism, and art for social change with a focus on the interplay between body and art. She also designed installations for conferences around the world including Burning Man, held in United States. She did murals with a message during the Shaheen Bagh protests in Delhi.
Sarah Naqvi (@naqvi_sarah)
Sarah discredits myths that drive women to the periphery. For this, she uses fabric manipulation, dyeing, and appliqué on sanitary napkins, bra cups, and tampons.
The visual artist was recently awarded the Serendipity residency travel grant. She used the funds to work on her latest project, which explores powerful narratives of women in Islam. Through her works, she has challenged stereotypes associated with the female body.
Kaviya Ilango (@wallflowergirlsays)
"People generally advise you not to air your dirty laundry in public, but I am convinced that art can be a powerful medium for questioning stereotypes," Kaviya said in an interview to BBC about her work. Her satirical and beautifully made portrayals are of what she refers to "the millennial problems". The vast majority of her illustrations boast brown-skinned women with unshaven legs and arms as the protagonist. Her project '#100daysofdirtylaundry' used art to lash out at stereotypes that women have to deal with regularly.
Also Read: Why Sarah Naqvi's Art Is A Powerful Medium Of Conversation
Priyanka Paul (@artwhoring)
Priyanka gave us a very different perspective of goddesses. Rather than portraying them in traditional crowns and other royal decorations, she depicts them as liberated women with the ability to convey diversity.
Through her depictions of women, particularly in the series "Goddess" she questions the status quo. This is a set of works inspired by "Pantheon" a poem by Harnidh Kaur. Priyanka explores the aesthetic of goddesses from around the world and reimagines them as modern-day women, taking charge of their agency, expression, and divine energy. Thus, she does away with the archaic royal opulent vision of goddesses and makes them more relatable to the 21st-century woman.
Each of her works is about social justice ideologies — female empowerment, misogyny, sexism
Nimisha Bhanot (@nimishabhanot)
She completely demystified the modern South Asian woman through her series of paintings… paintings that are detailed and non-conforming at the same time. Meet Indo-Canadian artist Nimisha Bhanot, who still has a strong connection with her origins in India.  "We have one of the most multicultural cities in the world so when I'm here I don't feel far from my roots," says Nimisha about living far from her Indian roots in an interview with SheThePeople.
By displaying an indoor-outdoor contradiction, featuring sexually liberated, women her work invalidates South Asian hetero-patriarchy. This reversal of control and authority mocks white male fantasies about the obedient sexuality of Asian women. She targets a broad spectrum of issues, from the South Asian immigrant community and its LGBTQIA symbols to the socio-political status of South Asian women.
Hana Shafi (@frizzkidart)
She focuses on self-love and body positivity. With a focus on mental health and feminism, she teaches us how to accept ourselves just as we are. Her debut book of poetry titled 'It Begins with The Body' explores the milestones and hurdles of a brown girl.
Also Read: Meet India's first female bagpipe artist: Archy Jay
Srishti Guptaroy (@srillustrator)
The memes she designs and produces are not in mainstream styles. They portray relatable day to day struggles and observations. These are carefully designed works of art, that speak to you in many layers of what one goes through or feels. She ties them in with real world happenings and that makes her memes stand out.
Various leading magazines and online publications worldwide have published her artwork. Srishti has also connected with some big brands such as M.A.C Cosmetics, Fastrack, and Levi's to produce some fascinating artworks that will not only cheer you up but also convey a powerful social statement.
Srishti's Art is feisty, bold, and impactful.  
Manasi Deshpande (@manasii_d)
Based in Mumbai, Manasi is a communications professor. She talks about daily life situations in a comical way depicting basic struggles that everyone goes through. She actively talks about mental health issues with focus on being an introvert. Her illustrations feature around one girl shown dealing with her problems or rather avoiding them.
Kruttika is known for demonstrating successfully the ideas of femininity, identity, and sexuality. Her latest works involve a series of comics around political ideas of the country as she believes that a politically informed artist brings about impact. A while ago, her '36 Days Of Type' project highlighted her views on feminism, and all things gender. Using 26 alphabets and 10 digits, one for each day, she crafted her eccentric, vivid drawings. The tales, opinions, and narratives of the young artist, familiarise people with important lessons of life.
Babneet Lakhesar (@babbuthepainter)
Born in India and brought up in Canada, Babneet Lakhesar finds herself trapped between two cultures — a combination that she now uses as 'Babbu the Painter' to create canvases and clothes. With her series 'BAKWAAS,' Babbu's opened a cultural hallway. Moreover, this has developed over time into a line of clothes, hand-painted denim jackets, handbags, tiffin boxes, kettles, and other accent pieces. Her portraits, showing a diaspora of Indian faces, can only be described as 'beautifully savage'.
Her niche is techno, feminist, and majorly psychedelic. Sam Madhu's art is feisty, bold, and impactful. Her work is a reflection on urban women, sexual identity as well as gender taboos. She uses neon colours for a bigger impact. One of the first artworks this Indian artist developed was an Indian breaking the stereotype ceiling. Her assumption of the "devil" persona as a motive for mirroring the irony of existing gender disparity is worthy of praise. She has her installation in Soho House Mumbai and is a TEDx speaker.
Pranita Kocharekar (@pranitart)
Pranita is a visual artist, type designer by trade, and also a self-taught graphic designer and letterer. Every day, she documents her thoughts and observations in her public journal. She started producing products with immense love and care to reach an audience beyond her neighbourhood. Having experienced anxiety, one of her projects centred around battling with anxiety and the stereotypes around it.
Bhavya Gupta is an intern with SheThePeople