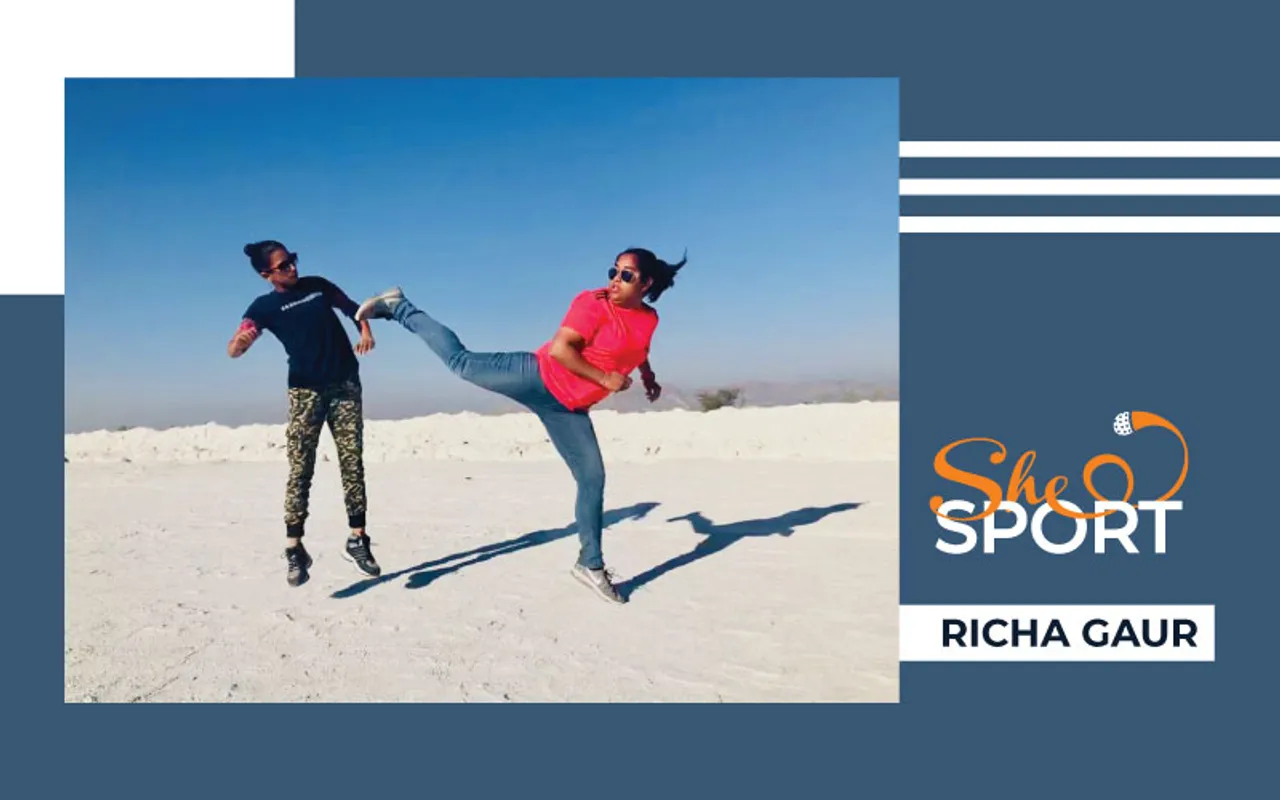 Coming from Jaipur city of Rajasthan, Richa Gaur is one of India's top martial arts experts who became a self-defense coach. She is an eight-time national gold medallist, Asian Olympic qualifier, and an international champion. However, the journey of becoming The Muay Thai Queen of India was not easy. 25-year-old Richa was born an underweight pre-mature baby, but with the efforts of parents and doctors, she survived. Her mother always took care of her diet. She had to fight hard to not be treated as a weak girl child by the society, fight with her parents to leave Jaipur for better training, fight with circumstances for not having enough money for equipment and participation in different tournaments. And, she is still fighting to educate girls for their safety and self-defense.
Mary Kom, Saina Nehwal, Sushil Kumar are a few role models Richa looks up to. Her mission is to equip girls with confidence and power so that they can live without any hesitation and fear. She believes that even if one of her trained candidates could be able to save a girl from molestation then her training would be successful. Besides holding the post of Joint Secretary of Jaipur Taekwondo Association and serving as Rajasthan Muay Thai Team Representative, Richa is running an academy to create more sports medalists from Rajasthan. She also organises self-defense training camps all over India. She has been practicing different types of Martial Arts for the past 15 years and has trained two lakh people in self-defense.
Major achievements
A third Dan Black Belt in Taekwondo, Richa won three gold medals in Muay Thai for three consecutive years and she became "Muay Thai Queen of India".  She won a bronze in Pre-amateur category in International Muay Thai Championship in 2013. She was listed in Top 100 Women Achievers of India and selected for President Award in 2015 from Ministry of Women and Child Development. In 2015, she won gold in South Asian Taekwondo Championship.
Inspiration to become martial arts expert
She believes it was her parents' blessings which led her down this path. Now when she thinks about her past, Richa says, "Each small or big medal pushes you towards success and each failure pulls you down towards your fears. But when you start serving society you overcome all that. If you put yourself in the welfare work and leave all other things in god's hands, he will definitely give you opportunities and recognition."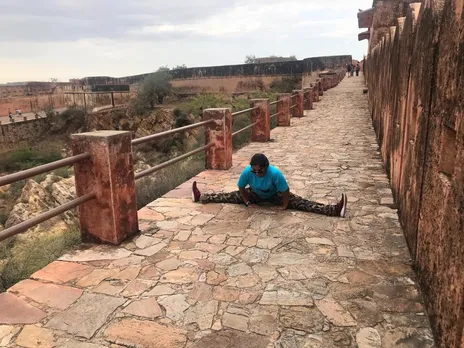 She started her career in martial arts with Taekwondo. "Soon, I realized that Taekwondo kicking is more fun than any other sport. After building up muscles and stamina, I started doing friendly fights with stronger opponents like boys. That gave me confidence, strength and power to persist in any fight. At home I practiced it with my younger brother Nishant. At the age of six years, in third standard, I won my first gold in district level competition, which was a good push in confidence. It convinced my parents and they helped me get proper training," Richa recalls.
Whenever I lost a fight, I thought about the areas I lacked in and whenever I won, I tried to find out better ways to win it early and with more points.
When she was only ten years old she got a chance to play for national games, but her father was not able to pay the fees required due to other necessary family expenses. "I cried a lot but for a few years I had to slow down and put my mind into studies, which was clearly not my cup of tea. I looked for proper training institutes in Jaipur but none were available. So whenever I got the chance to play different district or state level competitions, I'd try to learn more and more new techniques from different district coaches. It gave me a good knowledge of the art as well as variations in the technique, which helped a lot to win matches," she explains.
READ: Women In Sports Are More Liberated Than In Any Other Field: Arshi Nad
"I wore my hair short because I wanted everybody, my family, coaches, all, to treat me like a boy and not like a girl. I won many state and district medals. Whenever I lost a fight, I thought about the areas I lacked in and whenever I won, I tried to find out better ways to win it early and with more points. So I was actually modifying my own technique day by day. It was a slow but gradual process. After 12th I finally dedicated my career to sports exclusively, although I completed graduation first," she claims.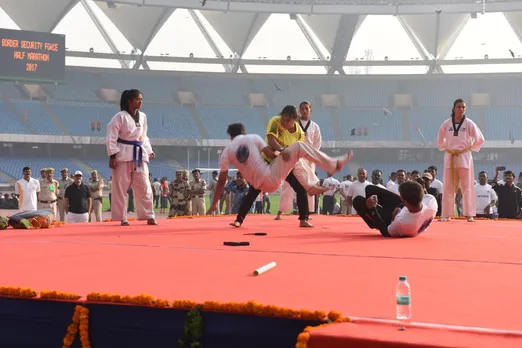 Richa Gaur, Self Defence Coach
The Trigger
After winning a silver medal in Rajasthan Taekwondo Junior Championship in 2011, Richa heard of Muay Thai, a relatively new sport at that time in India. She developed an immediate interest. It is a dangerous sport and injurious too, so normally parents are reluctant to let their daughters take it up, but Richa had made her mind up. She soon learned this new style of fighting and in 2012, she was selected in the Rajasthan State team for the National Championship of Muay Thai and won a gold medal. She also became a state record holder as the first national gold medalist from Rajasthan in both men's and women's categories.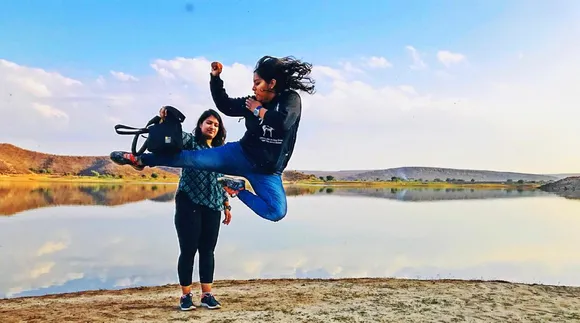 Kicking like a pro
In 2012, when she was 16 years old, our country was burning with the Nirbhaya rape and murder case news. That shocked her deeply. She decided to train girls in self-defense and freestyle street fights. She first imagined herself in such situations and decided her reaction. She put a lot of time in studying common men's behavior and developed her unique techniques to handle such situations with rare chances of injury. "When I was only 18 years old, I started training 400 constables of Rajasthan Police with modified latest Martial Arts Techniques. This boosted my belief in the mission and there was no looking back. In 2013 I joined the Indian team for advanced training to participate in the World Muay Thai Championship, Bangkok. I won my first international bronze medal in the Pre-amateur category. After a few consecutive wins I started my own academy, Global Institute of Self-Defense and Martial Arts, to build good players," Richa explains.
Nirbhaya rape case shocked Richa deeply. She decided to train girls in self-defense and free style street fights.
She has trained Rajasthan Police, Haryana Police, Reserve Bank of India employees, State Bank of India employees, Non-Government Organizations, PTIs, college and school girls.
Challenges in her life
"Being a girl is the biggest challenge for anyone in India and I, too, faced the same. Survival for life just after birth, financial crisis which delayed my dreams from coming true, no money to participate in games, so no certainty of my career in the starting phase, society never treated combat sports as a good option for girls, and of course family and society pressure to study and get married were few of the many that I have had to deal with," she explains.
How she overcame these challenges
In her words, "Success has no alternate and when you start pursuing it, all hurdles settle down on their own. But you need to be patient and hardworking consistently." So it is her hard work, dedication, patience, inquisitive attitude, unstoppable enthusiasm, continuous practice and the zeal to learn from failures which make her the success story that she is today.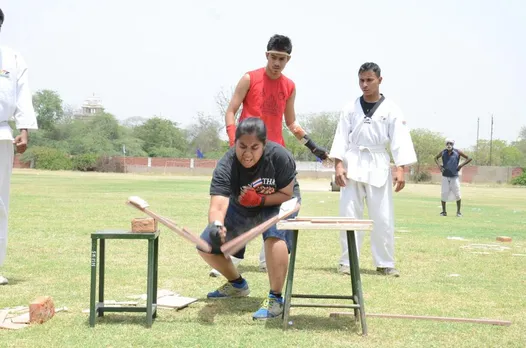 Martial Arts Expert
Martial Arts' Future in India
"Future is bright. Today it is not only treated as a sport, but also a necessity in life and that is not just for girls, boys are too taking it seriously. Being a coach I guide all my trainees to viable career options. Now that government is supporting it more, it has more competitions, more medals, and more money. After a few years of proper training in any of its form, one can start giving training as a coach, run a gym or can become a referee as well. Movies and media also have good scope for a trained person as an action director," Richa opines.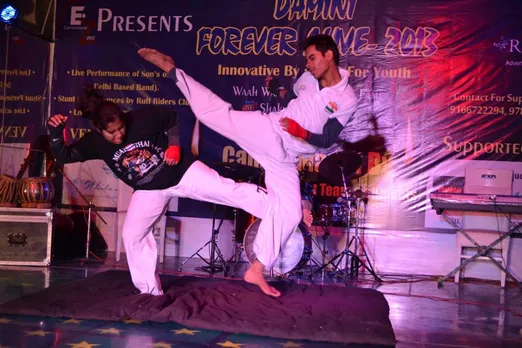 Where India Needs Improvements in Sports
 Diet: Most of the players face a financial crisis in their families and government aids are not enough to even provide them a proper diet. When they represent India on the international level, they find themselves weaker as opposed to other countries' players.
Sponsorship: With sponsors, each game has more money and more prizes and interest for players. But sponsors put their money on a few recognised sports. So central and state government should organize these sports on bigger levels, plus we need more recognised competitions to attract sponsors.
Corruption: Normally the government allots a good amount of funds for sports and scholarships in the budget. It comes, but due to corruption in departments, it goes to the top officers and does not reach the players.
 Olympics Games: Only a bunch of sports are recognised by the Olympics. So other sports have no future after nationals. That impacts a lot of players as well as the federation. So many sports need recognition on the international level.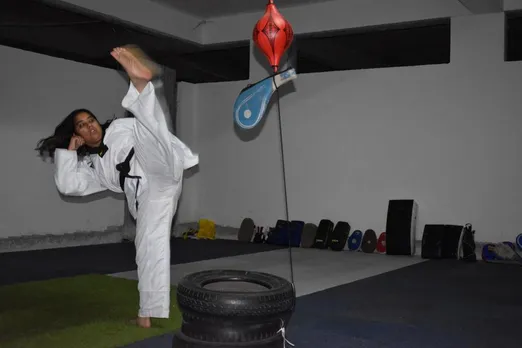 ​Meet Richa Gaur, Martial Arts Player And Self Defence Coach
Message to Girls
"Don't look at your problems; look at your goals instead. Yes, I agree that there are many hurdles at the initial stage, but there is no free lunch. You have to fight to win the battle of life. Share your goals with your parents and don't break their trust. As players, you need to continuously research and practice, to enhance your skills and style and perform for early recognition. Don't go for the short-cuts. There are a lot of imposters in the industry who will ruin your career by showing you big dreams without any solid ground. So beware of them and try have good judgement," Richa hails.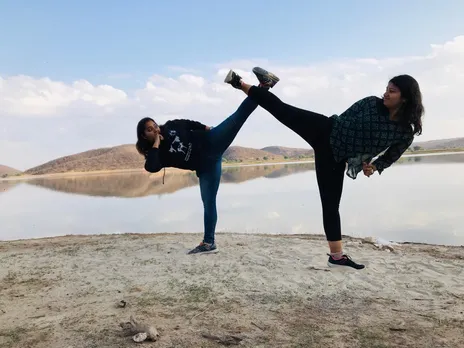 Feature Image Credit: Richa Gaur