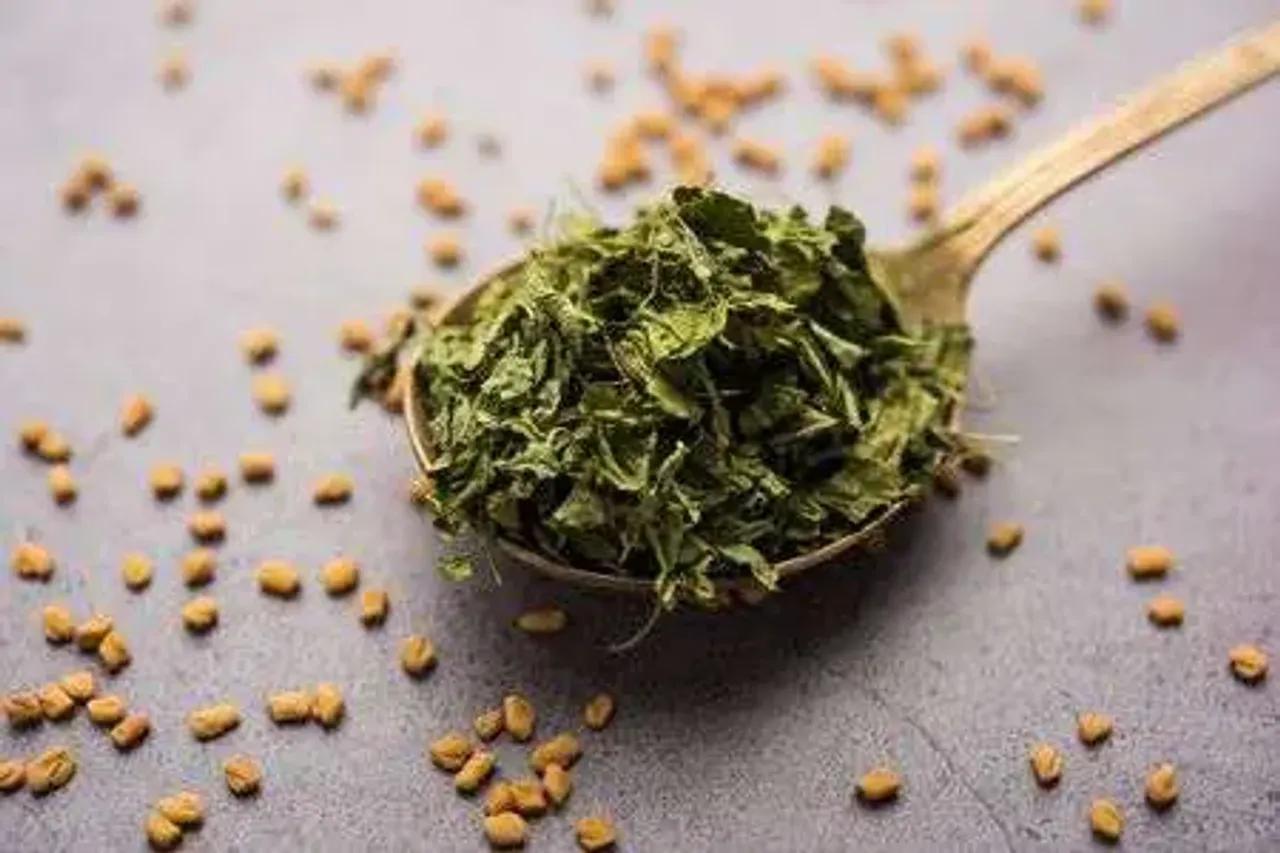 Now and then, for several reasons we take medicines. With the advancement in pharmaceuticals and in the businesses around it, it has now become easy to procure medicine for the treatment of any illness. It's time we realise the health benefits of already present therapeutics in our kitchen.
What is Dry Fenugreek Leaves or Kasuri Methi?
Dried fenugreek leaves or kasuri methi is a flavourful, slightly bitter-tasting dry herb. It is widely used in Indian cuisines, due to its distinct taste and aroma. Kasuri methi is the dried version of the fresh fenugreek leaves(methi), which also known to have several health benefits. Read more about it here.
Also Read:Health And Nutrition: Indian Foods That Boost Immunity
What are the health benefits of Kasuri Methi?
Just like the fresh fenugreek leaves, the dried fenugreek leaves also comes with a plethora of health benefits. It is important to know them so one can make maximum use of this unique herb. So here are six health benefits of kasuri methi:
Lowers Cholesterol
It is helpful in keeping low cholesterol. Regular consumption of Kasuri Methi thus would be beneficial as it gives only four calories from a tablespoon(tbsp). The dry herb can help in reducing the production of bad (LDL) cholesterol and triglycerides in the blood. In addition to that, it helps in increasing the level of good (HDL) cholesterol.
Improves Flow Of Milk for Mothers
It is advantageous to include Kasuri methi in the diet of the lactating mother as it helps to improve the flow of milk. It is a well-known natural galactagogue, which means the herb increases breast milk production in lactating mothers. Seeds and leaves of the dry herb have been used by lactating mothers to increase breast milk supply since a long time.
Beneficial For Skin
Kasuri methi is of high value to get rid of skin blemishes. Some apply a paste of it to benefit from the antioxidants present in kasuri methi helps to get rid off the toxins present in the body. This is known to keep our skin healthy and free from diseases like eczema. It may even help prevent skin problems like acne, sunburn, and pimples. It also keeps the skin healthy by removing dead cells from the skin and replacing them with a new one. It is however recommended to check your skin type and sensitivity to kasuri methi before any usage.
Good For Heart and Maintaining Diabetes
It adds fibre to the body which is beneficial for protecting the heart and maintaining diabetes. Kasuri Methi assists in controlling the levels of glucose metabolism in the body. Regular consumption of methi either in curries or dals can help treat type II diabetes. Due to the fibre content present, it helps in improving the functioning of insulin in diabetic people.Not only this, dry fenugreek leaves helps to improve carbohydrates tolerance in diabetic people as their bodies are unable to metabolise carbohydrates easily.
Helps In Reducing Platelet Formation
The dry fenugreek leaves have been found to reduce platelet aggression ( a condition where the blood clumps together) which in turn, reduces abnormal blood clotting that can lead to heart strokes.
Keeps Blood Lipids Normal
Kasuri methi help in keeping the body's blood lipids at the normal levels. It has an incredibly strong effect on blood lipid levels and therefore it helps in reducing cholesterol in people suffering from diabetes and keeps various heart problems away in non-diabetic people.
Sanskriti Tiwari is an intern with SheThePeople