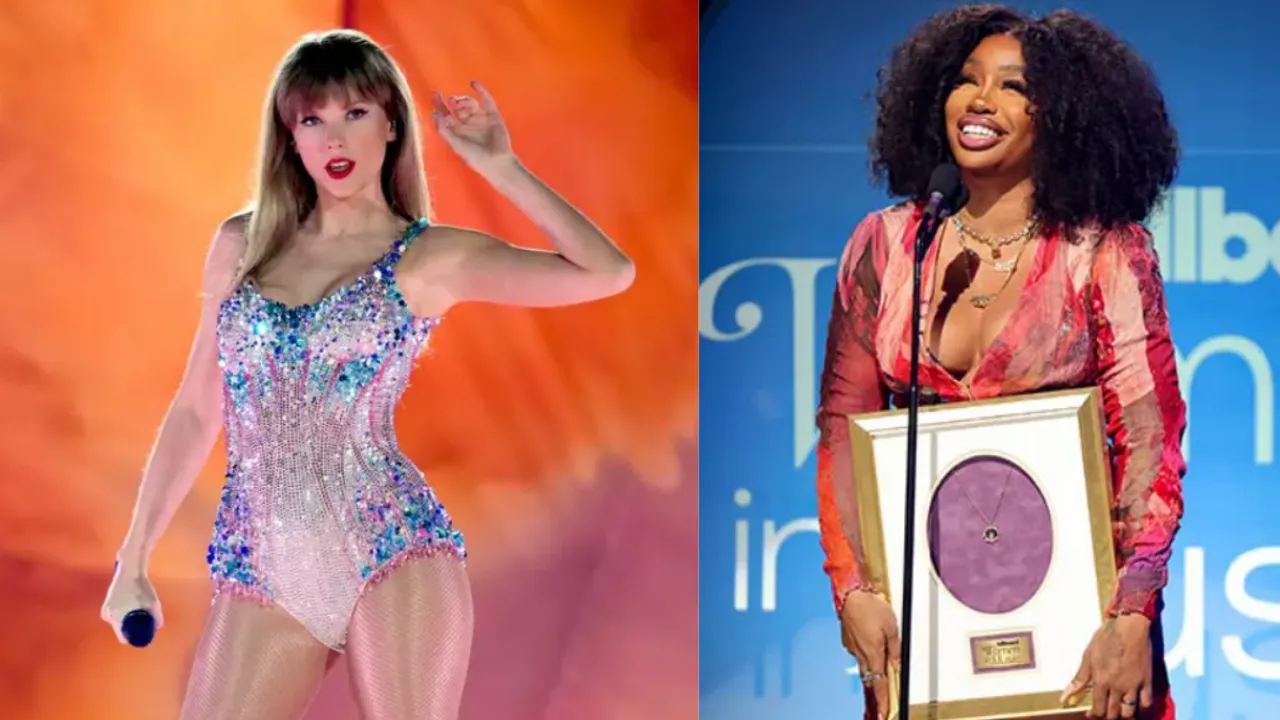 Female musicians won big at the Billboard Music Awards 2023, with some of them taking home more than one prize. Taylor Swift true to her winning streak, transpired as the biggest female winner, grabbing 10 BBMAs this year, making up 39 BBMAs in her whole career. Here's a look at all the female artists who made a mark at the Billboard Music Awards 2023.
Taylor Swift
Taylor Swift is acquainted with clinching an extraordinary number of awards at every event, with 10 big titles to her name this year. The country music star won the Top Artist of the Year award, bringing her total to three awards in this category.
Next up, she bagged the Top Female Artist award, the Top Hot 100 Songwriter award, the Top Billboard Global 200 Artist, and the Top Selling Song for 'Anti-Hero', among an exhaustive line of other categories. 
Swift was also a nominated finalist for Top Radio Artist and Top Hot 100 Artist.
SZA
SZA, who was named Billboard's '2023 Woman Of The Year', was a close contender to Taylor Swift as a nominated finalist in 16 major categories.
SZA won the Top R&B Artist award in both overall and the female categories. Her album, SOS won in the Top R&B Album category, with her song, 'Kill Bill' emerging as the Top R&B Song winner. Her song 'Snooze' was also a finalist in the same category.
SZA was nominated for Top Artist, Top Female Artist, Top Billboard 200 and 100 Artist, Top Streaming Stongs Artist, and many more categories.
Miley Cyrus
Miley Cyrus won the Top Radio Song and the Top Billboard 200 Song for the US as well as globally at this year's BBMAs for her song 'Flowers', which was played in every nook and corner of our social media feed soon after its release. Although a breakup song, Flowers also serves as a reminder to treat oneself and indulge in self-love. 
Cyrus was also a nominated finalist for Top Female Artist, Top Radio Song Artist, and Top Song Sales Artist, among others.
Beyonce
Beyonce is this year's Top R&B Tourist Artist and Top Dance/Electronic Artist at the BBMAs. Her album, RENAISSANCE won the Top Dance/Electronic Artist. She was nominated for Top Female Artist and Top R&B Artist in overall and female categories.
The Renaissance Tour Film is expected to be released on December 1.
Karol G
Colombian musician Karol G, won two BBMAs in the Latin category this year-- Top Latin Female Artist and Top Latin Touring Artist.
With five nominations going into this year's BBMAs, Karol G stood out as the only female nominee in several categories.
Nicki Minaj
Nicki Minaj won the Top Female Rap Artist award at the BBMAs 2023. This is the first win for Minaj in this category which was introduced in the BBMAs in 2018. Minaj now has five Billboard Music Awards wins across her 27 times as a nominee.
Minaj is all set to release her new album Pink Friday 2 on December 8, which is also her birthday. 
NewJeans
South Korean girl band New Jeans won the Top Global K-Pop Artist award, which is a new category added to the BBMAs this year.
The band's song, Super Shy from the Get Up album was all the craze on social media like TikTok and Instagram Reels this year, soon after its release. 
BLACKPINK
Another K-Pop fan favourite that was triumphant at the BBMAs is BLACKPINK, which won the Top K-Pop Touring Artist award. The girl band went on the Born Pink World Tour from October 2022 to September this year across the globe.
Selena Gomez
Selena Gomez, along with Nigerian singer Rema, won the Top Afrobeats Song for their hit number, Calm Down, another social media favourite. 
In her acceptance speech, Gomez said, "This is honestly Rema's doing. He chose me to be a part of such an incredible song. So I want to thank him and thank all of you for streaming and listening and I wish we could be there. But thank you!"
Bebe Rexha
Bebe Rexha's vocals in I'm Good (Blue) in collaboration with David Guetta bagged her the Top Dance/Electronic Song. The duo even performed the song at the BBMAs. The song was on the number one position for 52 weeks straight.
"I grew up watching Billboard and to be here right now is such an awesome, full-circle moment," Rexha said.
CeCe Winans
Renowned Gospel singer CeCe Winans won the Top Gospel Song category, with Goodness of God. Winans has been awarded 15 Grammy Awards, the most for a female gospel singer; 31 GMA Dove Awards, 17 Stellar Awards, 7 NAACP Image Awards, along with many honours to her credit including being one of the inaugural inductees into the Black Music & Entertainment Walk of Fame.
Mariah Carey
Mariah Carey's All I Want For Christmas was given the Chart Achievement Award. The award was presented to her by her 12-year-old sons, Monroe and Moroccan. "All I Want for Christmas Is You," which has climbed to No. 1 on the Billboard Hot 100 every year since 2019, has thus far spent 12 weeks at number one position on the Billboard chart.
Lauren Daigle
Lauren Daigle won the Top Christian Artist award at the BBMAs 2023. Daigle is an American contemporary Christian music singer who garnered love since her debut album, How Can It Be, in 2015.
Anne Wilson
American musician Anne Wilson won in the Top Christian Album category with My Jesus. Wilson only made her debut in 2021 and My Jesus is her debut work. 
Several Other Nominations
Several other artists like Doja Cat, Ice Spice, Olivia Rodrigo and K-Pop band Fifty Fifty also made a remarkable mark in the BBMAs with nominations in the Billboard Music Awards 2023.
---
Suggested Reading: 2024 Grammy Nominations: Women Rule; Taylor Swift Makes History