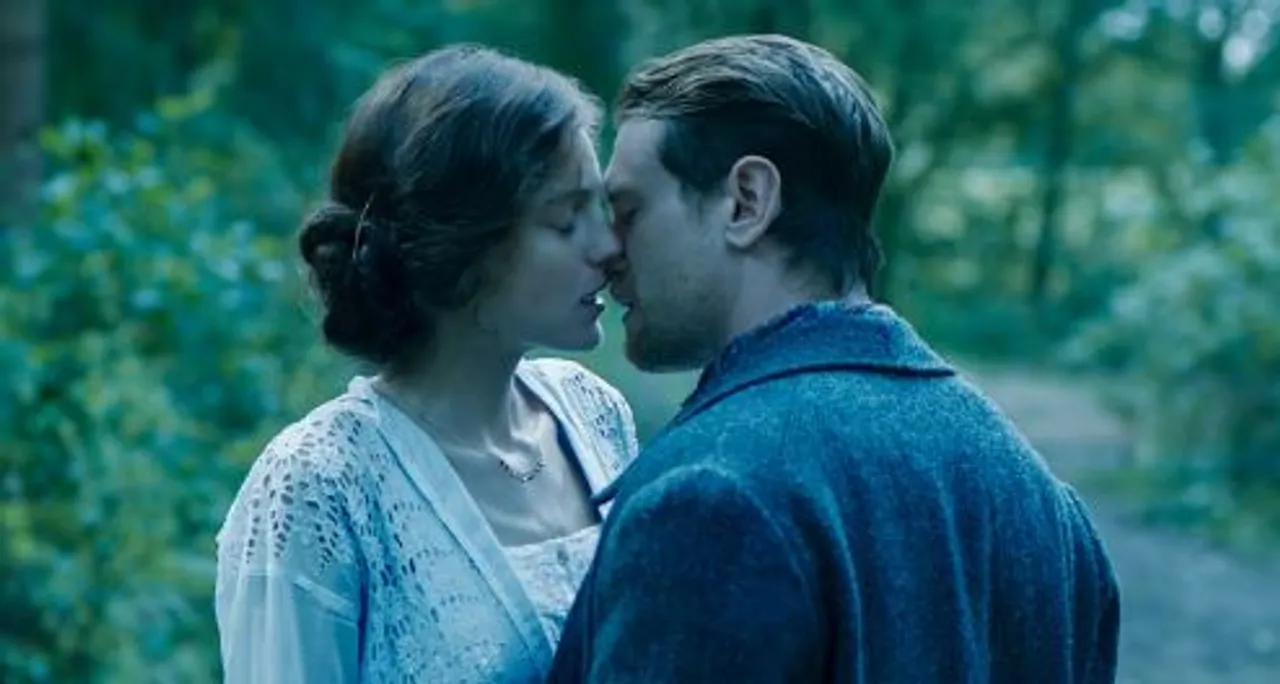 Lady Chatterley's Lover is a beautiful piece of erotic love and sexual liberation story. The film justifies everything that D. H. Lawrence penned in its infamous 1928 classic Lady Chatterley's Lover. For today's time, it may seem relatable also. The novel is painted as an art on the screen that hooks you with erotica. As passionately Lawrence has described pleasure, sexual desire, and romance, the film has exactly brought them to the life. The classic which was bold for his time and brought him bans on the novel today reached millions of homes.
The film starts with a marital affair, where everything is about Constance Reid or Lady Chatterley's happily after. But little she knew her life would turn upside down with an extramarital affair. Although in between the film does try to hint at how hastily and easy-going is lady Chatterley (Emma Corrin) in choosing love. 
 Lady Chatterley's Lover
Constance moves to London after marrying Clifford. He comes home paralysed after serving in a war. As a wife, Constance does her best to care for him but over time she gives it up. She gets tired of his lack of affection toward her, which also led to suffocation. The story is about an extra-marital affair and a woman's liberation to find love. Amidst everything Constance finds her solace in reading books, that's how she met Oliver Mellors (Jack O'Connell), a lower-class gamekeeper. The instant connection between them turns into passionate sex, and the rest follows.
The film has sketched the entire affair in a painting. Every location of the film is beautiful, as it goes through London, Venice, and Scotland. The fields, the villages, and the streets are weaved like a poem. Aesthetically, it stands unbeatable, there is a freshness to the green aura. The director Laure de Clermont-Tonnerre soaks her cast in a blue-green tone. She put life in a period drama. The naked actors rolling in greens look like Adam and Eve. It feels surreal! I think women directing women characters is magical and this is what Clermont give us realism magic. 
It often looks like figures from a painting—surreal and sumptuous rather than merely erotic. Seen through shaky-cam shots, Connie (played by) and her paramour, Oliver Mellors (Jack O'Connell), appear as wild, breathless creatures. Whenever Lady Chatterley meets Mellors, there is unsaid sexual tension that could be felt loud and unclear.
The film highlights many topics without detailing them like - mental health, sexual desires, love, and women's autonomy. For instance, one afternoon, she visits pheasant chicks at the nearby cottage where she met Mellors. While playing with them, the struggle to hold them replicates the trauma she has been enduring due to Clifford's insensitivity. That scene had so much power, it showed what breaking down looks like.
On sexual desires, like Lawrence in the book describes each act of lust, the film has it all. If Constance had a face it could be of Emma. Nowhere, the film fails in illustrating the lust and also at the same time it drew a line with vulgarity. The film felt like sexual liberation, although many might disagree given the personal beliefs, conventional mindset, and cultural background. It talks openly about forbidden love and motherhood. 
The takeaway from the film is heart wants what it wants, and love cannot be put into the walls of marriage or other cultural limitations of society. Constance fell in love, something that started from lust and converted into love. She broke it all for the love. She represents women's autonomy. The best thing about Constance she is aware of what is morally correct, instead, she showed courage and owned her decisions. She made sure to stand on it. 
In between, there are also glimpses of how marriage is a safety net, especially given the era in which the film is set. Constance's father and sister keep telling her not to ruin her marriage for sexual desire. Her sister differentiates between socio-economic positioning and asks to stop falling for people not to her taste. 
Lady Chatterley's Lover deconstructs a lot of social constructs from breaking hierarchy to social institutions. Without hesitation, it boldly sketched sex and everything that goes into it.
---
Suggested Reading-