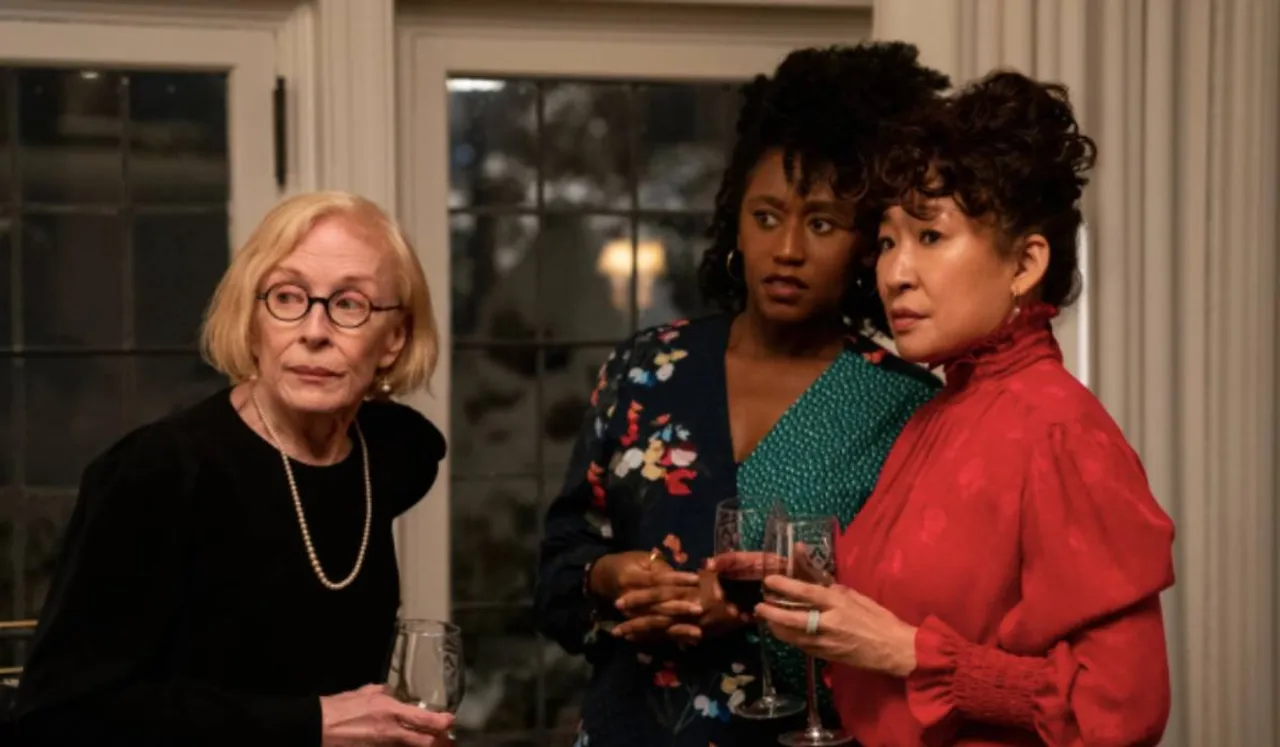 What does one do with two (one, for some not-so-lucky folks) holidays at the end of an exhausting week if not settle into bed for some aimless weekend binge shows? Now now, you have had too many reruns of Friends and Modern Family, and as consoling as these shows are, you deserve to watch something fresh. How about a new happy place outside of Schitt's Creek? Or a thriller that is so bad it's good?
For your well-deserved weekend unwinding, grab a bowl of popcorn, load your bed with pillows and blankets, minimise distractions (yes, that includes switching your cell to airplane mode so a sneaky work message doesn't peep out) and slip inside the covers to indulge like there's no tomorrow. Not at least until Monday.
For Your Weekend Binge Shows To Cosy Up With:
1. Virgin River 
If you're locked up at home (thanks COVID!), might I suggest drawing vicarious travel comfort from a big city nurse moving to a quaint, remote riverside town that carries the feel of autumn all year round. The three-season Netflix Original series follows Mel (Alexandra Breckenridge), who, on the run from the tragedies of her old life, shifts to Virgin River where each local has a story as intriguing and human as the last.
Though quite long to fit into a tiny weekend, with each episode timed over 40 minutes, Virgin River is that slow, peaceful watch you would spend days in bed curling up next to. 
2. The Chair 
Sandra Oh is in top form as Professor Ji-Yoon Kim of the fictitious Pembroke University in this Netflix miniseries. Over six neat episodes, the series deep dives into the many storms a college English department is weathering, complete with the youth and their revolutionary ideas, vintage professors trying to find footing within literature fast refashioning itself and stolen romances.
The Chair also brings solid commentary to the '">cancel culture' debate with mature treatment of the highly volatile subject.
3. Clickbait 
Is there anything better than a pulpy murder mystery to briefly capture your attention for a tolerable total of eight episodes? Clickbait is average at best when it comes to the ultimate give of the plot, but the journey it traces up to the climax takes us through uncountable twists and multiple characters that will keep you hooked and guessing at who did what (literally everybody got the latter wrong!)
The story is primarily fixed around a man, Nick Brewer (Adrian Grenier), accused of abusing women - a claim made through a viral 'clickbait' video - and the unrelenting efforts of his sister Pia (Zoe Kazan) to prove him innocent.
4. AlRawabi School for Girls
This one looks all pink and pretty glitter, but don't be deceived by the sinister thread that undercuts the story. An Arabic series of six episodes, AlRawabi School for Girls is important viewing, if nothing else. It revolves around life at a girls' school of the same name (purportedly in Jordan) where every character trope in attendance - the rebel, the newbie, the goth, the bubbly, the sporty girl and so on. But the brilliant thing this show does is give each of them a story, poignant ones, that explain the reality of what made them the way they are.
From bullying to harassment to conservatism, AlRawabi spotlights burning issues that plague girls and women, only to wrap itself up in a big bang ending.
5. Nailed It!
Nailed It! comes with a warning to watch it at your own risk. Beware, for the warm fragrance of the confections contestants on this OTT reality show bake will waft right through your screen and will leave you watery-mouthed. Even though, erm... not everything the amateur participants baking-off are preparing may be wholly edible. This critically acclaimed Netflix Original series has been running for five seasons now, its sixth one premiering September 15.
---
Trending now: 
&t=1s