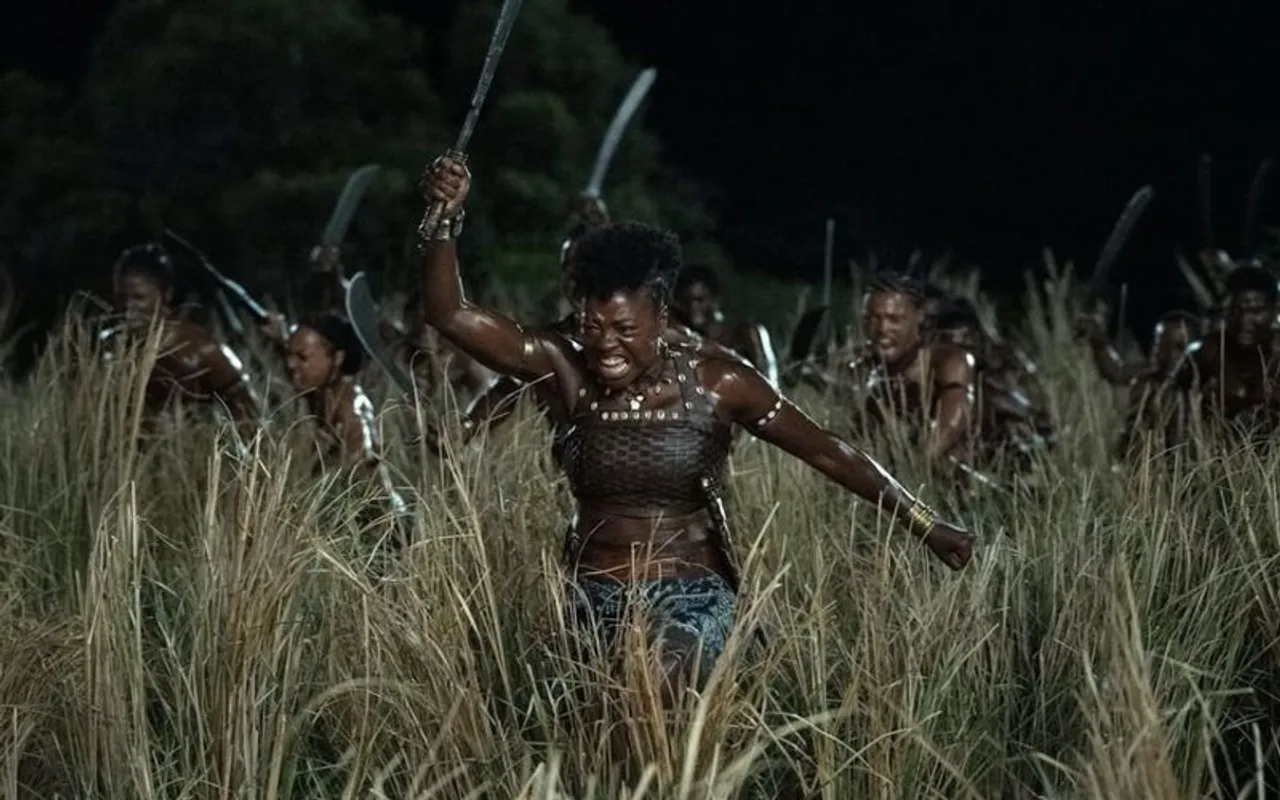 The Woman King trailer has sparked questions over Twitter as users speculate about the historical accuracy of the film. The film is directed by Gina Prince-Bythewood and producer Viola Davis leads the cast. Since the trailer claims that the film is based on true events, many viewers are asking how much of is it pure facts and how much is just fictionalised retelling.
The Woman King is an upcoming historical epic drama film which based on the Dahomey Amazons, an all-women military regiment which existed in the Dahomey Kingdom during the 18th and 19th centuries. The film is co-written by Dana Stevens and director Gina Prince-Bythewood. Apart from Davis, the film also features Thuso Mbedu, Lashana Lynch, Sheila Atim, Hero Fiennes Tiffin and John Boyega.
Oscar and Emmy winner Viola Davis plays the role of General Nanisca and has undergone a massive body transformation for the same. Davis received training in martial arts and weaponry to prepare for her role as an Agojie General, along with weight training and sprinting for four hours per day, five days a week which give her a muscular frame. In an interview with Vanity Fair, she mentioned, " It was a different state of mind to tap into that spirit—that bravery. Certainly, that's not a mindset that I carry on a day-to-day basis. I'm someone who carries pepper spray and a little alarm on my keychain."
The female warriors of the Amazons were generally portrayed as savages and mannish over the years, however, director Bythewood decided to put an end to such stereotypes and portray them in a more heroic light. "I wanted it to be real and visceral and raw. We didn't want to show them as just one thing — badass women who killed. They also laughed and loved and cried. We wanted to show their full humanity, not just the cool part that that would look good in a trailer," said the director, about her vision for the film.
The Woman King Trailer Twitter Reactions
While the film largely discusses the unsung bravehearts of African history, Twitterati seems to question the credibility of the film with respect to historical accuracy. Many seem to believe that the tribal leaders of the continent were actually involved in slave trade with their colonisers and thus, this film might only serve a very "romanticised" version of the African history. Twitter user named Carlos Yanes wrote, "I expect a very romanticized and hyper woke version of events. This tribal empire got it's power from SELLING SLAVES to the white man."
Another user Sara Smith complained that the film appears more of a superhero movie rather than based on true events. "Acting looks great, so does the cinematography, as well as the direction. But…it comes across as a super hero movie rather than something based on true events. Which steals credibility. I highly, HIGHLY doubt it will be historically accurate," she tweeted.
Twitter user IamjustTerry said they were disappointed to find out that Dahomeys were involved in selling slaves and wrote, "I researched and, disappointingly, it's true. Now my question is are we being trolled? We're supposed to look at these people as heroes? Heroes to who? Those who fought to sell us?"
While on the other hand, people of colour seem delighted to watch their heritage being celebrated. IamSulaah wrote that it would be a spiritual watch for her, tweeting, "As a #Haitian woman, people don't really know the history the #warrior #women did to help the men gain their independence."
---
Suggested Reading: Did Viola Davis' Body Transformation From 'Ma Rainey' To 'The Woman King' Earn Enough Praise?
---
"Thank you .So few films that as black parent , I can watch with my son and feel that I am doing my due diligence for our proud & diverse heritage. I appreciate & love that of others . But this is ours. laugh or cry. That's us right there ! See your Mom, aunt , gran etc," wrote another user.
The Woman King will release in cinemas on September 16, 2022.