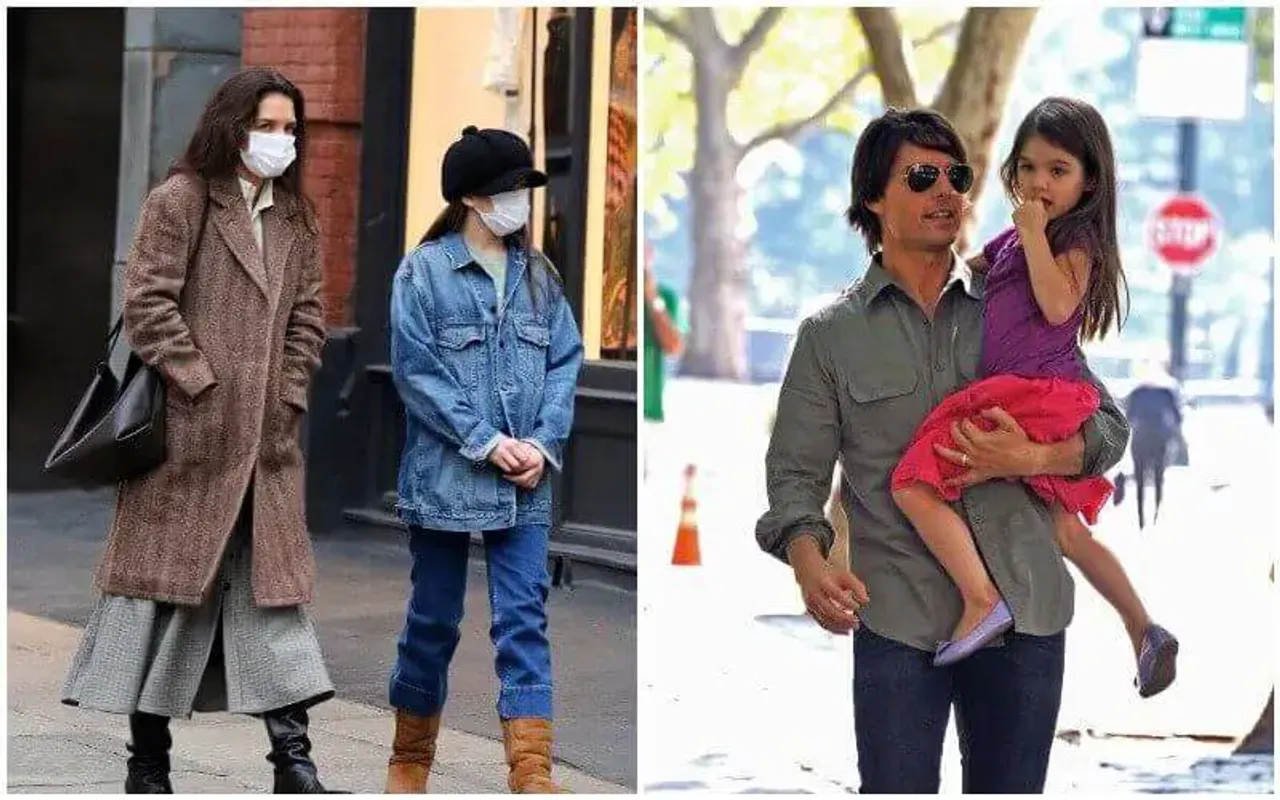 Suri Cruise, the 14-year-old daughter of Tom Cruise and Katie Holmes, was recently spotted in New York City shopping with her mother. The mother-daughter duo earned praises for following COVID-19 protocols by wearing masks.  However, fans and social media didn't fail to notice that Suri Cruise was as tall as Katie Holmes. This led to the projections that Tom Cruise who got separated from Holmes hasn't seen his daughter in years because she is taller than him as was Katie Holmes. Many social media posts trolled Cruise questioning his parenting and height. One of the posts read, "Probably why Tom and his ego don't go near Suri - she's probably taller than he is, already." If you want to know more about this star kid, here are a few things to note:
Also Read: Dear Society, Secret To A Happy Marriage Cannot Only Be In The Height Difference
Suri Cruise was born on April 18, 2006, which is seven months after Tom Cruise and Katie Holmes got married. Tom Cruise is an American Actor and Producer who became one of the 1980s most popular leading men in Hollywood. While Katie Holmes is also an American Actress and Producer best known for her work in the movie Batman Begins. However, the couple got separated in 2012 and since then Suri Cruise is being brought up by Holmes alone.
If reports were to be believed, Tom Cruise "abandoned" his daughter after the news of his divorce from Holmes came out. He stopped meeting her when she turned 7-year-old in 2013. However, he rubbished the claims and sued the publisher of the report.
It was in 2013 when Cruise was last seen with Suri Cruise publicly but that too was labelled as accidental. Reportedly, since Tom Cruise belongs to the community of Church of Scientology, he was forbidden by the church from meeting his daughter was not a practising member of Scientology. A non-believer of Scientology is seen as a 'Suppressive Person' and is disconnected from other members even if they are the immediate family members.
Katie Holmes has been parenting Suri Cruise on her own. Recently, when Suri turned 14, Holmes wrote a heartwarming message on instagram which read, "Happy Birthday Sweetheart!!!!!!! I am so blessed to be your mom. May this year be incredible!" This was a caption to a picture of a birthday banner. However, Holmes has been very private about her daughter's personal life and rarely shares her pictures on social media.
In an interview with Hello Mag, Holmes opened up about her relationship with her daughter and what importance she holds in her life. She said, "I love her so much. My biggest goal has always been to nurture her into her individuality. To make sure she is 100 per cent herself and strong, confident, and able. And to know it." She further added, "She came out very strong — she's always been a strong personality. She'll pick an activity and work her butt off until she's really good at it. Then she's like, 'OK, I'm going to try the next thing.' She's very focused and a hard worker."
Suri Cruise has often been recognised as a mini-fashionista for posting adorable pictures in different shoes and clothing. She was named "mini Audrey Hepburn" when Holmes shared a photo of the pair relishing a meal together while Suri attracted the attention to her dress.
Also Read: Selena Gomez Calls Out Facebook For Distributing Inaccurate COVID-19 Information