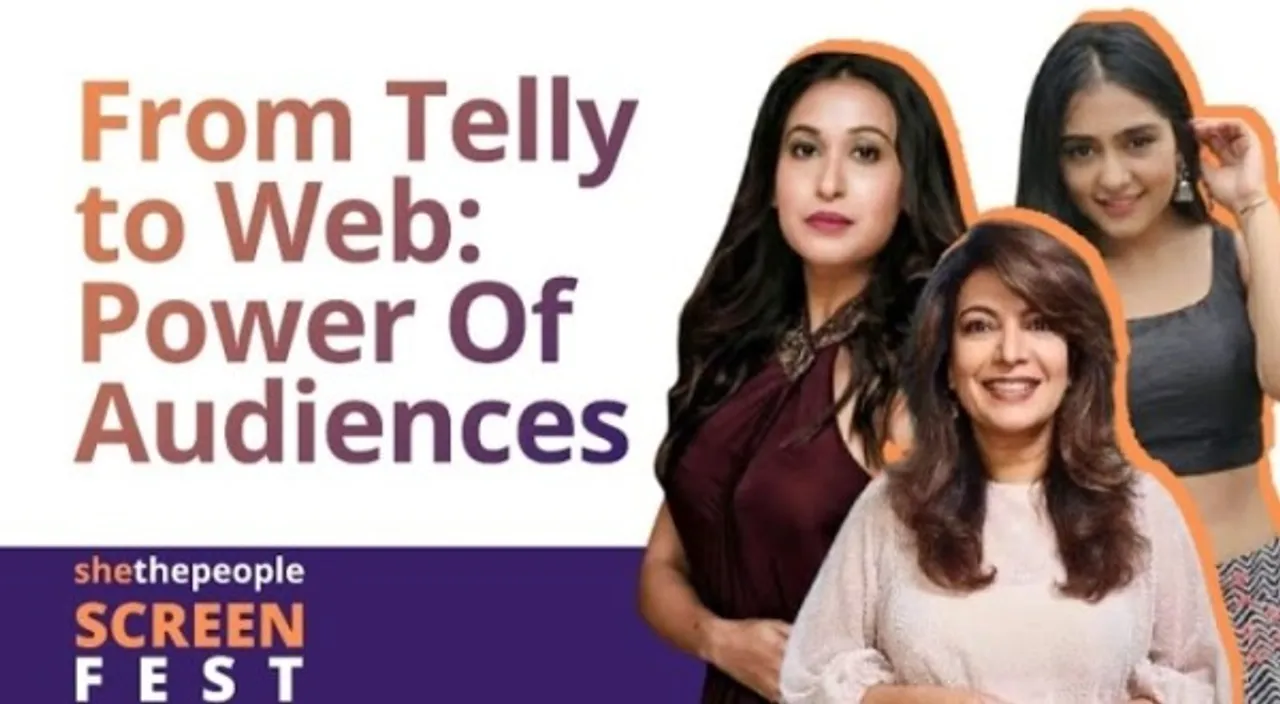 Small Screen audiences: Actors Divya Seth Shah, Anjali Tatrari and Sayani Datta talk about the power of audiences and various aspects of OTT platforms at SheThePeople's Screenfest.
Be it the television industry, Bollywood or the newly-emerging web series platform, one factor which keeps them thriving is the power of the audiences. Earlier, the pioneer mass media, which mostly comprised of television and radio, made progressive content that aimed at bringing change. On the other hand, many Bollywood movies at that time projected the opposite of what was shown on television in the late 1980s and 90s.
However, with time, television content gradually deteriorated. Nevertheless, there has been a gradual wave of change in the content since the 2010s, which is panning out lately with the introduction of the OTT platforms. At the SheThePeople Screen Fest, we spoke to actors Divya Seth Shah, Anjali Tatrari and Sayani Datta to discuss the power of audience From Telly to Web as well as the change in the small screen with the coming of OTT medium.
Divya Seth Shah, actor and theatre personality, started her small screen working experience with the social drama show Hum Log. About the thematic change in content today, she said, "I think the creative process of the television and the shows we make has its own path and journey. When I was doing a lot of television serials 20 years ago, the script was king. The storyline and the performances were important, but the production was minimal. But now, everything has found its feet; the productions, the brilliant camera work, the costumes, everything is outstanding."
"Although the writing is a bit, you know, dodgy here and there, I feel everything will come back and land where it's meant to. That is already happening as we see. With the rise of OTT, everyone is working. Everyone has work and there is a niche for everyone. As you know, everybody can do their bit now." she added.
Blurring lines between the big screen and small screen
When asked about whether OTT platforms are bridging the gap between the big screen and small screen work Divya said, "I can only speak for myself. I have never really given very analytical thought about it. It is because I have always done the job that comes to me without caring about the platform. Actors have to be honest and realistic about that. You have to choose the work that you get."
Exposure and connection of audience to small screen characters
Anjali Tatrari is a well-known face on the small screen. She spoke at length about the connection that small screen actors share with their audience. "Television actors are usually a part of the audiences' lives on a day-to-day basis. I think the kind of exposure TV has, no other medium can give you that kind of exposure. And honestly, it was the best decision I have taken to date because I have never felt so loved before. Imagine people who don't even know you praising your work," she said.
She further added, "I feel that people mostly relate to a TV character. They know their journey in a closer way than on a big screen. These characters become a part of their lives as they devote a part of their daily schedule to watch them on screen."
Change in the Indian television
According to Anjali, there has been quite an improvement in the portrayal of women characters in television serials. She said, "Earlier, women were depicted in a domestic and docile way, engaging in household chores and whose life solely revolved around her family. Now, we see a change in the portrayal and the content is far more progressive than before."
"But then, there's a long way to go for both Indian serials and movies. Look at music videos nowadays, women are mostly used to fill the background in an ornate fashion. However, things are changing, but there's scope for more improvement."
About choosing her characters
"As an actor, I cannot do something that I'm not convinced of doing. So far, all the characters that I've played were the ones people might have gotten influenced in a positive manner. I've always made sure that the content of the project is good enough and it's not something unbelievable like I don't sleep at night with my makeup on," she said.
Transition from vernacular movies to mainstream Bollywood
Actor Sayani Datta, who will make her Hindi debut with Gurmeet Choudhury in the upcoming horror movie The Wife spoke about the challenges of transitioning from regional to Hindi industry. She said, "I think the film business is all about facing the challenges every day, no matter where you work, either it's Kolkata or Bombay or in the south. It's a challenging game altogether. And for me, it's more difficult because of the language. It changes everything for you. So for me, the biggest challenge was to speak Hindi."
When a film releases on OTT
"After the lockdown, our lives have changed. I'm grateful that my film is at least releasing. People still don't want to go to theatres and still want to enjoy something at home. OTT has made the content very accessible in that way," Sayani said.
When she was asked about how the audience interaction changes when a movie releases on OTT, she said, "Social media plays a big role in our lives now. When I watch my colleagues on OTT platforms, I write about the particular work on social media, and so do many other fans and followers who watched their work. So, feedback also reaches us easily with the help of the Internet."
Small screen: Working for OTT shows
"Honestly, I think so. When I was doing Bombers, I played a very small role. However, I felt that it was a great start for a newcomer in Hindi mainstream content. So yes, it did act as a bridge for me and I was able to reach many people that way," she added about working for OTT.
Watch the full video here: