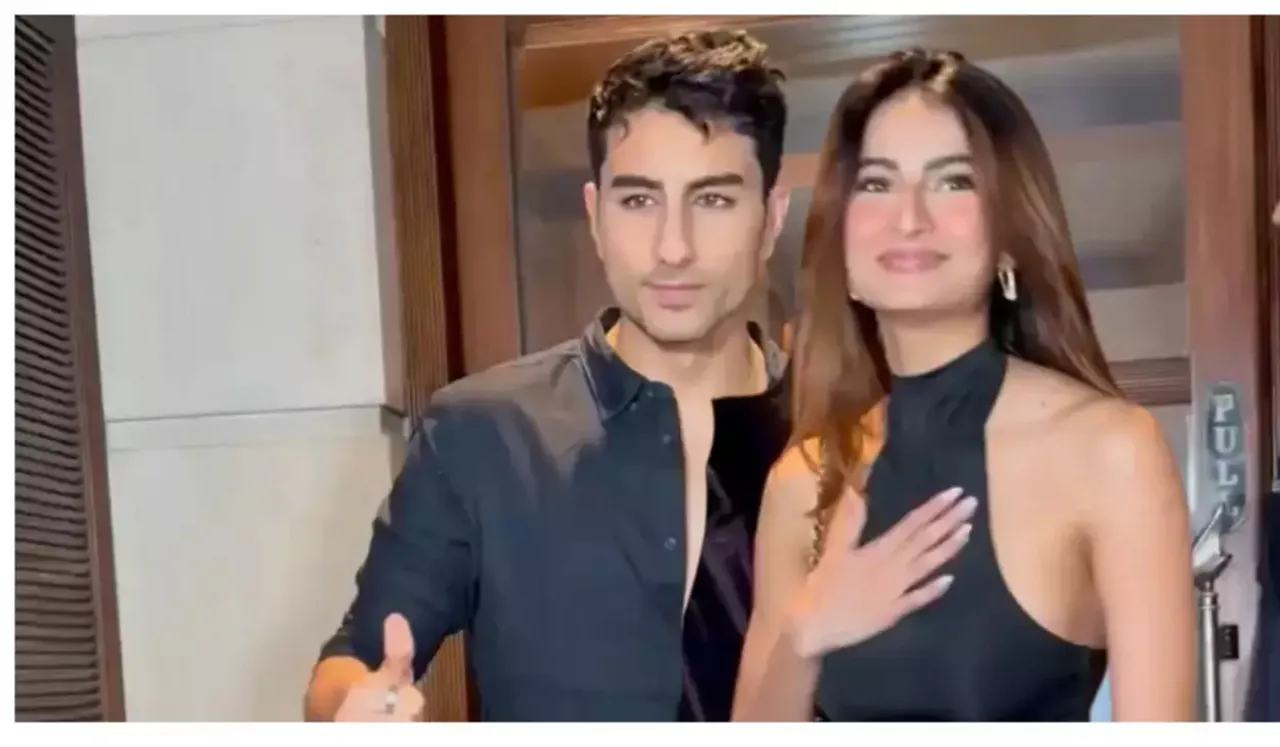 Recent social media buzz arose from a video showing Ibrahim Ali Khan supposedly embracing rumoured girlfriend, actor Palak Tiwari, sparking speculation about their relationship. However, according to recent reports, although they are reportedly dating, they're not prepared to make their relationship public yet.
The video circulating online shows Ibrahim's side-angle face distinctly visible, while Palak Tiwari's face remains unclear. Social media users are asserting that the woman in the video is Tiwari.
As per a Hindustan Times report Khan and Tiwari have been in a relationship for a while but are intentionally avoiding public attention in their personal lives.
According to the insider quoted in the report, "They are starting their careers at the moment. While Tiwari has already made her debut, Ibrahim is working on his debut project at the moment. People have a lot of expectations from them. And that is the reason they don't want to divert the attention from their professional work to their personal space, and they are working really hard to keep their affair a secret." The source emphasised their commitment to secrecy due to the high expectations surrounding their career debuts.
The duo was earlier spotted on a movie date in Mumbai. While they arrived separately, fans quickly guessed that they were together to watch the film. Khan and Tiwari were seen wearing matching black outfits as they headed to the theatre. In a new video, Khan was captured carrying Tiwari's jacket, leading some netizens to speculate that they may have taken a recent trip to Goa together.
Their dating rumours initially started in 2022, when they were spotted together, with Palak hiding her face from the paparazzi. They further fueled the speculation by attending a concert together in Mumbai. 
5 Rumoured Couples Of B-Town
Aditi Rao Hydari and Siddharth
Aditi Rao Hydari and her rumoured boyfriend, Siddharth, were spotted in Mumbai on Thursday evening. They also posed for the photographers gathered in Bandra. Both shared the screen in the 2021 romantic action film Maha Samudram. Speculation about their relationship began circulating last year when Hydari extended birthday wishes to Siddharth. 
Aditi Rao Hydari and Siddharth allegedly publicly confirmed their relationship by attending a L'Oreal event in Mumbai earlier this month. Moreover, both actors regularly make appearances on each other's Instagram accounts. Their interactions on Instagram are often a topic of discussion and receive attention from their followers.
Ananya Panday and Aditya Kapur
Rumoured couple Ananya Panday and Aditya Kapur were spotted enjoying a romantic movie date in Mumbai. They chose to watch Greta Gerwig's Barbie over Christopher Nolan's Oppenheimer. A viral video on Reddit shows Kapur walking into the theatre playing Barbie while Panday takes a selfie with a female fan.
Arriving together in Kapur's car, paparazzi captured photos of the duo, with Kapur in a white shirt and Panday in a pink outfit. Their movie date has sparked excitement among fans, adding to the speculation about their alleged relationship.
Another one of the Struggling Aashiqs
by u/Randomidek123 in BollyBlindsNGossip
The duo, who have been the subject of dating rumours for some time now, were spotted enjoying a romantic vacation in Europe recently. Numerous photos of the couple from their holiday surfaced online, with one capturing them lost in each other's gaze at a cafe in Portugal, igniting speculation about their relationship status. A Reddit user even claimed to have witnessed them sharing a kiss, further fueling the belief that they are more than just friends.
Several other stars have been caught in the rumour mill for their alleged relationships due to their frequent public appearances together. However, despite the regular sightings, these stars have not officially confirmed their romantic relationships, leaving their fans eagerly waiting for any updates or announcements.
Bhumi Pednekar and Yash Kataria
Bhumi Pednekar and Yash Kataria's frequent sightings together have continued to spark dating rumours. Just recently, the couple was seen in Mumbai, joined by Bhumi's sister, Samiksha Pednekar, and a group of friends, enjoying a dinner outing.
Ever since Bhumi Pednekar was photographed kissing an unidentified man at Sidharth Malhotra and Kiara Advani's wedding event, her romantic life has become a subject of significant interest. The duo was later spotted at the airport, returning from a vacation, further fueling speculation about their relationship status. With their public appearances and closeness, fans are eagerly speculating about the nature of their bond.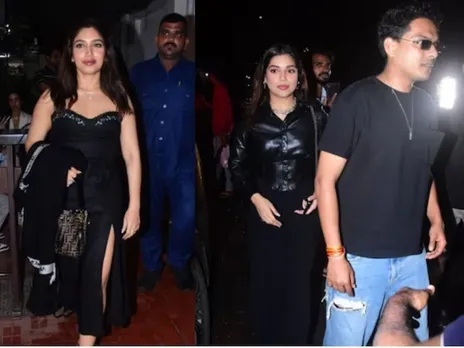 Siddhant Chaturvedi and Navya Naveli Nanda
The rumoured couple, Siddhant Chaturvedi and Navya Naveli Nanda, have been speculated to be dating for several months now, but they have not officially confirmed it. However, their recent public appearances together have sparked curiosity among fans.
Last month, the duo was spotted arriving at the Mumbai airport, reportedly returning from a trip to Goa. Earlier this year, paparazzi captured Navya sitting beside Siddhant's parents at a fashion show in Mumbai. Additionally, they were seen leaving filmmaker Amritpal Singh Bindra's birthday party together in his car last December.
The dating rumours about the actor and Nanda began a while ago, as they have been seen interacting on each other's Instagram posts. Moreover, they have been spotted hanging out together at various industry parties, adding to the speculation about their alleged romance.
---
Suggested Reading: Tamannaah Says 'Marriage Is Big Responsibility' After Confirming Relationship With Vijay Varma
---