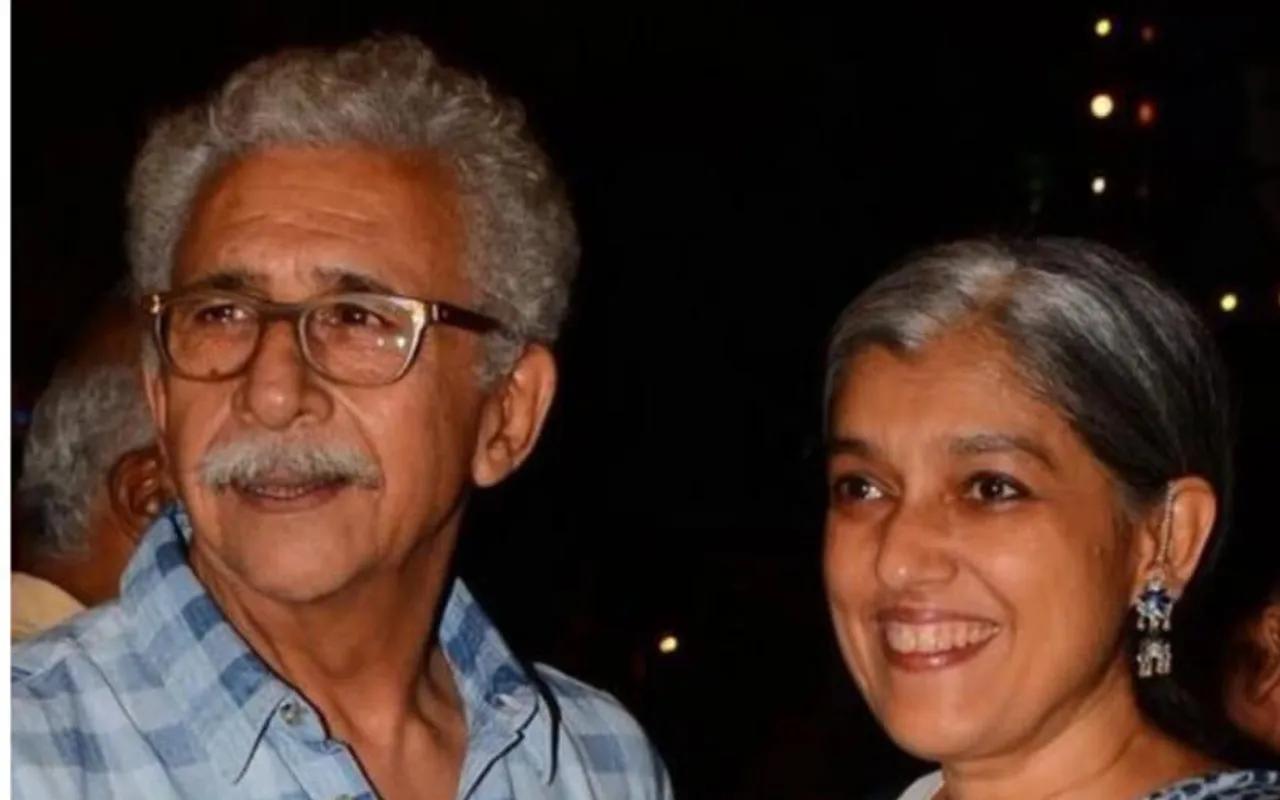 Actor Naseeruddin Shah celebrates his 72nd birthday today. Not just for his power-packed performances, the actor is also known for the off-screen camaraderie that he shares with his wife Ratna Pathak Shah. The two have not only pushed boundaries as actors, but also as a couple with flourishing careers and a passion for theatre.
Naseeruddin Shah is one of the most revered actors of Indian theatre and cinema and has been felicitated with honours like the Padma Bhushan and Padma Shri. Shah, who made his debut as a film actor in 1975 with Shyam Benegal's Nishant, has won the National Award in Best Actor category twice, for his performances in Sparsh and Paar. He also won a National Award in the Best Supporting Actor category for his work in the film Iqbal. Be it the television show Mirza Ghalib, or the web series Bandish Bandits, Shah has relegated the viewers with his performances for five decades, across different mediums. However, his first love remains the theatre.
Ratna Pathak And Naseeruddin Shah: A Love Story
Naseeruddin Shah is married to Ratna Pathak, another noted actor and thespian, and the couple has two children- Imaad a musician and actor, and Vivaan Shah, who is also an actor. Married back in 1982, the couple's relationship followed a highly unconventional path.
Ratna Pathak and Naseeruddin Shah met back in 1975. The duo worked together in a theatre play called Sambhog Se Sanyas Tak. Pathak reveals that there were instant sparks between the two. However, Naseeruddin Shah was already married to Manara Sikri (deceased) when they met.  While Shah and his first wife went through a divorce, he and Pathak went on to have a seven-year long live-in relationship. Only after Shah was divorced from his first wife did the two tie the knot. Their marriage has completed four decades now.
Talking about what attracted her to Naseeruddin Shah, Ratna Pathak joking stated in an interview- "It's entirely a lottery; we just got lucky!" She also spoke about the couple's laid back wedding, saying "We had a fantastic wedding. Ours was probably one of few marriages that I attended, where the bride and groom both had fun. We had a ball at our wedding! We went to the beach, swam and drank wine, and had a great time."
Ratna Pathak Shah has also stated that ever since they met and fell in love they've been inseparable. But what's most important is that they found a way to remain great friends throughout their relationship. She has also mentioned that Naseeruddin Shah and his zeal have inspired her to work hard and excel in whatever she does. When asked to define their relationship, she said that their life is very much like the first play that they worked on together, and she jokingly added - "Bas sanyaas lena baaki hai."
---
Suggested Reading: Who Is Sam Kerr? First Female Football Player To Feature On FIFA Game Cover