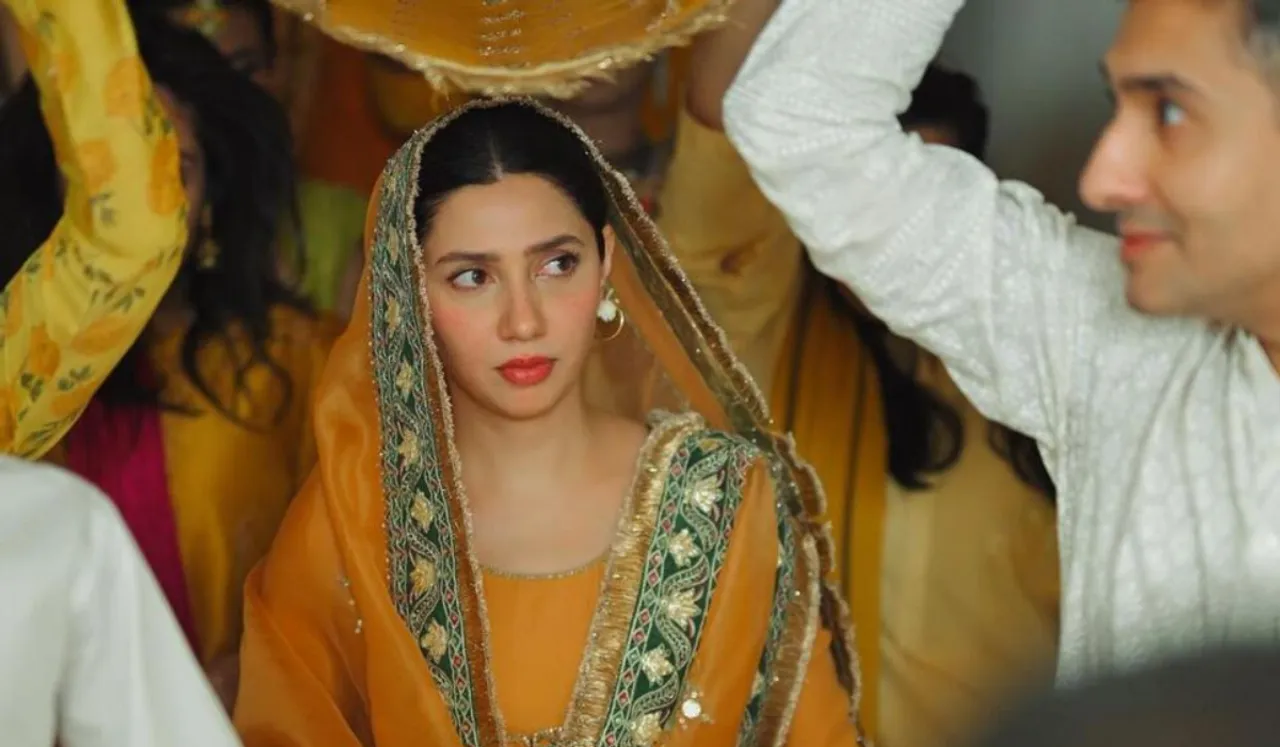 Pakistani actor Mahira Khan recently tied the knot for the second time, celebrating an intimate wedding ceremony with businessman Salim Karim on October 1st.
The well-known actor, famous for her roles in TV series and her role alongside Shah Rukh Khan in the movie Raees, recently took to Instagram to post a series of new pictures from her pre-wedding ceremonies. The initial set of photos featured her dressed in an elegant white and golden suit.
With her hair styled in a braid, she posed in various locations around her house, including on her bed and seated on a couch while engaged in conversation. In one of the pictures, Khan adorned a garland around her neck. Subsequent pictures showcased her in a vibrant orange-green Anarkali suit, complemented by green glass bangles and an array of flowers.
She shared a heartfelt caption, shedding light on her mother and friends' roles at the wedding. She mentioned her mother's wish to commence the wedding with a dua, highlighting her mother's remarkable abilities, despite being in a wheelchair. Mahira described how her mother actively managed various aspects of the wedding preparations, from decorations to arranging tables and furniture, all while being punctual. She expressed gratitude for her parents.
Additionally, Mahira shared that her childhood girlfriends organised a Mayan ceremony for her, emphasising the significance of these friends, who are like sisters to her. She also mentioned a personal gesture, where she placed a motia bud in her baali (earring) in honour of her Nani and Dadi before descending for the ceremony.
Earlier, she posted her official wedding video with her husband on social media. She also shared a collection of fresh photos on her social media accounts. The video also features snippets of her son Azlan walking her down the aisle. Azlan is Khan's son from her previous marriage with ex-husband Ali Askari.
See the pictures from Mahira Khan's Wedding here.
Khan has entered into her second marriage, this time with businessman Salim Karim, following years of dating. The wedding took place at the Pearl Continental Hotel Bhurban and attracted considerable attention on social media. The actor looked stunning in a pastel wedding lehenga as she walked towards Karim, and they shared heartfelt embraces during the ceremony.
Watch: Pakistani Actor Mahira Khan Marries Businessman Salim Karim
Earlier, the videos shared by Mahira Khan's manager, Anushay Talha, and Pakistani photographer Izzah Shaheen Malik captured moments of the emotional wedding. 
One video captured the emotional moment as Khan walked down the aisle towards Karim, who was visibly moved and wiped away tears. Karim tenderly lifted her veil, planted a kiss on her forehead, and embraced her. The couple exchanged vows in an outdoor ceremony held in Murree, Pakistan.
Watch the video here.
Who Is
Salim Karim?
Salim Karim, known as a multifaceted entrepreneur, holds the position of CEO at Simpaisa, a startup that simplifies financial transactions by enabling payments through SIM cards across 15 countries. Their paths initially crossed in 2017 at the launch of Tapmad TV, a television application. In 2019, Khan and Karim got engaged in Turkey during an intimate ceremony attended by close friends and family. Karim, besides his role as CEO of Simpaisa, is also a professional DJ.  
 Her previous marriage was to Ali Askari, and the couple has a son named Azlan, born in 2009.
---
Suggested Reading: Why Do Women Fake Orgasms: Bhumi Pednekar, TYFC Team Share Thoughts