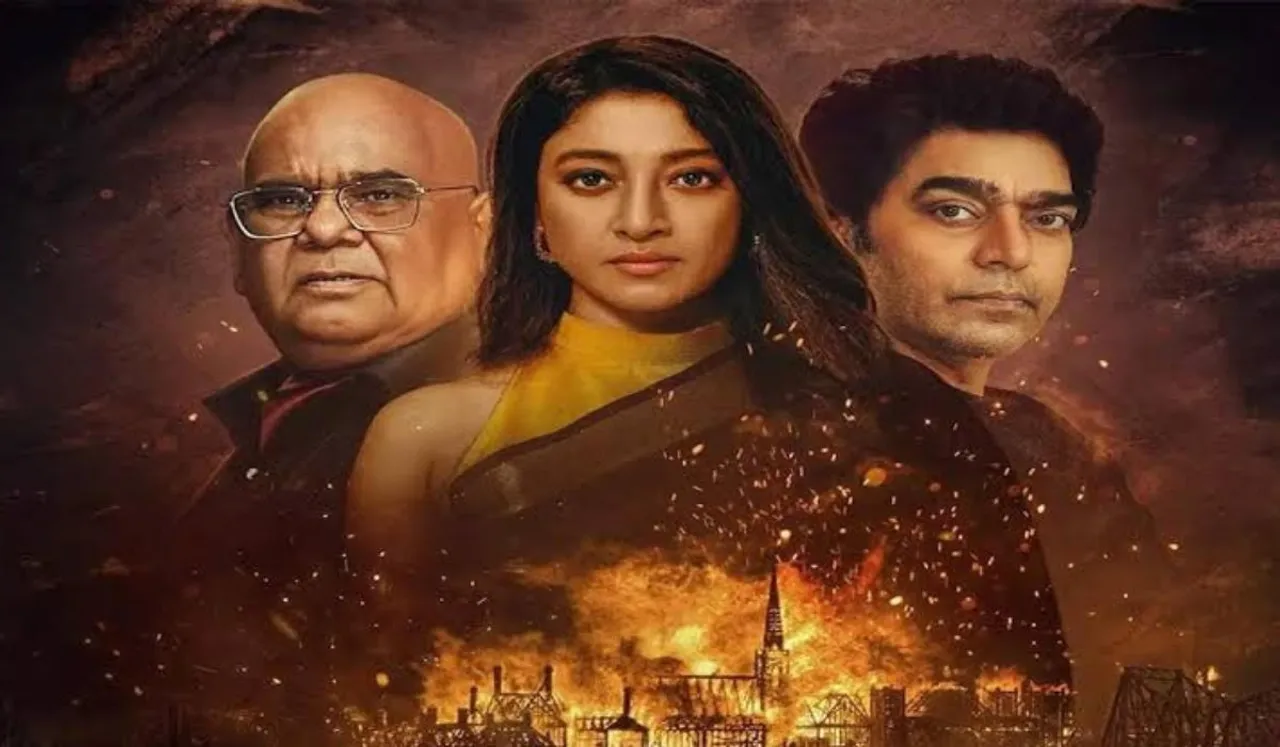 With the audience accepting the new wave of thrillers and crime dramas across OTT streaming platforms, the show makers are experimenting with unique storylines and unexpected ensemble cast to take the level of content up. Yet another thriller with a revenge drama as its central theme has made way on Disney+ Hotstar. Karm Yuddh, which was released on September 30, is yet another show surfacing a dysfunctional family drama unfolding secrets, the dark world of business, and the political revenge scenario which serves as a winning combination. A fire accident at Kolkata's magnificent Roy Group of Industries burns not only the industrial complex but also the lives of the members of the Roy family and those associated with it.
Karm Yuddh adds a new flavour to family dynamics with a powerful storyline and ensemble cast in this revenge drama. Paoli Dam, Satish Kaushik and Ashutosh Rana are the lead actors in the series, which is directed by Ravi Adhikari and produced by the Adhikari Brothers.
---
Suggested reading: Hush Hush Review: Noteworthy Cast Shines In Thriller Murder Mystery
---
Karm Yuddh Review: The plot
The story explores the life and functioning of the Roy family, or we'd rather say the family's dysfunction. The series starts with a fire accident that destroys the industrial grounds of Roy Industries in Kolkata, leading to events that uncover brutal secrets about the members of the family and their dealings amidst power-grab circumstances. The first episode serves as an introduction to the central characters after a gang of men kill another group of men sitting at a factory premise and then light them on fire, which later brings the head honcho Bhisham Roy (played by Satish Kaushik) under scrutiny.
With the fire leaving several innocents deceased and no one claiming responsibility, the show takes various twists and turns by offering the audience backdrop accounts of how the revengeful dynamics arose in the first place. With two potential industrial group heads in the race, ambitions lead to grave crimes and backstabbing, making us wonder at the end of every episode how far the characters in question will go to attain power.
The show's ">narrative revolves around Indrani Roy (played by Paoli Dam), who is fighting to become the head of the industries after her husband Vardhaan Roy (Rajesh Khattar) is paralysed. Her biggest obstacle is not just her brother-in-law Bhisham Roy but also her stalker of a son Abhimanyu Roy (played by Ankit Bisht) who doesn't make it easy for her. Enter Samay Shastri who comes into the Roys's life to take revenge on his and his father Guru Shasti's (played by Asutosh Rana) behalf for the murder of his brother.
Paoli Dam plays Indrani Roy effortlessly. Dam displays the power required for a character like hers, and her dialogue delivery and body language do justice to the role 
Interestingly, the show is not just a revenge drama, it also serves as a love story connecting dots where Abhimanyu Roy pursues a girl (played by Madhurima Roy) consistently, and even molests her, making her eventually fall in love with him, but that angle doesn't work much because of its drag and the fact that the audience is far beyond romanticising stalking on screen. The scenes don't go down well, especially when he wins the girl forcefully despite being her molester.
Performances
Karm Yuddh has brought together a stellar ensemble cast. Paoli Dam plays Indrani Roy effortlessly. Dam displays the power required for a character like hers, and her dialogue delivery and body language do justice to the role. She certainly is the star of the show. Satish Kaushik is unmatched when it comes to delivering a flawless performance but he looks under-utilised to a tad bit extent. Ashutosh Rana has a quiet demeanour to his character; ironically, that is one of the most explosive parts of the story.
Anjana Sukhani does justice to her role as an investigative officer, and Pranay Pachauri uses his screen time to make a note-worthy performance.
Ankit Bisht played the role of Abhimanyu well, and Tara Alisha Berry and Chandan Roy Sanyal performed competently for their respective characters as journalists throughout the show. Akash Dhar, Malkhan Singh, Nitin Mirani, Soundarya Sharma, Shruti Chauhan and Aashit Chatterjee are other supporting cast members in the series and have played their parts justifiably with the screen time they were given. Special mention to Satyajit Sharma who performed the role of a loyalist compellingly.
The show has its drag moments, but the performances make up for it, and the events that follow episode after episode are gruesome, unexpected, and worth a binge-watch, especially now that the show is left on a cliffhanger for season two to follow.
Karm Yuddh has a total of eight episodes with a forty-minute run time each and it's currently streaming on Disney+ Hotstar.