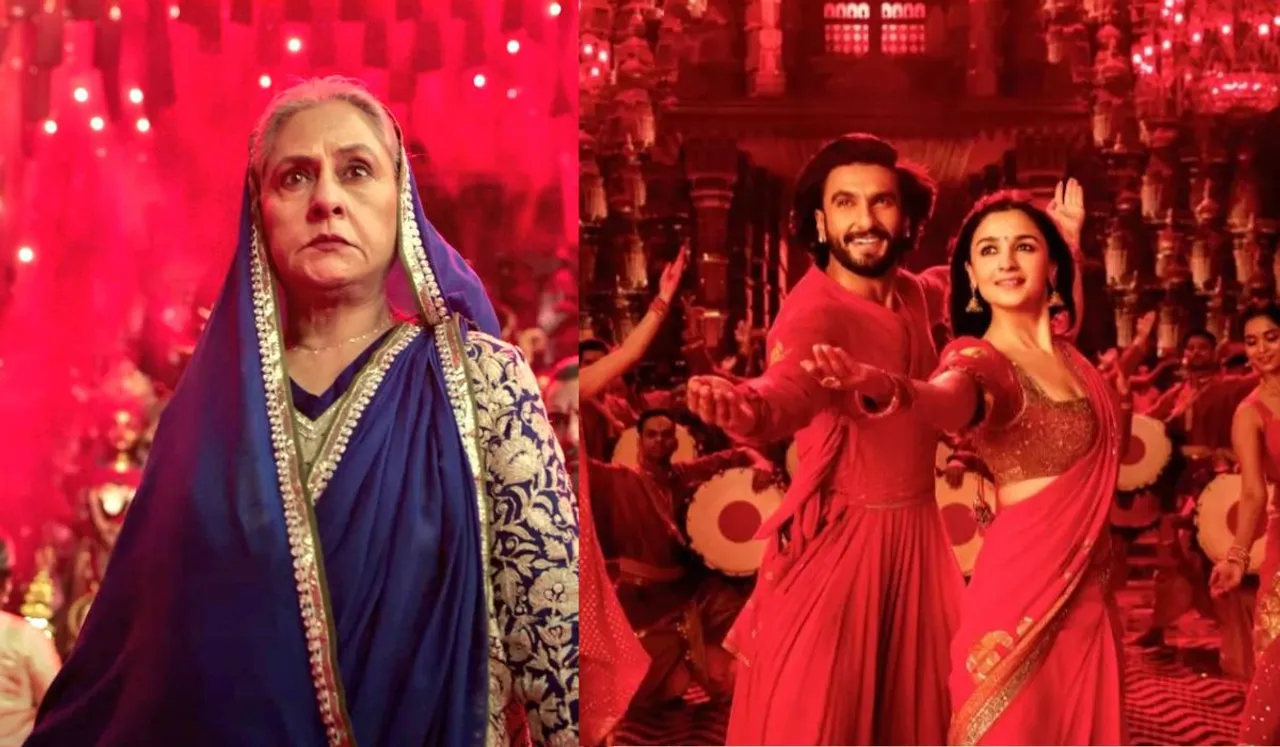 Alia Bhatt and Ranveer Singh delighted fans with their dance performance choreographed by Vaibhavi Merchant in the song Dhindora Baje Re from the upcoming film Rocky Aur Rani Kii Prem Kahaani.
The song was unveiled on Monday and has been receiving tremendous attention on social media. The visuals feature grand Dharma-style sets and captivating costumes, adding to the excitement surrounding the movie. Moreover, netizens cannot resist generating memes using various clips from the song. Social media platforms are filled with these witty and humorous meme creations, adding an entertaining element to the otherwise visually appealing dance performance.
Dhindora Baje Re Sparks Memes Fest 
Netizens couldn't help but notice Jaya Bachchan's stern expression and her standout blue attire amidst the predominantly red and rani pink set in the recently released song. In the movie, Bachchan plays one of the Randhawas and engages in an intense face-off with Rani, attempting to impress the Randhawas. Given her reputation for not being too friendly with paparazzi in real life, Twitter users had a field day creating memes and humorously suggesting that the veteran actor is essentially playing herself in the film.
Okay so Jaya Bachchan is playing herself in #RockyAurRaniKiiPremKahaani pic.twitter.com/KZg6l0HLcO

— Akshit (@CaptainGzb) June 20, 2023
Jaya Bachchan throughout #DhindhoraBajeRe 😭 pic.twitter.com/dcoxTyPXiT

— ANMOL JAMWAL (@jammypants4) July 24, 2023
Moreover, the song Dhindora Baje Re, which features the main lead dancing in sync, has drawn comparisons to the iconic song Dola Re Dola from the movie Devdas. A video combining both songs has surfaced on Reddit, sparking mixed reactions from internet users.
One user praised the original choreography and cast of Dola Re Dola, suggesting that the new song might not stand out if compared to the iconic one. Another user commented that it appeared as if the speed of the new video was increased ("2x").
Perfectly synced
by u/Miserable-Goose-8485 in bollywoodmemes
Some users felt that Karan Johar's attempt to create a grand musical extravaganza akin to Sanjay Leela Bhansali's style fell short, citing his previous effort with the movie Kalank as well. When comparing Alia and Ranveer's performance to Aishwarya Rai and Madhuri Dixit's iconic Dola Re Dola, a Reddit user mentioned that the charm seen in the original dance was somewhat lacking in the new video.
Another user remarked that Ranveer's character seems to embody both Madhuri and Aishwarya's roles, which were separately portrayed by the two actors in the original song.
Dola Re Dola from the movie Devdas was choreographed by the late Saroj Khan and earned her the National Film Award for Best Choreography. On the other hand, Dhindora Baje Re from Rocky Aur Rani Kii Prem Kahaani has been choreographed by Vaibhavi Merchant. The song features vocals by Darshan Raval and Bhoomi Trivedi, with lyrics penned by Amitabh Bhattacharya.
Rocky Aur Rani Kii Prem Kahaani has unveiled four songs before its release on July 28. These songs include Tum Kya Mile, Ve Kamleya, What Jhumka, and Dhindora Baje Re.  
---
Suggested Reading: Manish Malhotra CONFIRMS Directing Meena Kumari Biopic
---