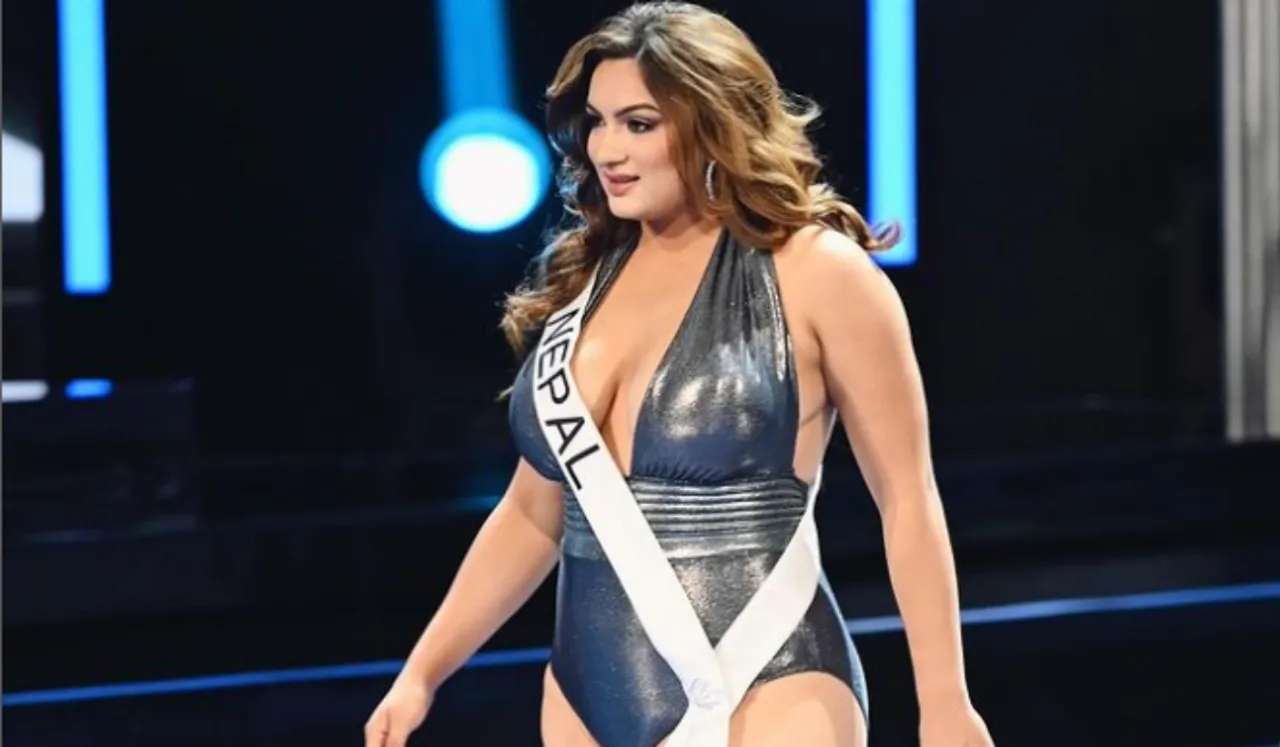 This 72nd edition of the Miss Universe pageant scripted history with many firsts. From trans women to mothers; from Pakistan contesting for the first time to including a first-ever plus-size contestant, the contest had it all. 
On November 15, El Salvador hosted the 72nd Miss Universe pageant where 84 models from across the globe competed for the coveted crown of Miss Universe 2023. The competition is now being hailed on the internet as it has become more empowering than ever before with its groundbreaking initiatives to challenge stereotypes and foster inclusivity. 
American-born Miss Nepal, Jane Dipika Garrett, is now the first plus-size delegate to have entered the competition. She has already triumphed over other contestants footing her position in the top 20, winning hearts across social media and becoming the crowd's favourite during the preliminary round.
Who Is Jane Dipika Garrett? 
23-year-old Jane Dipika Garrett is an American-born Nepali model, entrepreneur, and nurse who was crowned Miss Universe Nepal 2023. Garett, who is half-American, practices nursing. Garrett's participation in the pageant not only celebrates diversity and inclusivity but also advocates for body positivity and empowering women.
Garrett is a prominent figure in body positivity movements as she believes in the representation and celebration of beauties regardless of their sizes in the fashion industry. 
In a conversation with Hola Magazine, Garrett said, "As a curvy woman who doesn't follow certain beauty standards, I'm here to represent all women."
She has gathered immense public support owing to her advocacy for hormonal health and PCOS, mental health, and body positivity awareness demonstrating panoramic well-being that stands tall beyond the conventional beauty standards aligned with the beauty pageants. 
Garrett has always been vocal about her struggles with weight gain after her PCOS led to depression. She told Hola Magazine, "A few years ago, I was a very insecure person and had very low self-esteem. Now, I love myself, and that's success to me."
Historic Moments In Miss Universe 2023
However, Garrett is not the only one making history walking the ramp of the highest beauty pageant, as the 72nd Miss Universe will always be remembered in history with its first-time-ever inclusions. 
Miss Portugal Marina Machete and Miss Netherlands Rikkie Kolle are also the first-ever transgender contestants to have participated competition. 
Whilst, Miss Colombia Camila Avella secured her position in the top 5 as a married mother while the competition also included Miss Guatemala Michelle Cohn as a married woman and mother. 
---
Suggested Reading: Why Is Pakistan Calling Out Its First-Ever Miss Universe Contestant?