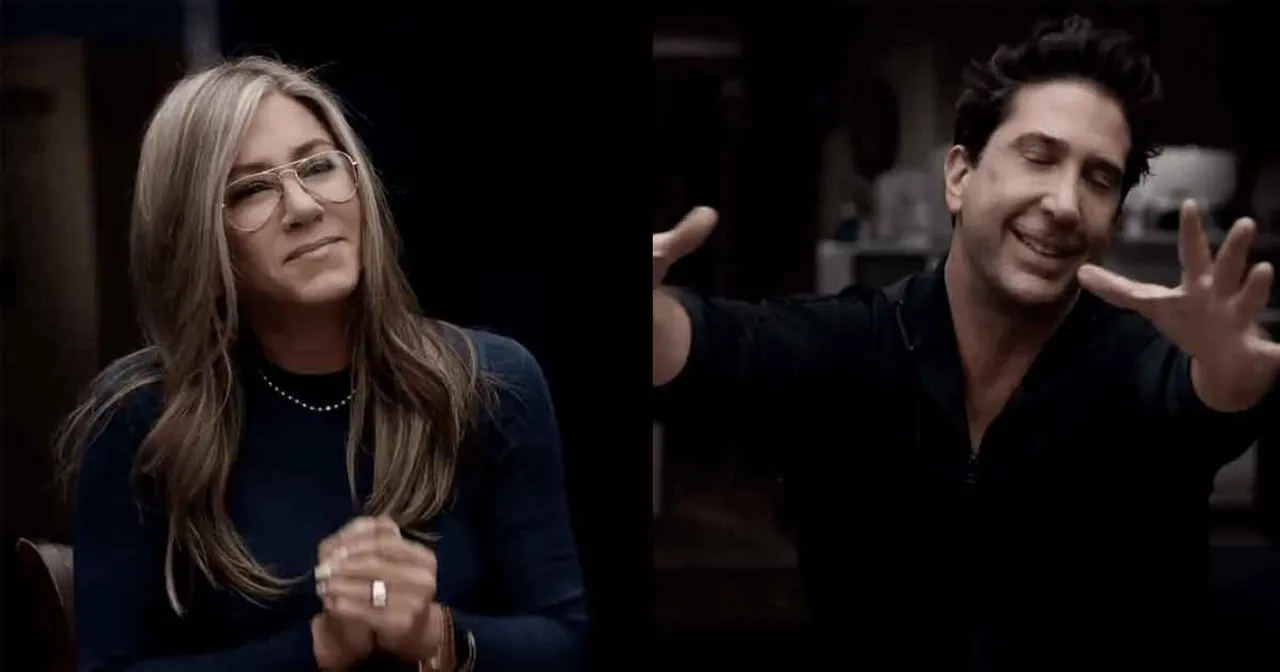 Jennifer Aniston dating David Schwimmer? The FRIENDS reunion episode was an emotional roller-coaster for the cast as well as fans of the show across the globe. The reunion saw reel-life couple David Schwimmer and Jennifer Aniston come together after 17 long years and reveal that they had a crush on each other during the early days of shooting the sitcom. Now, if the rumours are to be believed, the duo is rekindling their chemistry and dating in real life.
According to a report by Closer, after confessing their feelings for each other while filming the show, Aniston and Schwimmer felt the spark again between them and have been spending quality time together lately. It is reported that after the reunion, both the stars realised that reminiscing over the past had stirred up feelings and that the chemistry they always had to bury was still there. So, the co-stars of the popular sitcom have finally acted on their shared affection.
However, Schwimmer's representative has now clarified that the rumour of romance blooming between him and Aniston are not true. While Aniston has not commented on the reports, she did share pictures of her ex-husband Justin Theroux on Instagram stories recently, to mark his birthday. "Truly one of a kind. Love You!" read caption of an image shared by Aniston.
Ross and Rachel's on-again off-again relationship was one of the highlights of the icon sitcom. Fans were elated when the characters reunited at the end of the show, burying past conflicts, thus giving the FRIENDS a perfect ending.
Just last month, Schwimmer reportedly flew from his home in New York to see Aniston in LA where they cooked dinners in the evenings, and have enjoyed quality time together.
52-year old Aniston and 54-year old Schwimmer's revelation that they both crushed hard on each other and these recent rumours have delighted their fans.
Friends: The Reunion special episode premiered on OTT in India on May 27. The now-rumoured couple played Rachel Green and Ross Geller from 1994 until 2004 (for 10 years). They both confessed during the reunion that they had to "channel" their feelings for one another through their characters as the timing was never right to pursue anything off-screen. "I had a major crush on Jen," Schwimmer confessed during the HBO special in May, with Aniston replying "It was reciprocated."
After their dating report came to light, fans have been sharing their excitement on social media. One person stated that if they are really dating this is the one chance for "world peace". Another user shared a classic dialogue from the series: "He's her lobster."
Jennifer Aniston and David Schwimmer dating is the real life ending of Ross Geller and Rachel Green.

He's her lobster 🦞 pic.twitter.com/Z9SDkNQfsn

— Alphina (@maleedus) August 10, 2021
The world collectively losing their shit over Jennifer Aniston and David Schwimmer is honestly the best thing that's happened all year 😂👏🏼 pic.twitter.com/HwFPfjaBup

— Abby (@xAaBbx03) August 10, 2021
Me when I heard that David Schwimmer and Jennifer Aniston are rumoured to be dating pic.twitter.com/5SeqdjaUD4

— Asha (@declant4ever) August 10, 2021
---
Suggested Reading:
Reel Flatmates, Real Soul Sisters: Why Jennifer Aniston, Courteney Cox And Lisa Kudrow Are BFF Goals
After FRIENDS, Scooby-Doo Reunion Special On The Way
Jennifer Aniston thinks the pressure to have children is unfair
---
&t=4s