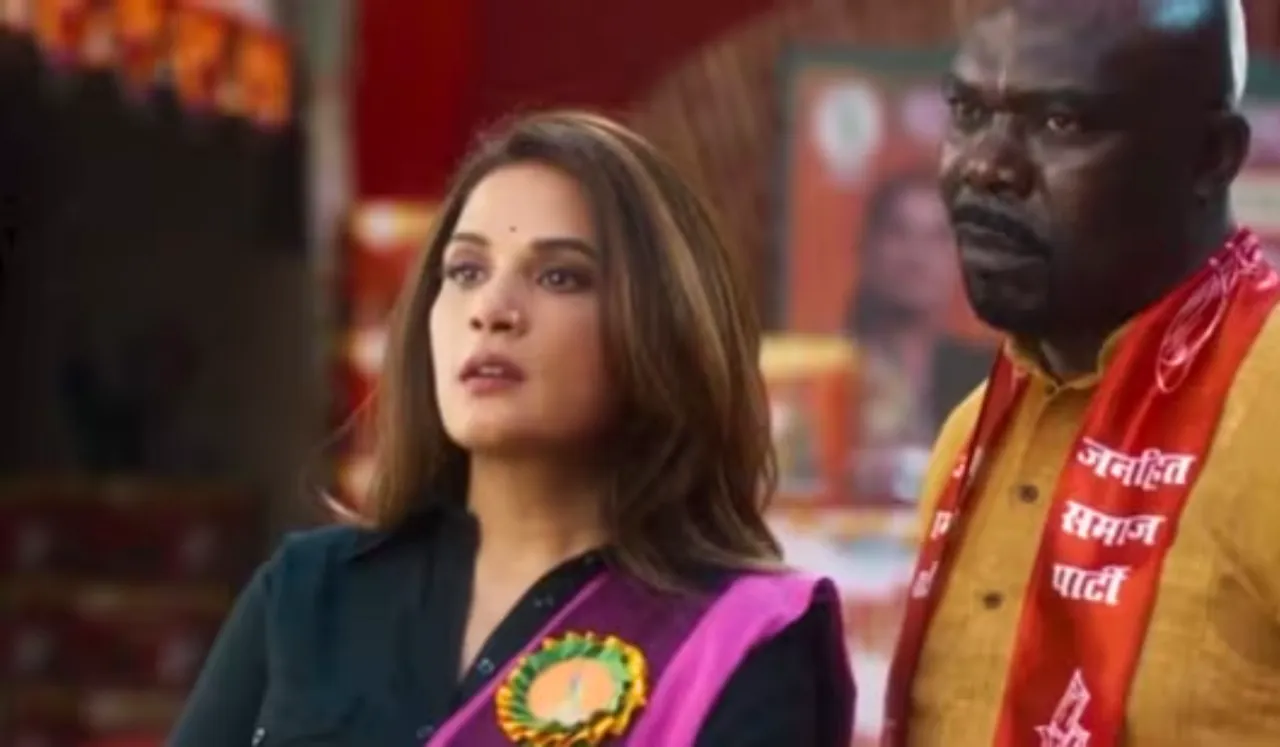 After a long six-year wait since the release of the second instalment, Fukrey 3 is ready to make its debut on the silver screen. The trailer for Fukrey 3 reintroduces the eccentric ensemble.
The movie features prominent actors such as Pulkit Samrat, Varun Sharma, Manjot Singh, Pankaj Tripathi, and Richa Chadha in pivotal roles. Featuring Pulkit Samrat as Hunny, Manjot Singh as Lali Halwai, and Varun Sharma as Choocha In this instalment, they find themselves entangled once again with Richa Chadha's Bholi Punjaban, seeking astrological wisdom from Pankaj Tripathi's Panditji.
Fukrey 3 Trailer
The trailer provides a glimpse of how the exceptional chemistry and comedic timing of this remarkable cast, along with their iconic characters, will once again take the audience on a hilarious journey, this time with an election twist.
In the Fukrey 3 trailer, it begins with Pulkit and Varun reminiscing about their school days. As the story progresses, they find themselves planning to contest an election against Richa Chadha's character, who is determined to reclaim her "old life. The trailer hints at an impending showdown between Richa and Pulkit, leaving the question of who will emerge victorious this time.
Watch the trailer here.
The Fukrey franchise has been one the most cherished comedy in recent times. With the third installment coming in the excitement of this franchise follower has increased. 
Fukrey 3 Release Date
After a long wait, Fukrey 3 is set to be released on September 28, 2023. The film left a legacy of laughter and giggles, fans have the same expectations from Fukrey 3. However, the trailer seems to raise the bar for the audience's ever-growing craze.  Fukrey 3 trailer speculate a face-off angle between the Richa Chadha's character and Varun Sharma as Choocha.It will be interesting to see what film has new to deliver. 
The first two installments of Fukrey have always achieved great at the box-office and have gained popularity among young people in particular. The film gives all the Delhi vibe culture, It has a few iconic on-screen characters, including Choocha, Pandit Ji, Bholi Punjaban, and others in Fukrey 3, who will grace the big screen. 
Earlier, Chadha took to Twitter to give her fans the exciting news of reuniting with her Fukrey gang. She shared a boomerang clip of a red box filled with goodies sent to her by Excel Entertainment. She wrote, "Wow! Thank you for this lovely surprise! So excited to get back with the gang on Fukr3y. Can't wait !"
---
Suggested Reading: Jaane Jaan Trailer: Kareena Kapoor Khan, Vjay Varma In New Thriller